On 29 and 30 July, mother and son duo, Asela Gunasekara and Akshana Abeywardene will exhibit two art forms – sculpture and photography at the Lionel Wendt in Colombo.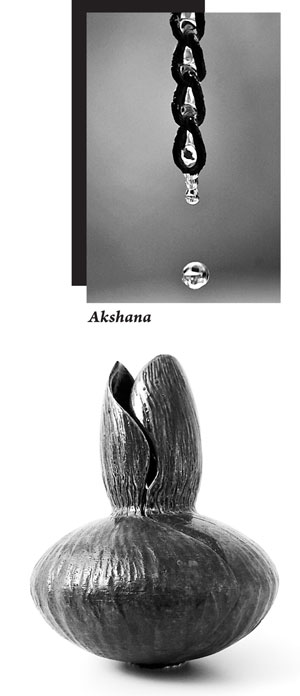 The exhibition, themed i (for imperfect, impermanent and incomplete) is Asela's testament to the principles of wabi-sabi: the Japanese philosophical concept that celebrates the beauty of imperfection, impermanence, and incompleteness. Akshana shows off his respect for nature through photography, capturing a moment in time and place which is uncontrolled by humans. Through the lens he views the world for what it is: with no fringes or frills but pure untouched beauty.

"The objective is to introduce the viewer to our artistic journey in which we have explored the beauty that surrounds us: of nature and life that encompasses the human proclaimed beauty of perfection, completeness and permanence," says Asela.

Working with clay allows Asela to develop a very intimate relationship with the elements: earth, fire, water and air. As an artist, she integrates with these and creates a certain harmony and balance to these forces. "A great understanding and respect to the natural order is necessary when working as a ceramicist, for over-manipulation and control takes away the aesthetic order which naturally emerges in our world," she says. "This is what the Zen masters understood, practiced and taught."

Her exhibits will mainly include ceramic art with sculptural forms, which are hand built and wheel thrown. Some are figurative sculptures whereas the others are sculptural pottery. She will also exhibit a few mixed media pieces made with wire, plaster, fabric, wood, etc.

Akshana's main forte is macro photography in which he brings out the uniqueness of the subject which is usually seen as 'ordinary and mundane'. He attempts to capture something in its element/natural setting which is not influenced/violated by human intervention.

While this is his maiden exhibition, Asela has previously exhibited at the Lionel Wendt in 2012, at Dubai International Art Centre in 2015, Saskia Fernando Gallery in 2016 and has won the prize for 3D art category at the Dubai International Art Centre in years 2014, 2015 and 2016.