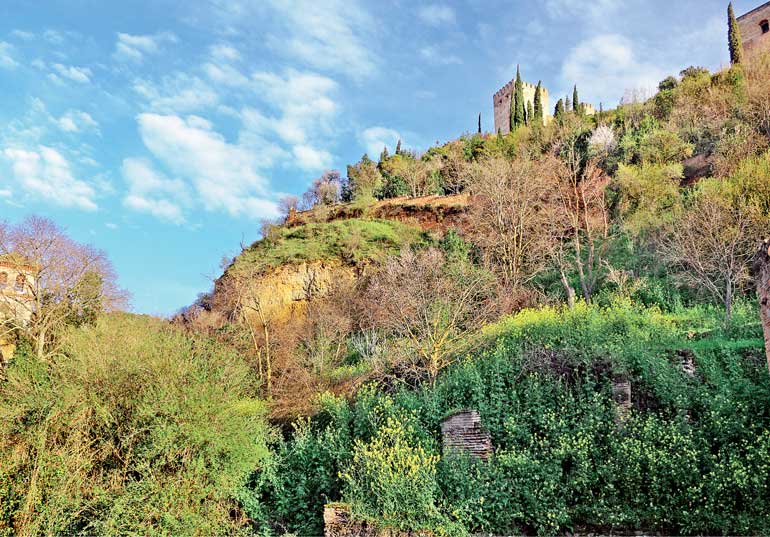 By Aysha Maryam Cassim

Granada is what brought me to Spain. When I flew from Catalonia to Andalusia, I had a luggage full of adventures and expectations. I dreamt of finding myself amazed at the Moorish splendour of Alhambra. I wanted to get lost in the alleyways of Albayzin neighbourhood and take a break in a sun-dappled terrace, watching the Al-Andalus life go by.

It's not just the history and heritage; some of our much-loved indulgences are cherished and treated religiously in Spain. It's a place where you get to have Churros con Chocolate for breakfast, free tapas with your drinks and on a scorching hot day, Granadinos can treat themselves to a siesta. I will call this a heaven on Earth.


What I loved the most in Granada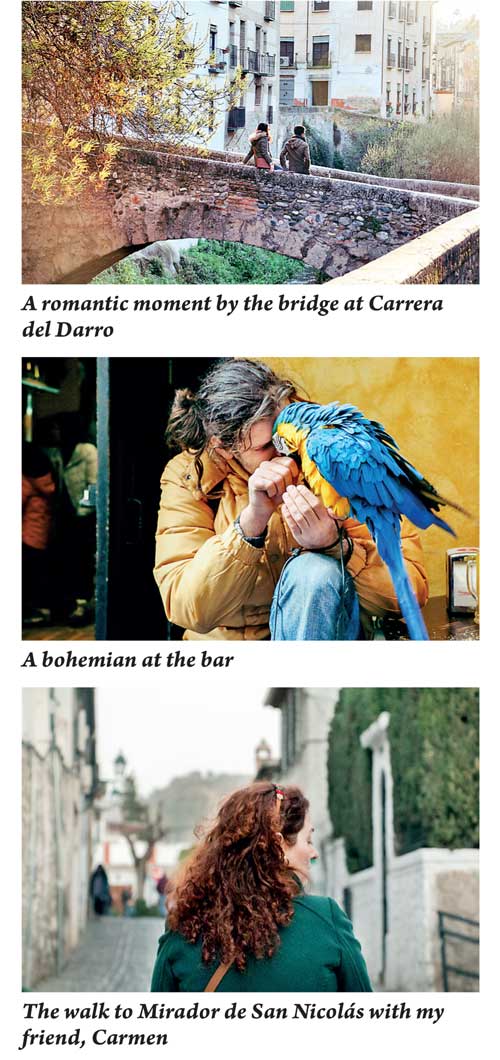 Carrera del Darro caught my fancy instantly in Granada. This slender street is considered as one of Granada's main arteries. From Plaza Nueva, you can walk up to the historical heart of Albayzin through this picturesque route that winds its way along Rio Darro.

As you go uphill towards the Sacromonte of Granada, the narrow street starts brimming with indie bands, bohemian entertainers and artists of all sorts. Enjoy a drink or dinner al-fresco with the Alhambra looming above. You can either go for a romantic stroll, exploring the delightful old souvenir storefronts or pause at Paseo de los Tristes for a truly atmospheric evening by Granada's ancient arched bridges.


Mirador San Nicolas

The walk from Calle Elvira to Mirador San Nicolas is a feast for the eyes and gives you plenty of picture postcard photo moments of the Albayzin neighbourhood. It's an arduous trek uphill on small alleyways but the view on the plateau is worth every breath and drop of sweat. Mirador de San Nicolas is a focal point in Granada which gives you sweeping views of L'Alhambra. Stay till the sundown, to witness the citadel of Alhambra lit up with lights against the Sierra Nevada Mountains.


The Moroccan Quarter

The Moroccan Quarter in Granada is right at the base of the Albayzin area. It smells exotic and looks magical at night. The bazaar resembles a little souk in Marrakech, lined with interesting shops selling vibrant Middle Eastern trinkets and Moorish art. There are "teterias" (Maghreb tea houses), shisha bars and restaurants interspersed between these souvenir shops. Take little detours around Calle Elvira and wander its environs, you'll discover Granda's lost heritage and the people who once lived there.


Getting to know Granada

Just like Sevilla and Córdoba, Granada is a walker-friendly city. The more you travel on foot, the more familiar you become with its Andalusian charm. You are less likely to get lost in the city if you get familiar with Granada's many little-hidden Plazas as they make great meeting places, landmarks and focal points in your itinerary.

Plaza De la Trinidad was where I met my Spanish friend Carmen for the first time in Spain. It's an elegant square that houses a water fountain in the centre. If you have some free time, grab a bench in one of the terraces and enjoy a drink underneath the Andalusian sour orange trees.

Plaza Nueva is a bustling plaza situated in the historic centre of Granada, which makes a great base for all your important touristic monuments. You can go up the hill to L'Alhambra, along with the river Darro on the Paseo de los Tristes. Away from the Plaza, you are bound to stumble upon something interesting in the maze of narrow streets. If you are feeling tired, stop by for a sangria at one of the many eateries in the square. It's a wonderful place to while away a lazy evening in Granada, aimlessly watching the life go by.

La Plaza de Colon – Columbus Square: The statue of Isabel and Columbus can be found in the middle of this plaza, which is situated just across Gran Via, Granada's main thoroughfare. The imposing marble statue was sculpted in Rome for the Fourth Centennial of the Discovery of America in 1892, commemorating the moment when Isabel told Columbus she would finance his exploration. It also depicts Queen Isabel giving Columbus her permission to make his journey.


Food

One thing I love about Granada was the little Panaderia that sells bread and a whole assortment of pastries cakes. Each village or area will have its own artisan bread baked to their traditional recipes passed on for generations.


Piononos

It's worth going to Granada just for the scrumptious golden cakes. Piononos of Santa Fé is a variety of small pastry made from sugar, egg and cinnamon. Named after the Pope Pius IX, they are sold throughout the bakeries in Granada. Bite into one, it will leave you wanting for more and more.


Tapas? It's on the house!

"One of the most popular stories claims that, back in the 13th century, King Alfonso X of Castille found that, while he was recuperating from an illness, he could only eat and drink in small amounts – resulting in one of the first forms of tapas. His Majesty thought this was marvellous and, on his recovery, decreed that all drinks should be served with a small snack.

(The history and origins of the Spanish tapas – Telegraph.co.uk)

There is no such thing as free tapas – but Andalusia makes an exception. Granada is one of the few remaining cities in Andalusia, which still serves tapas on the house. You pick your drink and the tapas you receive is a complete surprise. Pub owners have no qualms giving away free food with their drinks. Some bars boast elaborate menus of nibbles that will keep more people coming in for their drinks. It's true. The better the tapas in terms of quality, quantity and variety, the more drinks are ordered. It's a wonderful way to encourage socialising over drinks and mouth-watering morsels of bites.


My last tapas at La Bodega de Antonio

My friend Carmen insisted that I experience Granada's proud tapas tradition at least once before I leave Spain. She took me to this place called La Bodega de Antonio (Antonio's Cellar), a bar that is frequented by locals. The place was already crowded the day we went and luckily we managed to find a table for four. The ambience was quite cheerful and hearty. The interior of the bar was swathed in ornaments and rustic Andalus decor. I loved that night as much I enjoyed the Calamares platter and potato salad.