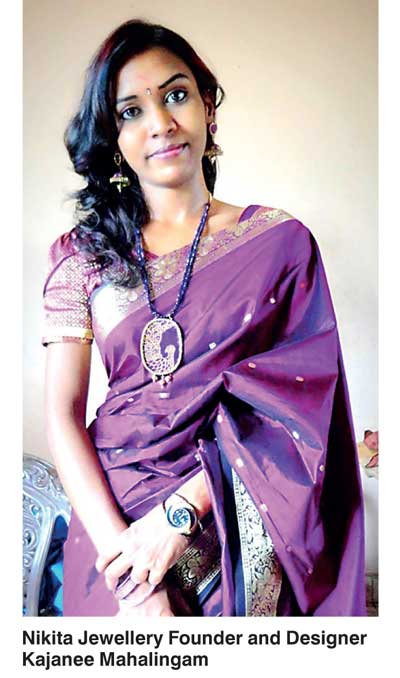 By Fathima Riznaz Hafi

With the rise in popularity of Western jewellery in Sri Lanka, one would have thought the taste for ethnic jewellery may eventually fade away but on the contrary it seems to maintain a strong foothold not only with the older generation but the youth as well.

As stunning as Western jewellery is, once in a while some of us like to throw on a full set of good ole traditional earrings, necklace and of course bangles that jingle away as the hands move.

When weddings and other functions are announced, the guests' preparation is initiated by hitting the stores for ethnic jewellery and attire and lately many are also opting for customised ethnic jewellery to get the perfect match for their sarees, shalwars and lehengas, in line with their personal taste. However it is sometimes difficult for the discerning woman to find a set that meets her standards – this is where Nikita Jewellery comes into the picture.

Nikita Jewellery Founder and Designer Kajanee Mahalingam is a local designer who specialises in customised handmade jewellery, with a focus on the ethnic side, specifically Tamil. Her use of vibrant colours and unique designs bring out attractive jewellery pieces that catch the eye and as a result she has generated a good customer base with orders sometimes overwhelming.

Though I found her small collection of Western jewellery to be beautiful, I was more pulled towards those with the traditional feel because they stood out and made me want to go grab a saree!

Running since 10 August 2014 she creates the entire set inclusive of earrings, necklace, bangles and forehead chain, as per the customer's request. Her products come in many varieties and designs and her earrings include 'Chandbali' and 'Jhumka'.



"I learnt how to make these by myself. First I tried on my own with a piece of paper and later referred to the internet to make my work easy and effective. One day I made an elegant earring set for my nephew's wedding and it received a lot of appreciation from the guests. My interest flared from there. I became passionate in creating and designing the crafts during my leisure time," she said.

"Now most modern girls like to wear unique customised jewellery and prefer that they match with their costumes but this is not possible with a low budget and immediate purchase.

I also found there is a huge price difference against the cost. With that in mind I have launched Nikita Jewellery to fulfil the requirements of these fashionable people and believe that I can do something innovativeat a very competitive price."

She presently works in a private company and is doing this part time at home but would like to establish Nikita Jewellery as an establishment soon. It's basically a one-man-show but she says her parents help her whenever she is hit by huge waves of orders, and she is very grateful to them for this.


She delivers but charges will be applicable. An order of around two items will take two to three days to deliver while a complete set would take approximately one week.

Moving forward Kajanee plans to create designer sarees too and has already started experimenting on that! Assuming the creativity with which she approaches jewellery is also applied in her sarees, this is something to look forward to.
Facebook: https://www.facebook.com/nikita.jewells

Instagram: nikita_srilanka

Tel: 0726535751