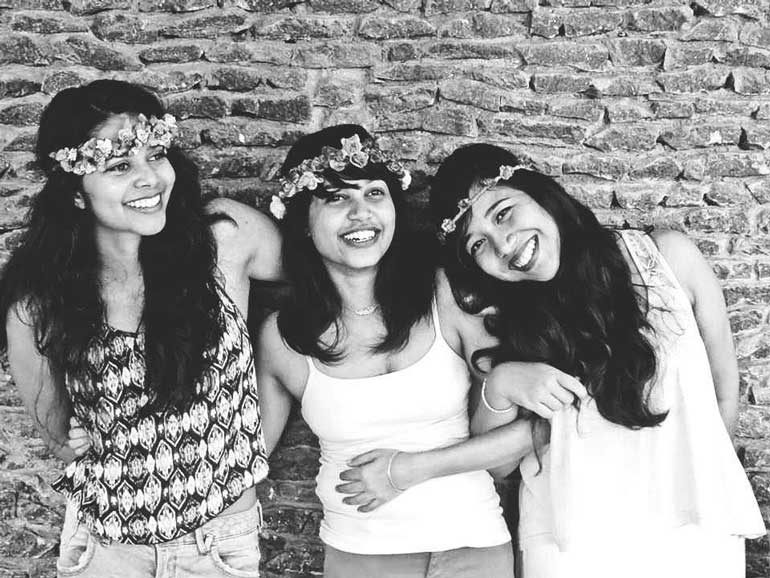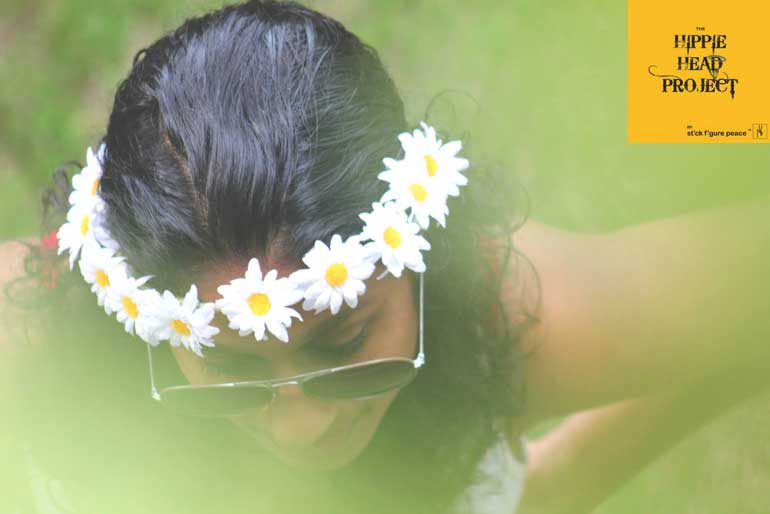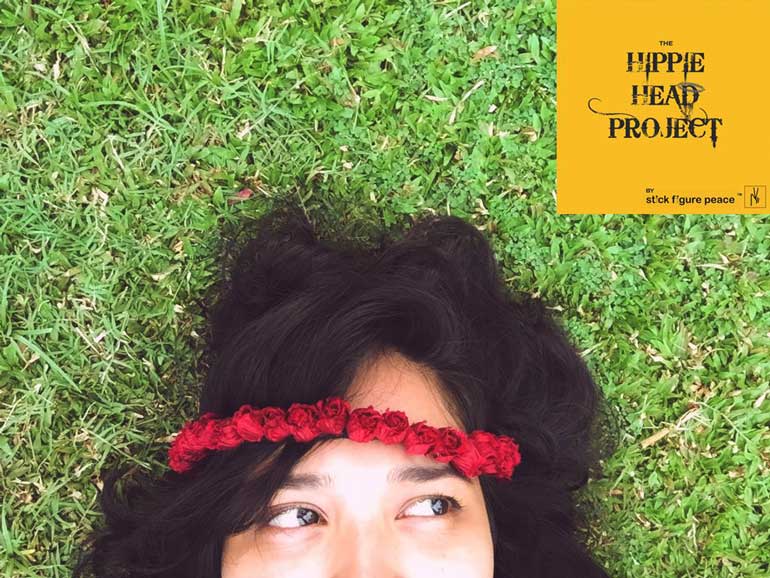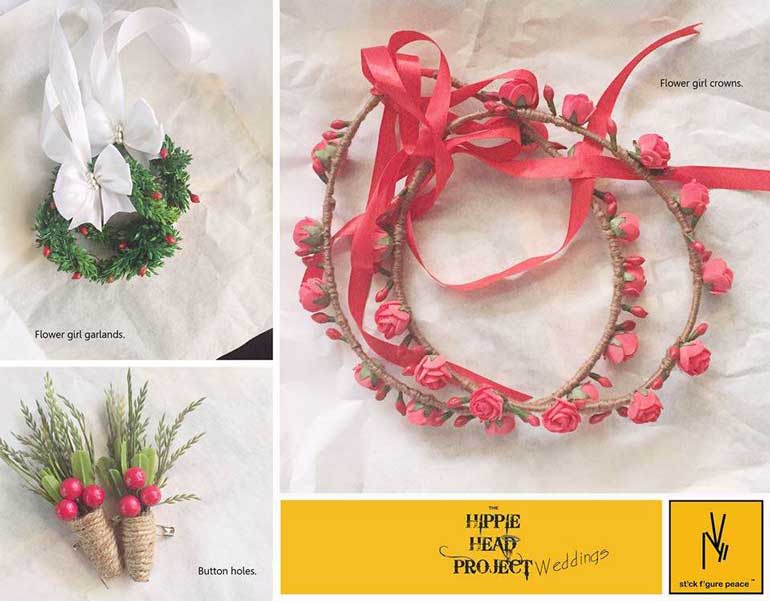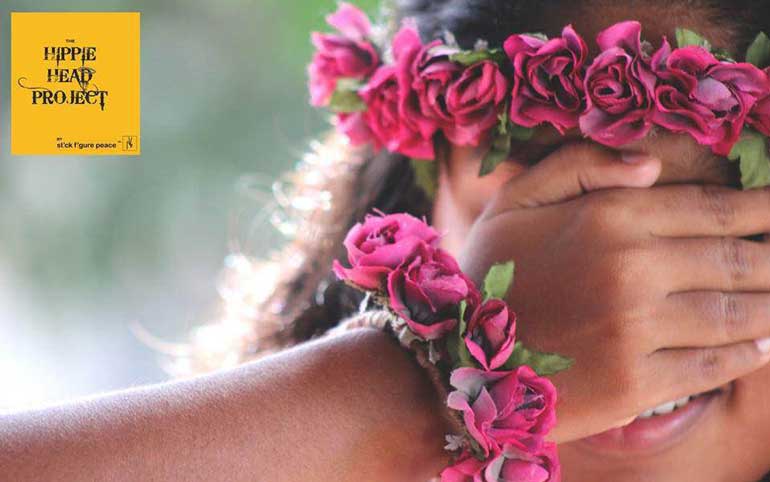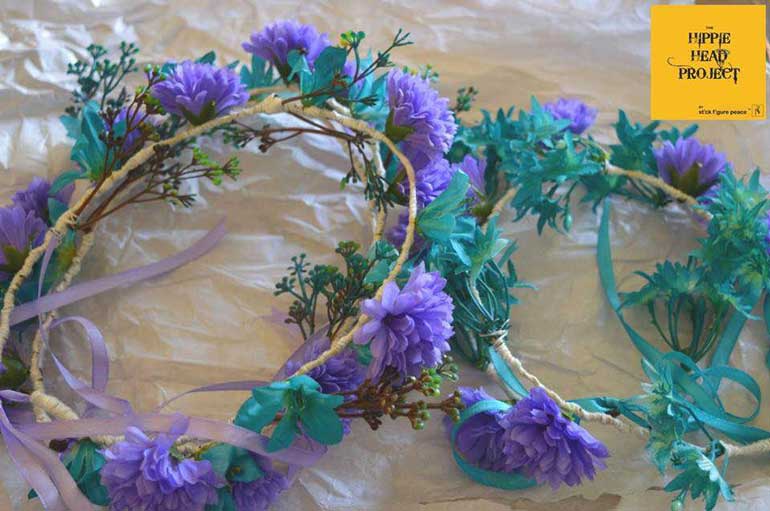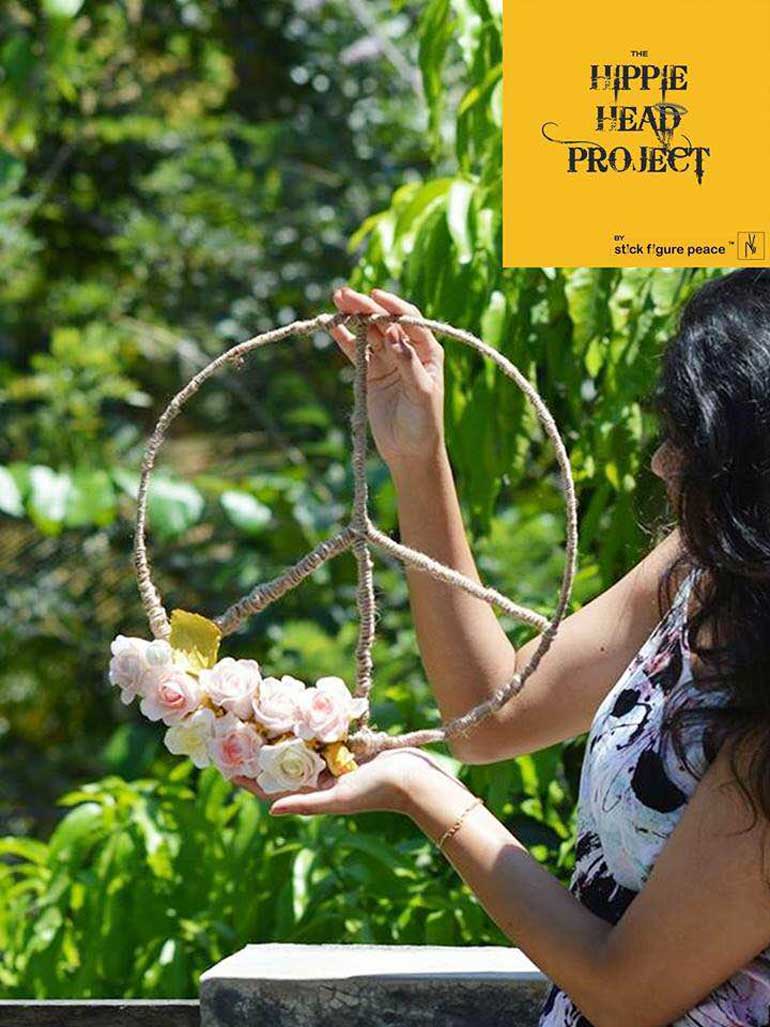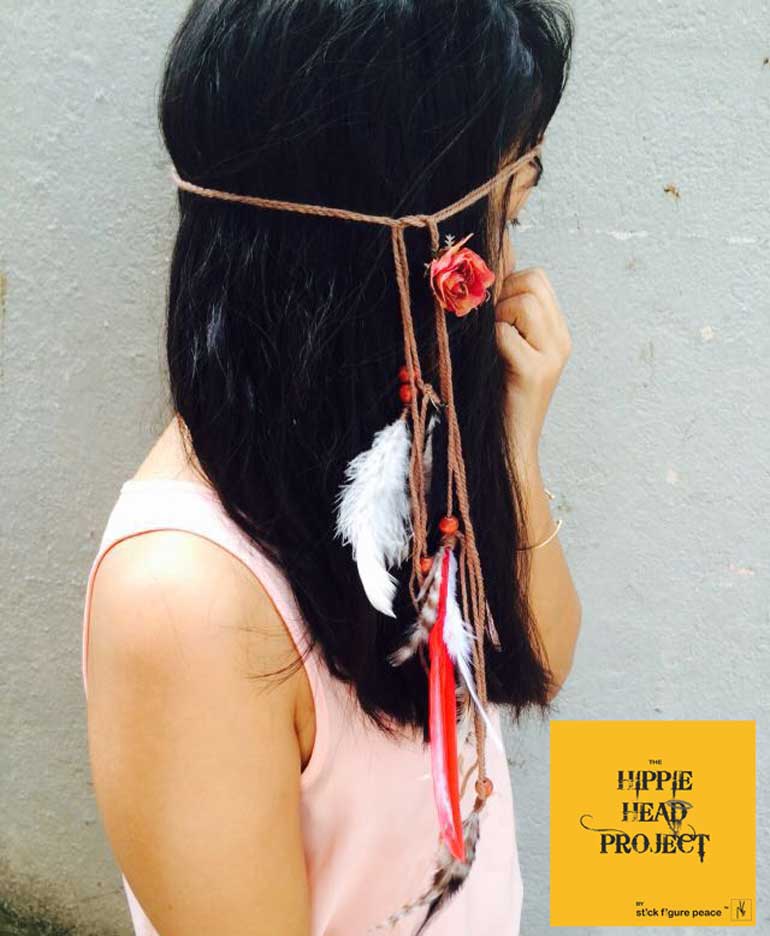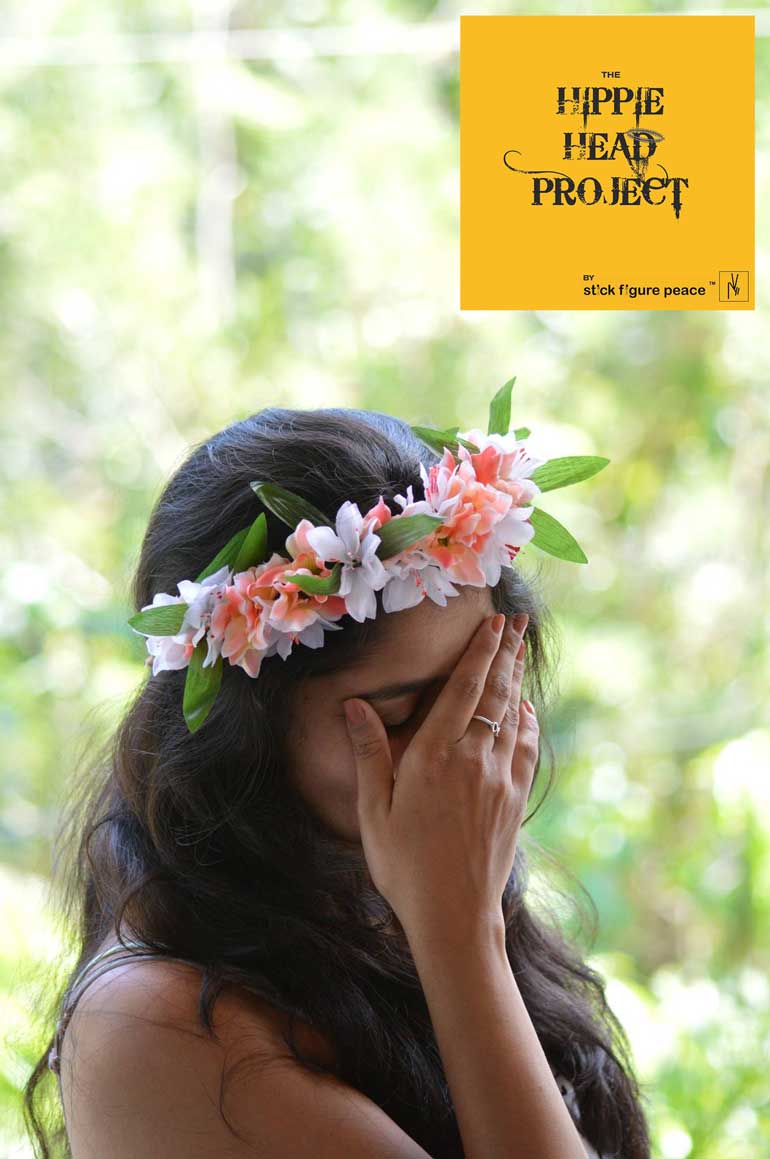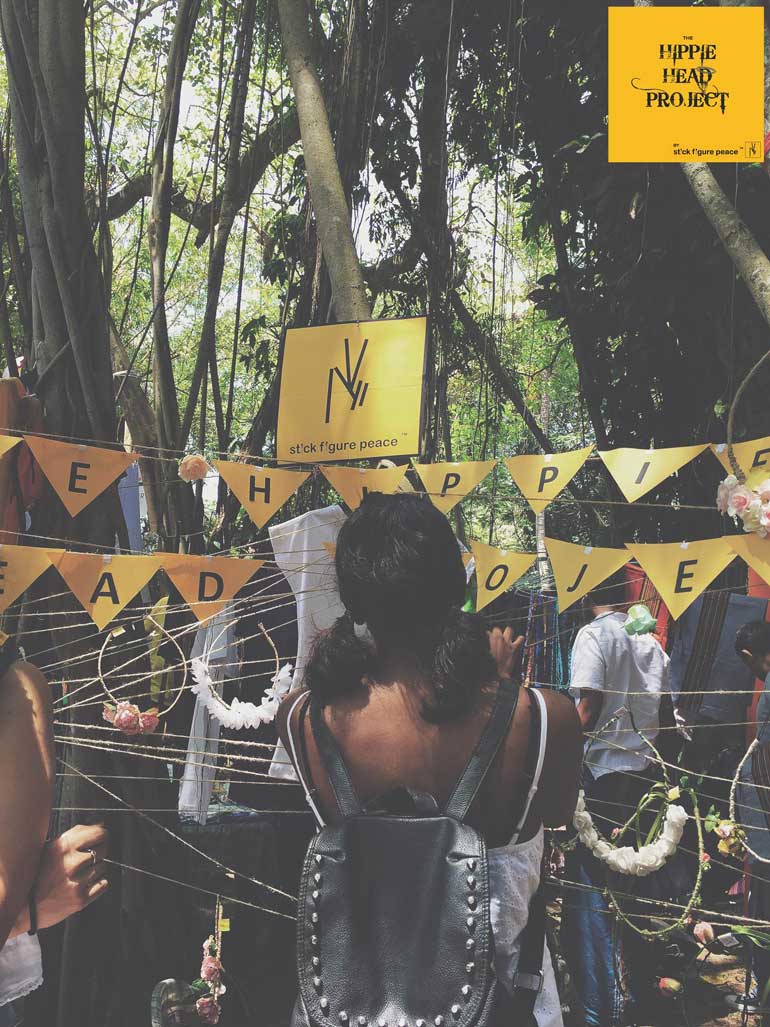 By Fathima Riznaz Hafi

Stick Figure Peace (SFP) is a home-grown Sri Lankan design label catering to a customer base that its founders call free spirits who embrace the artsy off-beats of life through fashion.

Launched with a line of custom hand-made flower crowns for young girls, the brand co-founded by Tahire Ratwatte and Afrah Saldin runs as a partnership of three friends, with Oshadi Abeygunasekara being the third partner and has been running for a little over a year now.

"Flower crowns have been a hair accessory popular around the world for centuries. Today however, flower crowns are more synonymous with the Hippie and Bohemian cultures which endorse it as a fashion accessory that embraces the ideals of peace and love. Our team at Stick Figure Peace is no different. We consider ourselves as being everyday girls who have just taken an enthusiastic liking to fashion through simplicity, making young girls feel special and beautiful," said Afrah.

"The process in creating a flower crown is truly special. Our customers come to us with their own ideas and requirements which we hone in merging with what we can offer to create a seamless, personalised design that fits the bill. We find that most often, no two designs are ever alike. In sharing the labourof making the crowns, the three of ushappen to each add our own unique style to the products we make. This is all unintentionally done and we find this process adds variety and specialty to what we produce."

Silent explosion of head bands

"We happened to notice there was an almost unnoticeable and silent explosion of head bands last year. We didn't see much of it and we wanted to see more of it. That is when Tahire and I decided it might be exciting to make them on our own and perhaps even for ourselves. The idea of making hair accessories for ourselves, surprisingly quickly grew into the idea of making them for others instead."

Tahire made the first three flower crowns (which are now of sentimental value and not for sale) which acted as a trial round to the whole venture and after that they went full on and began experimenting with designs and methods of making them in different ways. "It was no surprise that we fell in love with them as soon as we tried them on and we knew others would too. Sooner than later, we were asked by friends and family about these accessories and that is what essentially solidified the green light to go ahead with the venture," she added.

Aside from this very important milestone for SFP, there was a need to be creative and self-taught entrepreneurs in their own right. The SFP girls are all full time interior designers by profession – they studied together for over threeyears and came to find that each of their formulas were perfect for a venture like this. Not only were they inspired by a need to be creative but the need to seek a different kind of creativity from what they experienced through interior design. Their products also have creativity in each name playing on everyday words such as 'Pinktrest', 'Peachy Please', 'White Vine', etc., which they find adds more colour to thecollection.

They make the products entirely by themselves after sourcing the flowers from both overseas and local suppliers. "We never learned how to make them per se – it was more or less a trial and error process, nor have we ever made flower crowns in the presence of each other. Like we said earlier, we see this as an advantage as it really allows for each flower crown to be different from the other while adding our own personal style and touch to each product that doesn't necessarily hinder our own individualities," she explained.

Hippie Head Project

It was their objective to establish one product at a time and have each product under a different collection name. The 'Hippie Head Project' acts as one of many projects initiated under the Stick Figure Peace brand. As its spearheading venture, SFP initiated the Hippie Head Project to specialise in custom-made head bands and flower crowns.

"Even though we began only taking up flower crown orders, we have often agreed to explore other products in the avenues of jewellery designand home decorative items along with other hair accessories, bracelets, earrings on special customer request, which we found we could never say no to. The wedding season specially, led to us branching off very accidentally into button holes, flower girl wreaths, wedding favour baskets and small scale backdrops."

This year at the Colombo Hippie Market where they showcased and sold over 40 crowns in a single day, they also managed to introduce two home decorative items for the first time under the SFP brand. The products and projects endorsed under the Stick Figure Peace label intend to expand in the near future.

Whimsy of a flower crown

"It's remarkable how people have already begun to associate our brand with all their flower crown requirements. We didn't think there was a market to begin with, until we actually made our Facebook and Instagram pages and suddenly realised there was an outburst of interested young women and girls just like us. Our customer base ranges from the ages of 1 to 40, or more – age is never a barrier to feel great. Our followers keep growing day by day and we couldn't be more excited for the future!

"Our growth as a business has been a steep, slow but steady climb and it certainly is amazing to see how far SFP has come from having just a handful of orders a year ago to at least five orders a week now and over 1,000 likes on Facebook. The whimsy of a flower crown will never cease to enchant even us and we can only hope it will have the same effect on our clientele too."

Delivery

SFP is currently an online store which is managed from their homes. While two of them undertake orders from and around Colombo, the other handles orders which may surface in the Kandy vicinity. This gives them a broader customer base. They have two main pick up points within Colombo for customer convenience while onepick up point remains in Kandy. Occasionally they send them by means of registered post which is applicable to any island wide locations.

Customers need to place their order around a week ahead but in instances of weddings which might involve a number of similar designed custom flower crowns, they prefer a minimum of two weeks' notice to perfect every detail desired by the client.

They don't intend to remain an online store, however. They spoke of plans to have more interaction with their customers, explaining, "With our recent stall at the Colombo Hippie Market, we were able to meet and greet our customers and be part of an intimate selection process inpicking out a perfect flower crown for each of them – something we may not necessarily achieve in terms of an online store. Interaction in helping with the selection process of our customers' flower crowns is something we take very seriously at SFP and will always remain a special moment in all our endeavours."

Fashion through simplicity

"Customers can visit our Facebook and Instagram pages, what we consider as being public platforms. In this light, we are proud to promote our products in a unique way which respects and protects the full identities of our models. Hence, our photoshoots always conceal the faces of our models from full view, with a purpose. Our campaigns always draw attention to the product which we strive to uphold as the main focus of our branding and nothing else," Afrah said.

SFP believes flower crowns can be worn just about anywhere. Their customers have purchased products not only for weddings but also balls, parties, beach raves, bridal and baby showers, etc. 'I'd rather wear flowers in my hair than diamonds around my neck' is a quote they happened to stumble upon and something they choose to live by in promoting the idea of not associating one's happiness with materialistic things but instead promoting fashion through simplicity and vice versa.