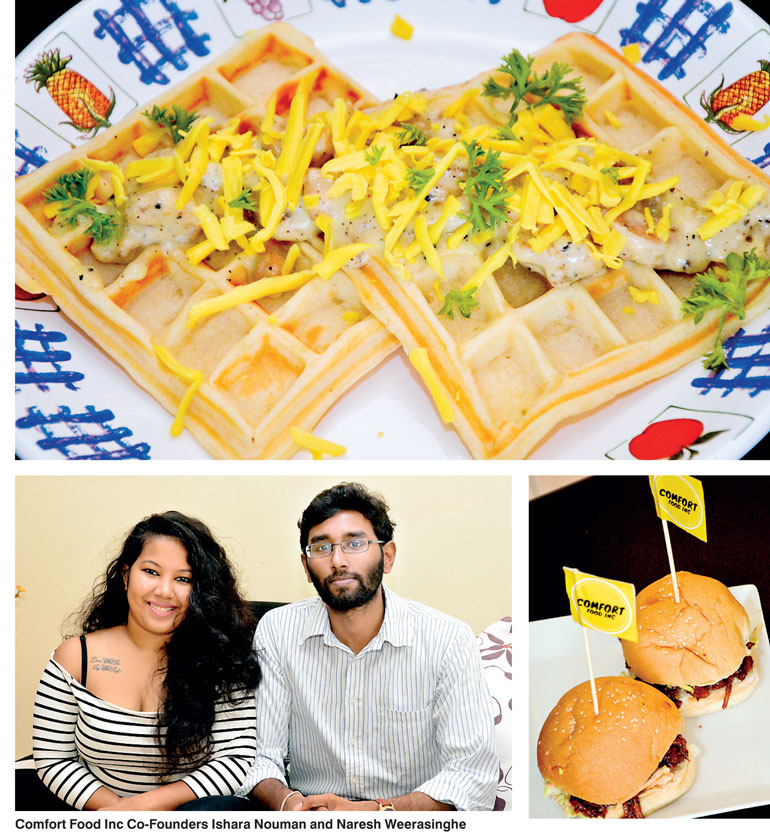 By Fathima Riznaz Hafi

With more and more people opting for healthy food, free of gluten, fat and sugar today, munching pies, burgers and cupcakes almost feels sinful. Sometimes we need to take a tiny break from our battle of the bulge to just pamper ourselves with some wholesome food for the soul.

Comfort Food Inc Co-Founders Ishara Nouman and Naresh Weerasinghe are happy to cater to these needs as they believe in food that's just there to make you 'feel' good!

"Our concept is all about comfort food – with no diet, no restrictions – that's just supposed to make you feel really good. We want to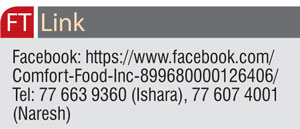 give food that you can indulge in, with full flavour," explained Ishara. "We started off with waffles and pot pies – with a lot of fillings and toppings. Then we experimented with different combinations. We like to mix and match things from our country as well as what I have tasted by travelling."

"We serve fusion and street food and it's mainly towards full-flavoured meat and vegetarian; not vegan and gluten-free. A lot of people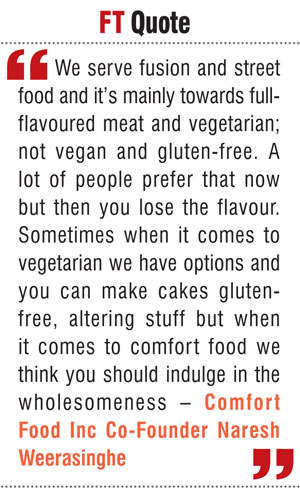 prefer that now but then you lose the flavour. Sometimes when it comes to vegetarian we have options and you can make cakes gluten-free, altering stuff but when it comes to comfort food we think you should indulge in the wholesomeness," added Naresh.

However Ishara uses healthy oils, does not serve beef or pork and her food is MSG-free. In place of MSG she uses spices to bring out the flavours. She even gets ingredients down from abroad when needed. Naresh travels abroad a lot and brings back whatever she requires from paprika to cocoa powder. He also comes back with new ideas.

Comfort Food has been going strong since October last year. Ishara and Naresh complement each other harmoniously with Ishara being the brains behind the cooking, designing and recipe mixing while Naresh is behind the marketing, presentation and creativity.

"We don't have a physical store. We like to have it at different locations, markets and events because of the atmosphere and we like to meet different types of people. We started off at Design Market, then went on to Woodstock Colombo, Run for their Lives, Hippie Market and concerts. When people come to events they like to try out new things. What we offer is something different from what you usually get because it's wholesome, home-made food," Naresh added.

They customise their menus from event to event, adding two or three dishes each time. This time they are introducing the 'pulled chicken burger', cheesy chicken waffles, prawn wrap and kebab sticks.

After getting to know a little a bit about the duo and concept behind Comfort Food, we moved over to a table where four scrumptious dishes were laid out for us. It was time for tasting…

Cheesy chicken waffle

This was my favourite of the lot. The waffle was light, fluffy and tasty, presented in a decent size, with chicken as its topping. Smothered with cheese, the tender, juicy, bite-sized chicken must be given special mention, as its mouth-watering creamy sauce oozing out (a result of it being prepared with a combination of three types of cheese) was delightful. Seasoned just right and full of flavour, I loved every bite of it.

The cheesy chicken waffle offers the perfect option to those who like sweetness but not too much sweetness in their food as the sweet taste of the waffle blends beautifully with the creamy taste of the chicken, creating an appealing balance.

The topping which is already bathed in cheese is sprinkled over with grated cheese. This is a definite must-try for cheese lovers.

Chicken and corn pot pie

This soft-crust pastry made with a filling consisting of chicken cubes, corn, peas and carrots all immersed in thick, creamy gravy, is sufficient for a hearty meal.

When it comes to pot pies, what first catches my interest is the crust. If it is pale I move on. Ishara's is perfectly browned and crusty.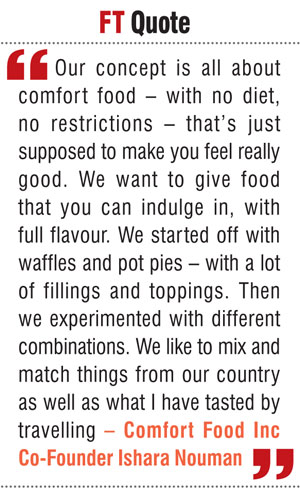 To hold my interest past the crust stage, the filling has to be creamy and with the right combination of flavours. I find that even with a good blend of meat and vegetables, the gravy in the filling is what holds the key to success in any savoury pie. Ishara's gravy is light in colour and rich in texture and flavour (which I assume to be derived from chicken stock), with a subtle touch of sweetness to boost the pepper and cream.

The chicken was moist, tender and flavourful while the vegetables were firm and fresh-tasting.

Pulled chicken burger

A generous amount of pulled chicken, immersed in a mixture of caramelised onions and coleslaw is what contributes to the luxurious spread in this burger.

Ishara says the chicken is first baked with seasoning and sauces and then pulled or shredded by hand and mixed with caramelised onion and coleslaw before being assembled in the bun.

The chicken was soft and tasted good and this juicy, filling burger comes with a hint of spice, achieved through a mixture of salt, pepper and a bit of paprika.

Death by chocolate cupcake

Ishara's death by chocolate cupcake is a dark chocolate cupcake with dark chocolate ganache frosting and sprinkles on top. The cupcake was rich, moist,fluffy and not overly sweet.

What really caught me though was the frosting on top – I could just eat the topping alone and be a happy person. The frosting was silky smooth, velvety in texture and tasted splendid. I was quite honestly more interested in eating the topping than the actual cupcake.

Conclusion

I would definitely recommend Comfort Food and especially vouch for their waffles! These are the people to contact if you need good ole soul food, prepared with a special touch, unadulterated and without guilt.

At present they only cater to events and parties and not individual orders as they both have full-time jobs and are also studying while juggling Comfort Food. Their goal in the long run is to have a food truck and a restaurant.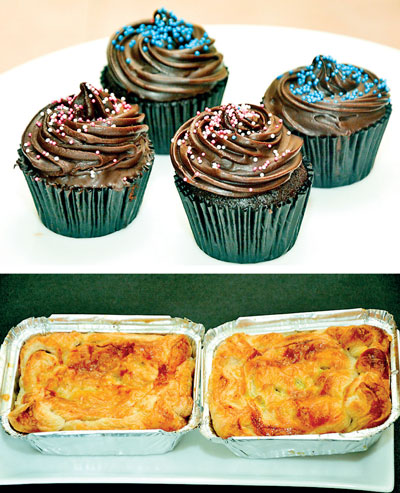 Pix by Upul Abayasekara