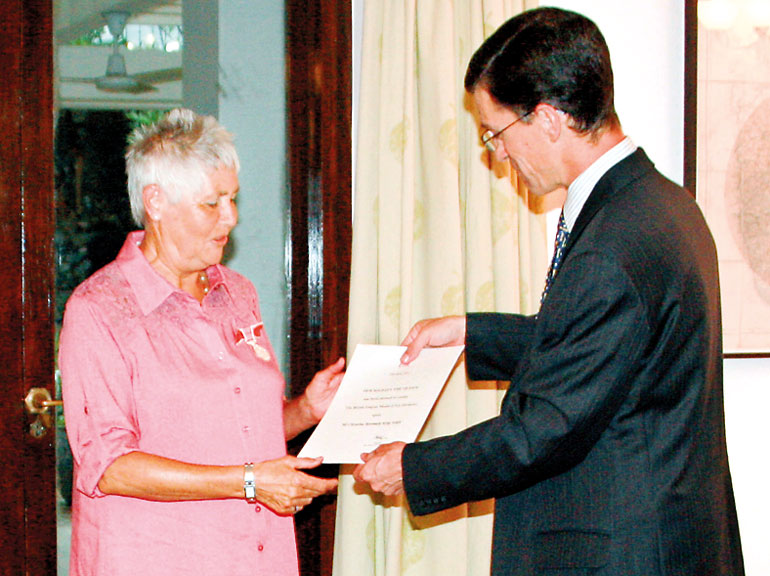 Christina Fonfé was presented with the British Empire Medal in recognition of her work with the Sri Lanka Women's Swimming Project (WSP) by the British High Commissioner James Dauris on 25 February.

WSP is a community drowning reduction program that teaches underprivileged women and teenage girls how to swim, as a basic survival skill and aims to empower them to teach their own children to make them safe near water. The Project specifically addresses the cultural barriers which prevent the majority of Asian women and girls from learning to swim.

In 2005, Fonfé began the Project on the premises of a dilapidated coconut plantation pool in Weligama. Initially she trained one thousand women to swim and trained six women as qualified teachers. She then travelled along the Southern Coast between Weligama and Galle, teaching women from the villages to swim.

Her efforts were assisted by the British High Commission in 2012 with the donation of a 12-metre portable fabric pool providing the Project more flexibility. In the 11 years since the beginning of the project the Sri Lanka Women's Swimming Project has trained over 5000 women and girls in basic water survival skills as well as CPR.

Fonfé worked as a swimming instructor in Marlow, England before moving to Sri Lanka.

She was commended for the service she gives to the community, at a ceremony hosted by the British High Commissioner.

"As many as three people drown every day on Sri Lanka's beaches, lakes and rivers. Christina has been working to reduce these numbers through her tireless efforts in the past 11 years. It gives me great pleasure to present her with the British Empire Medal; she has done great work for the people of Sri Lanka and shows the depth and breadth of Britain's commitment to Sri Lankans," British High Commissioner to Sri Lanka James Dauris said.

"80% of the fatalities in the 2004 tsunami were women and children and more than half of them girls. A reason why many were particularly vulnerable is because women in Sri Lanka are not encouraged to learn to swim. In the past decade I have worked with thousands of women and teenage girls, teaching them to survive in the water and to swim. They will now be able to teach their own children this essential skill," Fonfé said.

Through her project, Christina will not only have taught the thousands of people she has worked with how to swim, she will have increased their self-esteem and self-confidence and their physical and mental wellbeing.