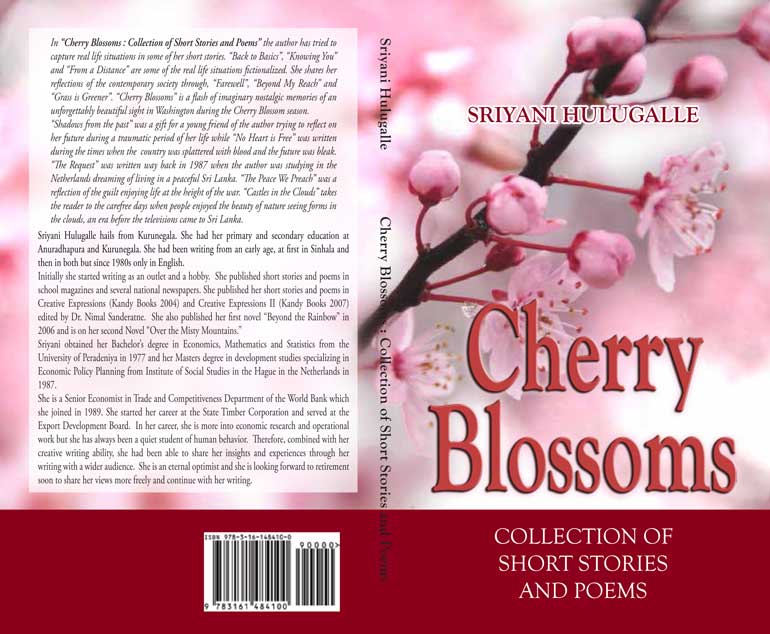 The launch of 'Cherry Blossoms,' a collection of short stories and poems by Sriyani Hulugalle, will be held today from 5 p.m. to 6:30 p.m. at the National Library Services and Documentation Board, No. 14, Independence Avenue, Colombo 7.

In 'Cherry Blossoms: Collection of Short Stories and Poems,' the author has tried to capture real life situations in some of her short stories. 'Back to Basics,' 'Knowing You' and 'From a Distance' are some of the real life situations fictionalised. She shares her reflections on contemporary society through 'Farewell,' 'Beyond My Reach' and 'Grass is Greener'.

'Cherry Blossoms' is a flash of imaginary nostalgic memories of an unforgettably beautiful sight in Washington during the cherry blossom season.

'Shadows from the past' was a gift for a young friend of the author trying to reflect on her future during a traumatic period of her life while 'No Heart is Free' was written during the times when the country was splattered with blood and the future was bleak.

'The Request' was written way back in 1987 when the author was studying in the Netherlands dreaming of living in a peaceful Sri Lanka. 'The Peace We Preach' was a reflection of the guilt enjoying life at the height of the war. 'Castles in the Clouds' takes the reader to the carefree days when people enjoyed the beauty of nature seeing forms in the clouds, an era before the televisions came to Sri Lanka.

Sriyani Hulugalle hails from Kurunegala. She had her primary and secondary education in Anuradhapura and Kurunegala. She had been writing from an early age, at first in Sinhala and then in both but since 1980 only in English.

Initially she started writing as an outlet and a hobby. She published short stories and poems in school magazines and several national newspapers. She published her short stories and poems in 'Creative Expressions' (Kandy Books 2004) and 'Creative Expressions II' (Kandy Books 2007) edited by Dr. Nimal Sanderatne. She also published her first novel, 'Beyond the Rainbow,' in 2006 and is on her second novel, 'Over the Misty Mountains'.

Sriyani obtained her Bachelor's degree in Economics, Mathematics and Statistics from the University of Peradeniya in 1977 and her Masters degree in development studies specialising in Economic Policy Planning from Institute of Social Studies in The Hague in the Netherlands in 1987.

She is a Senior Economist in Trade and Competitiveness Department of the World Bank which she joined in 1989. She started her career at the State Timber Corporation and served at the Export Development Board.

In her career, she is more involved in economic research and operational work but she has always been a quiet student of human behaviour. Therefore, combined with her creative writing ability, she had been able to share her insights and experiences through her writing with a wider audience. She is an eternal optimist and she is looking forward to retirement soon to share her views more freely and continue with her writing.