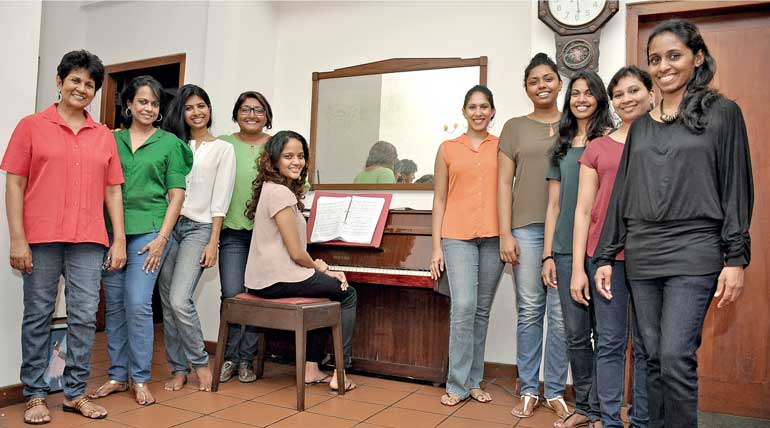 By Shannine Daniel

Kumudini Perera-David, Sherene Vas, Inakshi De Silva, Ayushka Nugaliyadda, Yanitra Kumaraguru, Mihara Jayalath, Priyadarshini De Mel, Melissa Pereira, Neomi Muthkuda, Melani Bibile and Anushiya Bastianpillai – together they are known as 'Camerati' which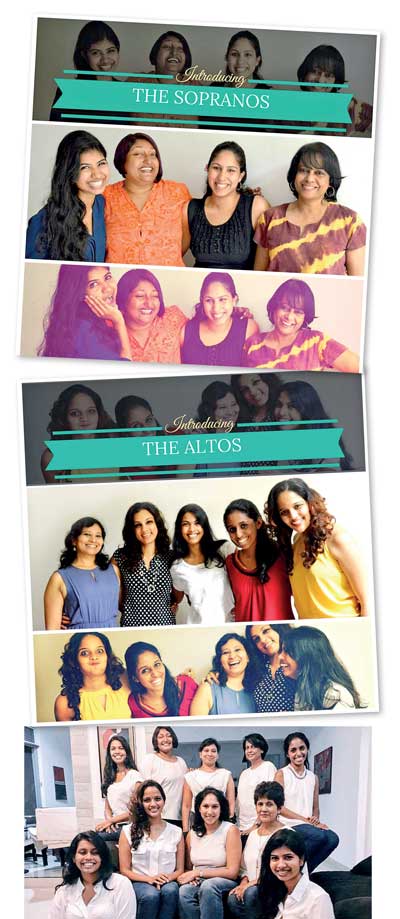 means friends in Italian.

It all began when a few of these former students of the famous songstress and singing teacher Aunty Mary Anne started meeting each other to catch up and of course engage in one of their favourite past times. Later on they decided to form a singing group of their own. Some of them, like Sherene, Melissa and Ayushka, have been singing for the past 15 to 25 years under Mary Anne David and therefore music and singing has become a key part of their lives.

Having started out in 2012, at first it was just six of them. A year later it had expanded to 11, and since then they have been performing at weddings, openings, concerts and all other sorts of events. Right now these talented singers are gearing up for the first official concert of their very own, 'Make a Joyful Noise', which will be held on 30 September and 1 October at the Russian Cultural Centrwe.

Afterwards Camerati will be competing at the First Lanna International Choir Competition in Thailand from 19 to 23 October and this concert was organised as a fundraiser in order to fund the costs of the competition.

Speaking to the Daily FT, these talented singers noted that almost everything needed to be done in prepping for the concert has been organised and handled by the group themselves, from organising the venue, the ticket sales, updating the Camerati social media accounts and even designing their costumes.

"We had to do all of these things along with learning 12 completely new songs along with the melodies and even the choreography in a span of a few months," said Melissa, the accompanist of the group.

When asked the vital question of how they managed to juggle their work and families, along with practices in the late evening and all the organising that had to be done for the concert, Yanitra Kumaraguru, a lecturer at the law faculty said that singing was what they were passionate about and their evening practice sessions were somewhat a stress-buster, since many of them were involved in hectic jobs spanning from teaching to logistics.

Adding to that, Anushiya Bastianpillai, owner of Brownie Lovin' said that they were doing what they love and since they each had a specific task that needed to be done to organise everything in time for the concert, everyone had an equal part to play and no one was really taxed with all of the effort.

"We have learned so much in such a short period of time because of this, and not just songs and music. We all have are individual strengths and we put them together to make this happen," revealed Kumuduni, who is a full time mum, a musician and an artist.

She added that their former mentor herself has supported, encouraged and helped them throughout, as well as Joshua Asokan and Roshani Abbey, and they are all extremely grateful to all three of them.

Moving on to the concert they emphasised on the genres of the songs that they will be performing which encompasses a wide array of different types of music like Broadway, Barbershop, Gospel and their own distinctive rendition of 'Ganga Addara', promising that they will be something for everyone regardless of their age or tastes in music. Many of these numbers will be sung at the Competition in Thailand as well.

"What makes us different from all the other singing groups out there, is the fact that this is all our own; everything has been put together by us, like the choreography and choosing the costumes, everything is done by us," stated Inakshi, who is a banker at HSBC.



"We like to add our own unique twist to the numbers, and make sure that everyone has a part to play even going so far as to add nine different melodies for everyone; you won't find many choirs or singing groups who do that," she added.

The concert will go on for roughly one or one and a half hours and will include guest performances from Ruwanka Leanage, Sanchitha Wickremesooriya, Kamishka Morais, Chanuka Piyarisi, Eshan Thilakasena, Rehan Almeida, Dilhan de Silva, Neranjan De Silva and Chanuka Piyarisi along with their own items and Mary Anne David will be present as the Chief Guest. Tickets for the show, priced at Rs. 1,000 will be available at Kadapatha, Crescat and Yamaha Music Centre.

They've been practising since March this year and as their big day draws closer, their practice schedule becomes tighter these last few days. After the 1st it will quite the rush until they set off for Thailand and Camerati as a group revealed that they are both excited and nervous for their performances.



"We are feeling many things right now, but mostly excited,' quipped Yanitra with a smile.

"Scared out of our wits, yet at the same time excited," added Kumuduni.

But after having had the pleasure of listening to these talented and vivacious ladies sing their brilliant version Ganga Addara, it was quite apparent that they definitely have the potential and the talent to wow the audience at their concert and take it to the next level at the Lanna International Choir Competition, hopefully going even further to compete at the Asia Pacific Choir Games to held in Colombo next year.

Pix by Lasantha Kumara