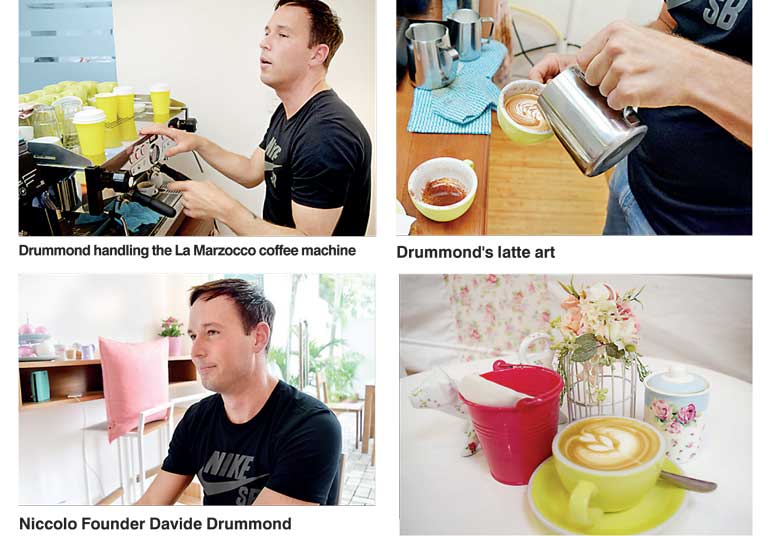 By Madushka Balasuriya

Having blazed a trail in Colombo's fast-growing home baking scene – their stall has been a staple at the Good Market for the last two years – Butter Boutique has finally given in to the calls from their legion of fans and opened up a place of its own.

Located down 27th Lane (off Inner Flower Road) in Colombo 03, the space is modest with comfortable seating for about 10 people. Plaques with inspirational quotes grace the walls, while the predominantly white-themed interior is complemented nicely by the wooden chairs and floor, with the subtle pastels from the assorted ornaments offering a pleasant contrast.

At the centre of the establishment is a table adorned with the day's treats; there's no menu so the cakes and baked goods on display are the only ones on sale, with the selection varying daily (unless you've placed an order). There are also homemade ice-creams available (you just need to ask), of which I highly recommend the salted caramel. It is, in a word, exquisite.

I digress though, as this review is not about Butter Boutique's delicious treats. No, it's about their new secret weapon that will keep you coming back to spend even more of that hard-earned cash: their coffee. Butter Boutique has partnered with Niccolo coffee, a Melbourne-based coffee roaster, and brought down renowned barista and Niccolo Founder Davide Drummond to help them in their quest to serve up the best cup of coffee in town.
The Backstory'Äč

Davide was first contacted by Butter Boutique via email after owner Rukshi Nethicumara was blown away by Niccolo coffee on a trip to the United States. Davide, who spends a majority of his week replying to emails regarding his coffee, says he in turn was won over by Rukshi's story of "selling cakes out of a market" every week to build a brand. A phone conversation later and he was convinced that Butter Boutique was the right fit for his product.

"My procedure when someone is interested in the product is to speak to the person that's opening the shop, find out their experience and see if they're going to be capable of serving the product the right way, and if they're passionate," reveals Davide. "I can see that passion in Rukshi and I can relate to her as well; I started this coffee company from zero, it was hard work."

Less than a month later, Davide was in Colombo, training staff and ensuring that in his two weeks here, all of his considerable knowledge and know-how of being a barista was shared with those working at Butter Boutique.
The Coffee

"The world of coffee now is very mathematical, it's very scientific," remarks Davide, as he meticulously brews a cappuccino using the Italian hand-crafted La Marzocco coffee machine. Deliberately pouring the milk over the shot of espresso he continues: "For every type of coffee you use, depending on how it pours or what tasting nodes you want to take out of it, there's a different weight, a different temperature, a different extraction time and a different yield (liquid foam)."

However, a good cup of coffee is only as good as its ingredients and this is where Niccolo comes in to its own. Niccolo coffee is a 100% Arabica blend, with it comprising 40% Brazilian beans, 20% Guatemalan beans, 20% Indian AAA beans, 10% Timorese beans and 10% Ethiopian beans.

"Every single ingredient is there for a reason," Davide points out. "One for the chocolate tasting nodes, one for the nutty tasting nodes, one for citrus, one for body and another one for crema (the thin layer of foam on top of an espresso)."

But despite this eclectic blend, it's the freshness that is their key selling point over more widespread brands. Coffees such as Lavazza, Illy and Romcaffe are sea freighted in bulk, Davide adds, meaning they take over a month to make their way from Italy to destinations such as Australia and Sri Lanka. While coffee beans do have a shelf life of two years, they lose their freshness after only three to four weeks.

"By the time it gets here, it's dead. There isn't crema on top of it, it doesn't have the aroma, it doesn't have the tasting nodes, it's dead coffee."

Not surprisingly, Niccolo wanted to do things differently. Their coffee was initially roasted by Manuel Terzi, protégé to the grandfather of the dark roast, the late Ernesto Illy. It was then air freighted within days to Melbourne, where its freshness enabled it to compete on an even keel with local roasters. As demand grew they began roasting in Melbourne itself, and now, thanks to a partnership with DHL, Niccolo will be able to send their fresh roasts from Melbourne to Colombo within just three days.


The Art
But it's not just about the taste; one of the most eye-catching aspects of modern coffee culture is the art, or more specifically, the latte art. Go on to Instagram or Tumblr and you will see accounts and pages dedicated to this talent. And while some may cast it aside as unnecessarily flamboyant, Davide, who has a background in fine dining, believes it is essential.

"[The latte art is] very important, it's presentation! Coffee that's well presented is everything. A lot of old school people in the hospitality industry play down the importance of presentation, saying that it still tastes the same. Yes, it can taste the same but how nice is it if it's well presented.

"It also helps with the taste because there's a lot of stirring in the coffee and getting things done."

He is, however, keen to stress that the art must come naturally, through the process of pouring the milk, and not through 'toothpicking', a skill by which a toothpick is utilised to create drawings on top of a latte. This he says is too time consuming and ends up with the latte being served cold.


The Taste
So does it all work once brought together? In short, yes. In fact, I'd go as far to say Sri Lanka has arguably never before seen coffee the calibre of this on its shores. The La Marzocco coffee maker is a top of the line machine which does not come cheap. However, with its myriad settings and customisation options, it arguably pays for itself. The coffee itself hits the spot whichever of the 10 different variations you decide to have it in; I tried a latte, and despite my considerable sweet tooth I could easily have had it as served (I ended up taking one and a bit teaspoons of brown sugar). Meanwhile, the precise temperature management offered by the La Marzocco meant that I did not have to wait for the coffee to cool down to drink (although I admit this does not account for the time spent taking pictures of the beautiful latte art!). But if you think it's the machine that does most of the work, think again.

"The machines are obviously programmed that way, the grinders are programmed that way, but it's the barista who needs to make sure the inputs are exact. And it is the barista who has to be good at stretching milk and doing latte art," explains Davide.

Indeed, the most crucial aspect of this venture has been the attention to detail and hands-on training offered by Davide to Butter Boutique's burgeoning contingent of baristas. This offers genuine hope that, going forward, this will be the new benchmark for coffee in Sri Lanka.


The Final Verdict
Colombo is not short of cafes and coffee shops but the Sri Lankan palate for coffee is not as cultured as it is when it comes to tea. This may just change all that.

"We are in a place that's really sophisticated. People want to go out, they want to eat well, they want to drink. Sri Lankans, you can now put your foot down and say you want the fresh stuff," says Davide.

Securing Niccolo has to go down as a major coup for Rukshi and Butter Boutique; coupling their already strong customer base with a beverage known for its addictive qualities, especially when done right, is really quite genius. They're not resting on their laurels either, with plans already in place to bring down Japanese soy milk, while Davide promised a recipe for almond milk as a parting gift. This, along with Rukshi's stated aim of diversifying into some savoury and breakfast items, means Butter Boutique is fast moving from quaint home baker to legitimate contender, and possible future front-runner, among the cream of Colombo's cafe crop.

But don't just take my word for it, here's Davide one last time: "Everything else in the world goes up and down with the stock market except coffee. If anything, when the stock market is down and people are a bit more stressed, they will then drink more coffee. It is such a solid business." Especially when that double shot of espresso comes with brownies!


Pix by Malik Gunatilleke