Effortless sophistication, outstanding cuisine

Dessert Wall
By Channa Fernandopulle

Stepping into Bars Café after a prolonged absence, it becomes immediately evident that this is not the same casual roadside eatery I had frequented years ago. Soft lighting, earth-toned wall drapes and white-brick walls create a palpable sense of friendly relaxation; no easy feat for a café situated just off a bustling Duplication Road.

Settling on a comfortable couch opposite from one of Bars Café's most intriguing new features, the Dessert Wall, it soon became clear that the effortless sophistication of Bars Café's décor could be outmatched only by its outstanding cuisine.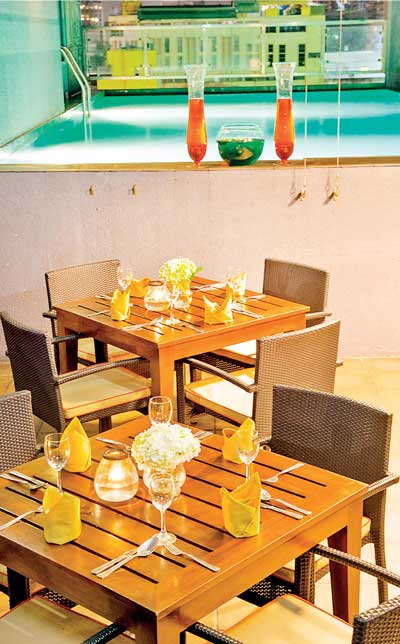 The Rooftop Terrace
New look and feel

Owned by Perera & Sons – practically a national institution at this point – the new look and feel at Bars is the product of a dynamic collaboration between Bathiya Gunawardane and Umesha Lathif. Taking the helm in December 2014, Bathiya described some of the concepts and ideas at play when he and Umesha took on the revamping of Bars Café.

"We decided to keep the identity of the place because, as you know, so many people have come to love this café, but at the same time we wanted to make it new and relevant, more refined. Essentially we designed our concept around the experience of sharing food that is reasonably priced and still carries that value for money but at the same time is full of character and flavour.

"Both Umesha and I are real foodies so we really wanted to be inventive and take on popular international dishes prepared by celebrity chefs but with our own twist on it and so far the response has been really great. It's been a challenging six months since we started but it has also been extremely rewarding," he enthused.

Perusing the menu, quotes from Voltaire, Walt Whitman, Mark Twain and Agatha Christie accompany a wide and mouth-watering selection of beverages and dishes. After much agonising and a few helpful suggestions from Bathiya, we settled on a coffee milkshake and three popular starters to commence our lunch.

The milkshake was truly wonderful with a strong hit of coffee to cut the sweetness of ice-cream and while a highly-recommended option – in fact one of the best coffee milkshakes in Colombo – it would have served as a better accompaniment to Bars' sumptuous desserts instead of its rich main courses.



Succulent spoons

For starters we ordered up three spoons – Roast Lamb with Dark Cherry and Rosemary, Shoe Lobster with Orange Glaze and a Crunchy Crab Ball – each of which offered an outstanding, bite-sized explosion of flavour.

The shoe lobster itself was soft and delicious, served with a few small strips of cucumber and bell pepper which cleverly offset the tenderness of the lobster while the orange glaze lent the dish a wonderful sweetness with next to none of the acidity of normally expected in such a sauce.

Meanwhile, the crunchy crab ball completely lived up to its description. Just the right amount of crunch on the outer layer and the generous helping of soft crab meat on the inside together created wonderful textures and an absolutely delectable flavour. In fact it would have been the highlight from the three spoons we ordered were it not for the truly amazing roast lamb.

Cooked to perfection, the lamb was complemented with a rich and flavoursome sauce that carried a slight spice, making it a must-try item.

Priced at just Rs. 150 per spoon, it was extremely tempting to make a meal simply out of the starter spoons themselves and we will definitely be returning to sample some of the other mouth-watering options in this section; particularly the Smoked Salmon with Cream Cheese and Dil and the Four-cheese Spicy Cheese Ball with Chutney.

All the spoons dishes we tried were presented on a single platter like little pieces of edible art and served as an excellent prelude to the main dishes while also showcasing the incredible care and thoughtfulness that went into their preparation and presentation, a trend that we are happy to say carries over across the entire list of items that we tried thereafter.


Trio of Crab

Moving swiftly over to the main courses, we selected the Trio of Crab while Bathiya recommended we also try the Pasta Bowls. At first we wondered if we had perhaps gone overboard with the amount of crab dishes we ordered but our fears were soon put to rest when an minimalist looking plate comprising two crab cutlets, a serving of baked crab with cheese in crab shell and a two crab rolls arrived at our table.

Looks can be deceiving and at first we felt vindicated in ordering two mains, an assumption which was proved false by the end of this splendid dish. Neatly plated with a sparse sprinkling of red chilli flakes and lines of specially-prepared chutney sauce for each dish, the Trio of Crab truly showcases the sophistication and elegance that this new incarnation of Bars Café brings to the table.

The baked crab was delicious and entirely covered with a generous serving of rich, melted mozzarella cheese that helped to balance the just-right saltiness of the crab while the crab roll went in a completely different direction.

Holding a slight crunch from the outer roll and mixed with a soft crab-meat filling mixed with finely chopped bits of green-chilli, the crab roll's wonderful flavour was perfectly complemented by the sweet-spice and hint of tamarind in the accompanying chutney.

The crab cutlet was another excellent addition, with its light crumb-fried taste and texture giving a completely new twist to the trio. All in all the Trio of Crab comes highly recommended and serves as a great introduction to the curiously subtle yet complex preparations that Bars Café is effortlessly brings together.


Pasta Bowls

Having eagerly demolished the Trio of Crab, we soon realised our folly in going for a second main course. As hinted at earlier, the dish was far more filling that we had initially suspected therefore we were only able to sample the four different pasta bowls brought to our table on a single platter.

Just as Bathiya had described, the Pasta Bowls have been designed with sharing in mind. One bowl contained a truly excellent beef lasagne; the next a rich, creamy macaroni and cheese; the third, a chilli prawn penne and finally a chicken fettuccini.

The macaroni and cheese was extremely creamy, the epitome of comfort food, while the prawn penne was a real star. Filled with generous portions of prawns and a thick chilli sauce that was surprisingly light on any real heat, the chilli prawn is another must try. However, the true star of the pasta bowls was the lasagne.

Absolute perfection, the beef lasagne carries just the right amount of oregano while the top layer of cheese is crusted over. Laying just beneath the surface is creamy melted cheese, which covers a rich base of beef and tomato that any foodie would do well to track down.

With the host of rich dishes on offer the chicken fettuccini offered a nice counterbalance with its minimalistic flavours. The pasta bowls are another great addition to an already-diverse menu. The pasta bowls also deliver on Bathiya's concept of sharing food. From the way the dishes are presented to the way that each individual component is easily mixed and matched with the other, the pasta bowls are a dish best enjoyed in the company of friends.


Dessert Wall

Having recovered sufficiently from the bliss of main courses we eventually managed to saunter over to the Dessert Wall to pick out two more items to indulge in.

With so much on offer, it becomes a difficult task to choose what the highlight of the Bars Cafe experience is but if we had to choose, the Dessert Wall would arguably be the single greatest aspect of this up-and-coming Colombo institution.

From macaroons to cheesecakes, biscuit pudding to the quirky tiramisu flower pot – with most items being served in take-away jars – it is safe to say that diners will be utterly spoilt for choice when it comes to dessert options. We finally settled on a classic – Chocolate Brownie – and a more adventurous option – the Spiced Peach Panna Cotta.

While the Chocolate Brownie is usually accompanied with a serving of ice cream, we are ashamed to say that we just only just manage further indulgence and opted out of the ice cream. Despite this we found the brownie to be mind-numbingly good. The chocolate was strong in flavour without being overly sweet and while on at glance it appears to look a little on the dry side, upon tasting it we found the Bars brownie to be anything but.

However the absolute clear winner and an item which we can say without any hesitation that we will come back for is the Spiced Peach Panna Cotta.

Comprised of peaches stewed in cinnamon and a few other spices layered over a beautiful gelatine-cream base, this dessert is one of the best panna cottas, one of the best desserts we have ever had the good fortune to sample. The exotic cinnamon flavour matched up unbelievably well with the sweetness of the peaches and when combined the wobbly cream base that characterises an ideal panna cotta, we have cannot stress enough just how good this dessert was.


Exciting new developments

Beaming with satisfaction, Bathiya explains to us that exciting new developments are in store for Bars Cafe with their Sunday Hopper Night becoming increasingly popular while their outdoor catering service, Leave It to Bars, is also picking up steam. Their rooftop terrace is also available for functions of about 75 guests and they have only recently tied up with Trekurious to carry out more promotions.

There is no doubt in our minds that the new Bars Cafe will go on to become one of Colombo's most popular dining destinations. The cuisine manages a perfect balance between sophistication and subtlety and their desserts are simply to die for.

At one point during our meal a torrential downpour started to rage outside while Louie Armstrong's classic 'What a Wonderful World' started to play and we found ourselves in complete and total agreement.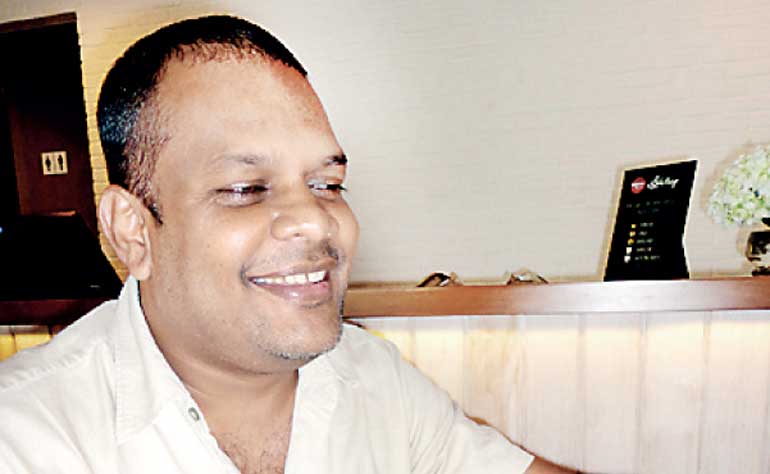 Bathiya Gunawardane