By Madushka Balasuriya

After months of teasing, one of the most highly-anticipated entries into Colombo's burgeoning food sector finally made its long-awaited debut, and we can finally Taco 'bout it! Yes that's right, Taco Bell is officially here.

Known for its Mexican-inspired cuisine, the American chain of restaurants, prides itself on its 'quick service' and the quintessential essence of it being some of the most satisfying comfort food on offer. In this regard, its coming out in Sri Lanka has been a raging success; entry queues are still a common sight two weeks in to its residency smack dab in the heart of Colombo 7 in Horton Place, but patrons are served promptly once inside, with the wait for food never lasting more than 10-15 minutes.

The level of demand is unsurprising, as the bold and sometimes spicy flavours brought forth by the use of ingredients such as corn, beans, avocados, tomatoes, and chilli peppers, not to mention rice, mesh exquisitely with what we in Sri Lanka hold most dear to our hearts (and stomachs); even the crunch of a hard-shelled taco evokes that salty, textural relief we so hanker for with those provisions of 'papadam' that liberally decorate our daily plates of rice and curry.

In that sense, there is an undeniable 'match made in heaven' vibe that radiates merely from the idea of dropping Mexican cuisine on the Lankan palate, and Daily FT ventured forth to see what the fuss was all about.

Tacology

The process of ordering your meal is quite straightforward, with a choice of four different bases – Taco, Burrito, Chalupa, and Quesadilla; five fillings – Mexican Chicken, Crispy Chicken, Fajita Chicken, Crispy Fish, and Pinto Beans; and three sauces with varying levels of spice to choose from.

The tacos at Rs. 300 a pop are, unsurprisingly, Taco Bell's fastest movers and they come in both soft and crunchy variants. While the price may seem cheap on first viewing, it must be noted that one will most definitely not be enough – unless you're popping in for a quick bite. However for Rs. 800 the Taco Meal comes with two tacos, a side of nachos or Mexican fries, and a soft drink, while for the same price you can also get the Taco Sliders, which are three tacos of your choice sans the drink and sides.

The tacos itself are, in a word, lush. The soft taco takes a back seat, allowing the filling to shine, while the crunchy taco simply steals the show, as its excellent flavour and texture profile gloriously complements whatever filling you choose. Both sets of tacos are furnished with a liberal offering of cheese and chopped lettuce to bring in that fresh element, but it must be said the amount of sauce in the filling is rather limited.

My personal favourite, meanwhile, was the Chalupa (Rs. 370). The term chalupa refers to the shell itself, which is a crispy, chewy, fried, and overall thicker version of a traditional taco shell. This though makes all the difference, as the texture blends delightfully with its filling. A single chalupa is also rather more sufficient than a taco, so a meal which comes in at Rs. 620, is pretty decent value. Add a dessert (more on that later) and you have an extremely satisfying meal for sub Rs. 1,000.

Next up is the Quesadilla (Rs. 500), which Taco Bell describes in the nifty Tacology section of its menu as a "flour tortilla full of melted cheese and mixed with your choice of succulent meat and special tangy sauce". That description says it all really, and I can vouch for its cheesiness, which leaves you basking in a warm, hazy glow once you're done. My only advice would be to eat it hot and fresh at the restaurant itself, as takeout will just dilute the experience.

Last but not least is the most filling dish on the menu, the Classic Burrito (Rs. 550), which is also available in a larger variant – the 7 Layer Burrito (Rs. 650). The classic, which I tried, comes with a hearty filling of rice, vegetables, and your choice sauce and filling. I had mine with the fajita chicken and cool ranch sauce, which is the least spicy.

It must be noted that the ratio of sauce to filling is much more generous in the burrito, allowing you to truly experience a nice subtle kick on every bite – it's not spicy as such, but 'cool ranch' is definitely an under sell – so be careful if ordering the spicier options with your burrito.

If you're looking at just enjoying the rice though, there is an option of the Naked Burrito (Rs. 650), which as the name suggests is a deconstructed burrito without the wrap, and also the Bell Rice Bowl (Rs. 450). My rice bowl came with the double chicken, and was surprisingly filling, with lots of traditional Mexican flavours; this one is definitely not for sharing.

Sauces and fillings

Of the fillings, my personal favourite was the fajita chicken, which is a Mexican take on grilled chicken. The crispy chicken meanwhile is definitely one of the better fried chicken dishes out there in the fast-food restaurant sphere, but if you are going for a crispy dish go for the fish.

The fish is perfectly fried, a crispy exterior wrapped around a soft juicy interior – in fact, it's so good, I would highly recommend picking it up as a side for Rs. 450 – and with a surprising dearth of fish and chips outlets in Colombo, I wouldn't be surprised to see the Taco Bell Crispy Fish with Mexican Fries (Rs. 280) becoming a popular combination.

Taco Bell however is most renowned for its minced meats and the Mexican Chicken delivers on that front. Packed full of flavour, it's ideal when paired with a crunchy taco or chalupa, though it is always best to try out each combination to figure out your own preference.

Finally, the one vegetarian option on offer is the Pinto beans, which are also packed full of flavour, ensuring that those averse to meat are not left out of the taco fun.

The sauces include Cool Ranch, Smoky Chipotle and Hot Ghost Pepper. While the first two are more flavour than spice – not to say they're not spicy – but a word of caution on the ghost pepper, which is definitely hot enough to make even seasoned Lankan's sweat.

Nachos, drinks

and desserts

No Mexican food review would review would be complete without a mention of nachos, and Taco Bell mostly delivers on this front. The only gripe would be that, like their taco shells and wraps, the nachos are pre-made and brought down from their supplier in India. So they're not exactly fresh. That said, they are delicious and the Loaded Nachos (Rs. 750), which come with either Mexican Chicken or Pinto Beans, and the standard offering of cheese as well as bits of bell peppers and onions, is best for sharing.

The drinks offer your standard carbonated fare, some uber sweet virgin Mojitos, refreshing Iced Teas, options for coffee, and some ice cream shakes (my favourite being the Irish coffee).

On the dessert front, Taco Bell offers two options the Chocodilla (Rs. 200) and Chocolate Caramel Tostados and Vanilla Ice Cream (Rs. 400). The Chocodilla is essentially a quesadilla with melted chocolate chips as filling; it's tasty but even after a heavy meal light enough for one person to polish off.

The tostados on the other hand are a different beast. Tostados themselves are deep fried nachos, and when served with a generous pouring of both chocolate and caramel sauce, and a big scoop of vanilla ice cream. It is a highly recommended, absolutely decadent dish that is easily shared among two to three people.

Conclusion

The glaring elephant in the room though is the lack of beef, which is a staple in Taco Bell chains elsewhere in the world. This however is only temporary, as I was assured that adding beef to the menu was definitely on the cards in the coming months.

That said, the lack of a beef option, while initially a cause for concern, now only seems like a minor blip as everything else on the menu is far and away the best value for money Mexican street food in Colombo at present.

Open daily from 11am-11pm, located on prime property, and with its competitive pricing, it is not hard to envision Taco Bell becoming a go-to spot for some solid, impromptu snacking at any time of day.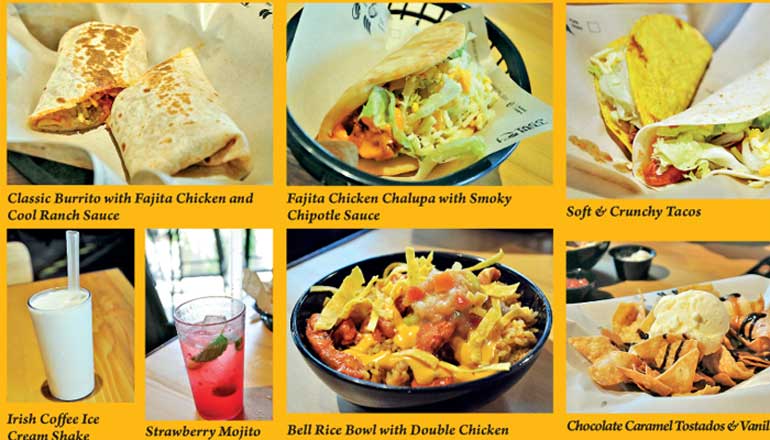 Pix by Sameera Wijesinghe