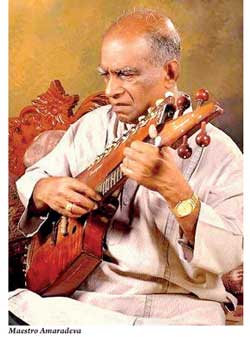 It was refreshing to go back to the 'World of Amaradeva' over the past week or two when Pandit Amaradeva's first death anniversary was commemorated. Media devoted space for programmes highlighting the Maestro's contribution for the development of Sinhala music. Newspapers published articles and electronic media paid tributes through panel discussions coupled with musical presentations.

From a couple of TV programmes I watched, I was most impressed with the youngsters who rendered Amaradeva songs so delightfully. Thanks to Derana TV six young singers in their early twenties (one was just 18) got an opportunity to select these songs and sing them before a studio audience. It was part of the weekly Derana Dream Star reality show where these six upcoming talented singers – four boys and two girls – performed. They had come a long way up to the final stages of the show. The experience they had gained along the way was well demonstrated by the way they sang.

The lead was given by 19-year old Sumeera Suranga from Ragama. He sang the highly acclaimed Sri Chandraratne Manawasinghe creation, 'Jagan Mohini Madhura Bhashini' – not an easy song for an amateur to sing. But he did a fine job keeping the audience glued to him.

Mahesha Sandamali from Veyangoda was so good in singing Madawela S Ratnayake's 'Thanha Aasha' that Samitha Mudunkotowa, the seasoned songstress who was one of the three judges, walked up and hugged her. The other two judges – Kirthi Pasqual and Nadeeka Guruge – too endorsed her talent.

Other participants from different parts of the country ranging from Athurugiriya close to Colombo to Embilipitiya too did their best and gave the audience and home TV viewers a glimpse of how much talented our youngsters are. We may not be able to find another Amaradeva in the near future but it is consoling to note that there is plenty of talent – a good omen indeed.

Indrasiri Suraweera presented another well-compiled programme over ITN. Two professors – K.N.O. Dharmadasa and Samantha Herath – along with veteran film director Tissa Liyanasuriya and Amaradeva's son, Ranjana, participated along with the highly-talented musician Janaka Wickremasinghe joining in to play selected numbers during the discussion. Manoj Peiris led the orchestra where guest artistes sang a few Amaradeva numbers. Dharmadasa touched on what he called the 'spiritual relationship' between Professor Sarachchandra and Amaradeva which was of mutual benefit. He paid a tribute to Professor Gunapala Malalasekera for his efforts to promote local culture when the Ceylon University had just started in 1942 in a more Western-oriented environment. He took the initiative in forming the 'Mela' to encourage Sinhala music and drama.

He recalled how Professor Malalasekera used to turn up regularly to see Premakumara Epitawela's ballet 'Selalaihni Sandesaya' and used to tell Premakumar to "get Albert to sing another verse". (Amaradeva was then Albert Perera and the ballet was one of the earliest where he performed.)

Samantha Herath hailed Amaradeva as the pioneer who worked hard towards creating an indigenous music continuing the work started by Ananda Samarakoon and Sunil Santha. He analysed how Amaradeva made film music rich and meaningful.



Tissa Liyanasuriya, co-director of 'Ranumuthuduwa' (1962), the first Sinhala colour film, related the experience he and producer Sesha Palihakkara, renowned dancer had in getting Amaradeva to work on the theme song for film. On Sesha's suggestion, Amaradeva was selected to handle the music and was asked to get the lyrics written by Manawasinghe.

Although they liked the song, they preferred one which would be more 'commercially oriented'. One evening Tissa, Sesha and Amaradeva visited Manawasinghe to ask him whether he could write a new song. He was enjoying a drink at the time. He agreed but said it should be done in the garden where he got inspired by "the apsaras" there. He was referring to three nude figures at the nearby pond.

Being a dark night, they hurriedly contacted photographer Sumitta Amarasinghe, set up a few lights and started. Seated on one statuette Manawasinghe got Amaradeva to sit on another with his mandolin. The result was the award-winning song 'Galana Gangaki Jeevithe' sung by Nanda Maliniu and Narada Dissasekera. Tissa found Amaradeva to be extremely helpful and friendly while doing the film and their close relationship lasted until the maestro's death. Ranjana identified the father as a fine human being who loved everyone irrespective of caste, creed or nationality. The human qualities he had helped him to live a carefree life. He also recalled how he used to go for a sea bath every Sunday morning with the three children. He was a good swimmer.

Jagath, as always, added the professional touch in rendering several numbers just as the maestro would have done.