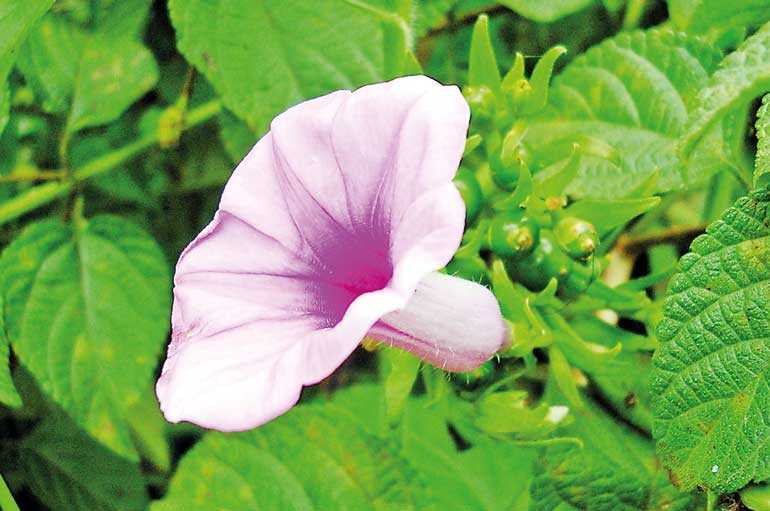 Argyreia populifolia (c) Gehan de Silva Wijeyeratne (02.08.2008 - Talawakele) 01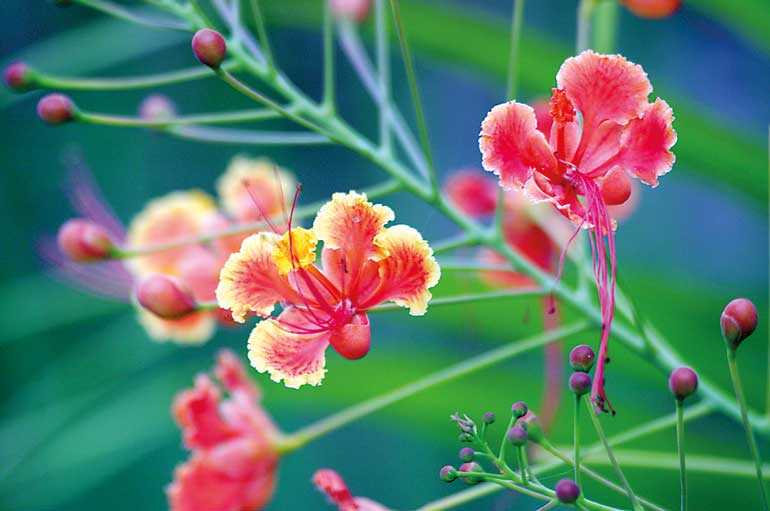 Caesalpinia pulcherrima (c) Gehan de Silva Wijeyeratne (2005 00 Talangama) 00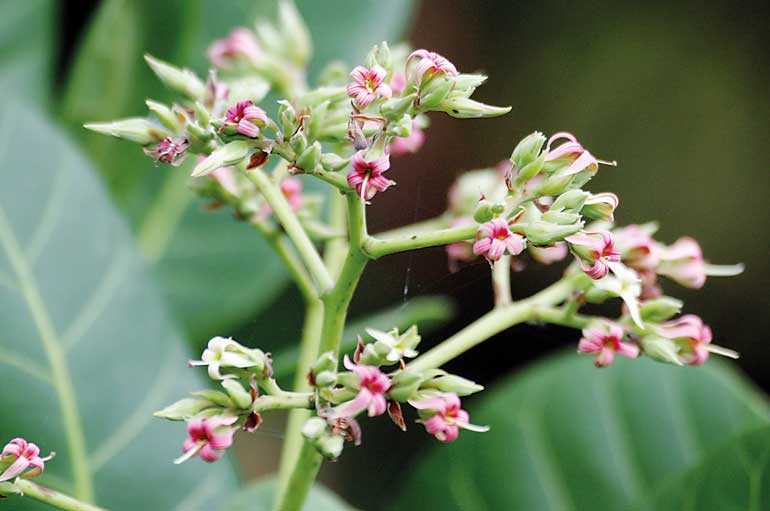 Cashewnut Anarcardium occidentale (c) Gehan de Silva Wijeyeratne Talangama, (2004 01) 00
Flamboyant Delonix regia (c) Gehan de Silva Wijeyeratne Habarana 2004 08) 00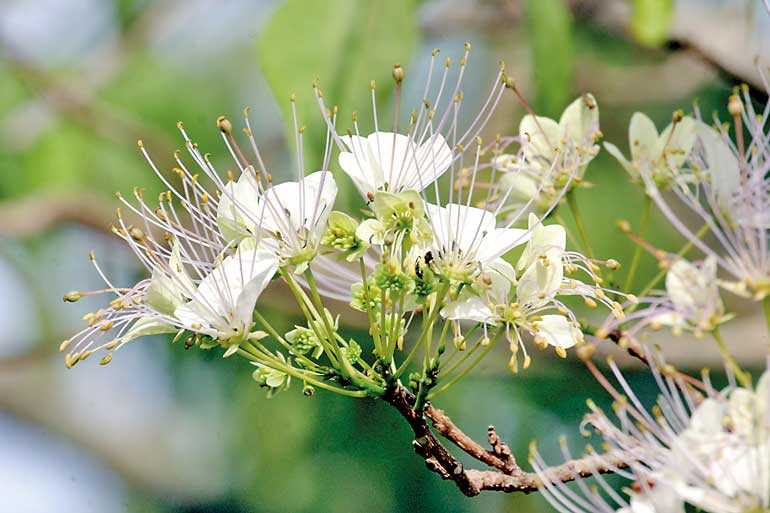 Lunuwarana Crateva adansonii (c) Gehan de Silva Wijeyeratne (Yala 2005 05) 01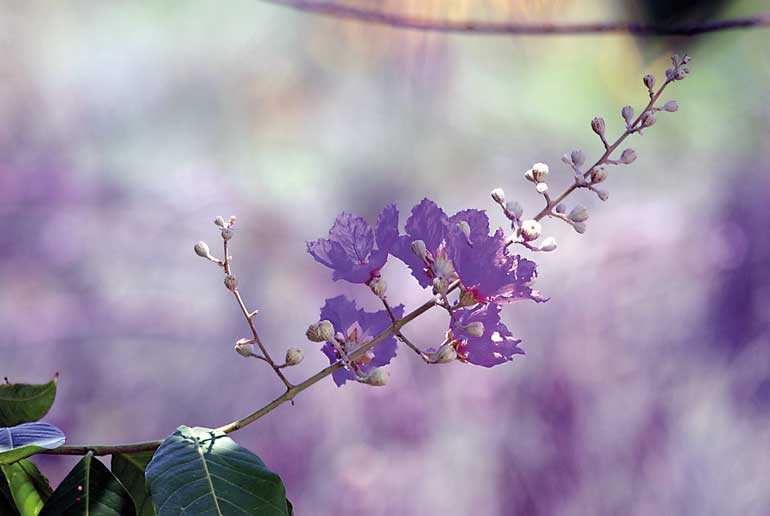 Queens Flower Lagerstroemia speciosa (c) Gehan de Silva Wijeyeratne 02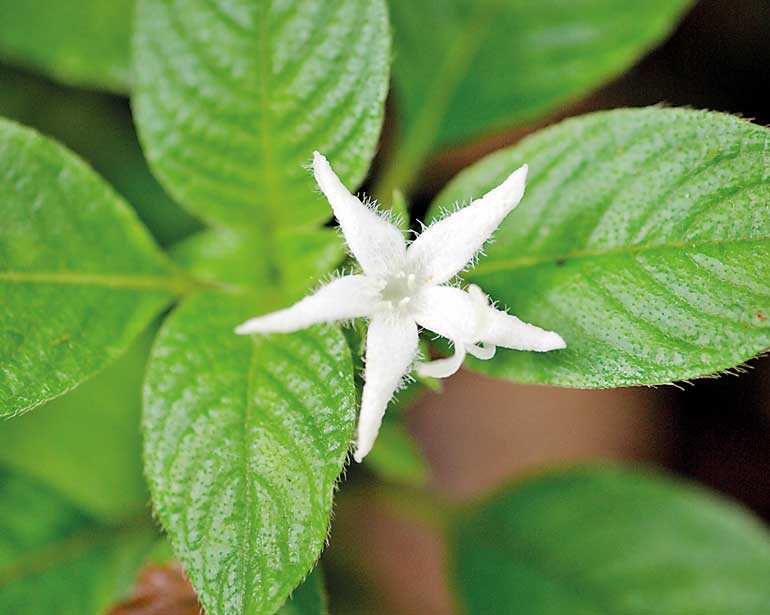 Schizostigma hirsutum (c) Gehan de Silva Wijeyeratne (2006 06 15 Sinharaja) 01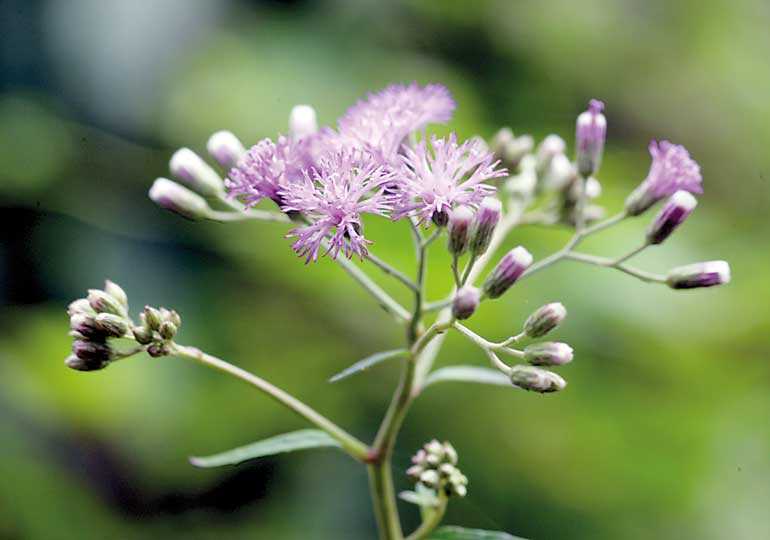 Vernonia cinerea (c) Gehan de Silva Wijeyeratne (2006 07 25 Sinharaja) 02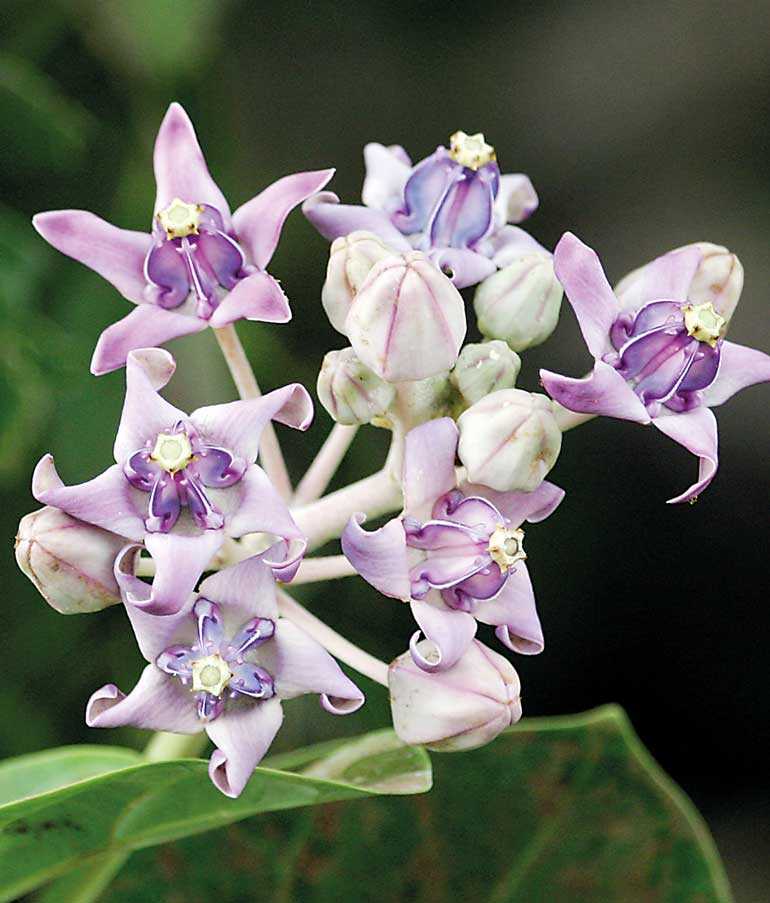 Wara Calotropis gigantea (c) Gehan de Silva Wijeyeratne Yala (2004 01)
Gehan de Silva Wijeyeratne, one of the authors of a new guide, 'A Naturalist's Guide to the Flowers of Sri Lanka,' co-published by Vijitha Yapa Publications (Sri Lanka) and John Beaufoy Publishing (UK), speaks to Weekend FT about the new book
Q: There are already a number of books on Sri Lanka's flowers. How is this different?

A: A key difference in this book compared to other wild flower books is that flowering plants are grouped by scientific family rather than say, the colour of flowers or type of habitat or economic use. The family structure is based on a modern taxonomic classification which uses DNA analysis. The grouping of flowering plants by families makes it easier for beginners to see how seemingly unrelated plants are actually in the same family. Beginners are often surprised to find for example that a small herbaceous plant, a creeper and a giant tree that they are familiar with and had thought were all unrelated, actually belong to the same family. This book will hopefully help beginners to understand some of the complexities of plant identification and help them to become familiar with relationships at family level. This will give them the confidence to progress to more advanced texts which deal with plants at the level of families rather than the colour of flowers or shape of leaves.


Q: Will this book make a difference?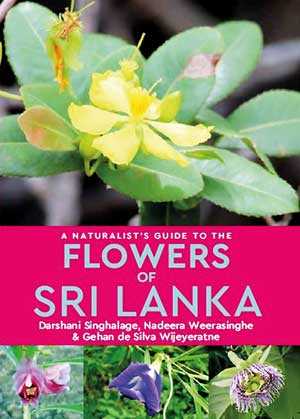 A: Yes, mainly because this is a modern photographic guide to wild flowers which is both portable and affordable. In fact, this is the first portable and affordable photographic field guide to Sri Lankan flowering plants, using a modern taxonomy. I have noticed that after I began to popularise birds, mammals, butterflies and dragonflies in the early 2000s through the production of pocket photographic guides and pictorial publications, others also began to do this. I am sure this book will also inspire others to produce their own photographic pocket guides. In this guide, we also have an introduction to each family so that people will think beyond simply putting a name to each plant and begin to think of plants at a family level.

The two key factors of portability and affordability are important for this to be a guide which will mobilise people to become engaged in identifying flowers when they are outdoors. The affordability will also help to build capacity amongst local naturalists as a book like this is likely to be within their budget rather than a large and beautiful book which may be superbly produced but is expensive. However, even at its low price, some local naturalists working as local guides and safari vehicle drivers may still find it too much of a financial stretch. But due to its low cost as with other titles in the John Beaufoy Publishing Naturalist's Guide series, I anticipate both local and foreign visitors will gift copies of books to local guides.

The portability is a crucial factor as no one likes to carry around a heavy book; especially if they are also carrying books on birds, butterflies and dragonflies. The portability also becomes important in the development of botanical tours. Plant enthusiasts visiting Sri Lanka on a botanical tour know that it is impossible to gain more than a flavour of the botanical riches of a tropical country of the size of Sri Lanka. But they would like to have a portable book that introduces them to the commoner families and species. Therefore, a book such as this also helps with monetising the island's flora.
Q: How do scientists decide which seemingly unrelated plants belong in a family?

A: The classical approach was to study physical characters such as the structure of flowers. This would be supplemented by other features such as the presence or absence of milky latex for clues of an evolutionary relationship. Molecular genetics have radically changed taxonomy and now use DNA to build a family tree of evolutionary relationships. This is known as a molecular phylogenetic approach. We have followed the fourth edition of the work by the Angiosperm Phylogeny Group known as APG4. The work of the APG has led to a fundamental re-assessment of plant relationships with some surprises. The APG system began in 1993 with a landmark paper by Mark Chase and 41 other co-authors. The classification system based on a single gene came up with surprising results. The Water Lilies were a notable example emerging as a plant order closely related to the Magnolias. It turned out be an ancient family which surprised botanists.


Q: Is this book comprehensive?

A: No. This is not in the same genre as A Photographic Guide to the Birds of Sri Lanka by John Publishing of which I was also the author and principal photographer. That book needed to cover 462 species of birds to be comprehensive. Sri Lanka has around 3,500 species of flowering plants in around 214 families. Therefore, this book covering 209 species can only provide a simple taster. A key objective of this book is to help people identify the commoner native and introduced plants they are likely to see and stimulate an interest to use more comprehensive books such as those by the Dutch botanists Jacob and Johanna de Vlas. Hopefully the plant family introductions and family based approach will also give people the confidence to start using books such as the excellent 'A Field Guide to the Common Trees and Shrubs of Sri Lanka by Mark Ashton and others published several years ago by the Wildlife Heritage Trust. The three of us who are authors of this book have set out to become popularisers and to get others interested in botany. We will be delighted if our book becomes the launch pad for people to start using the other more comprehensive books that are available.


Q: How did this collaboration come about?

A: In the early 2000s, when Nadeera Weerasinghe was a naturalist at the former Yala Safari Game Lodge, I asked him to photograph plants in flower with a view to producing a simple pictorial guide to dry zone flowering plants. I suggested he improved his botanical skills as that was a shortcoming in both of us, and more so with me. Nadeera took my advice very seriously and married a botanist, Darshani Singhalage. Following a discussion to develop a pictorial book, we agreed that Darshani would take the lead in identifying the plants and writing the species accounts whilst Nadeera and I undertook the photography. Rather fortuitously John Beaufoy Publishing approached me to prepare another title, this time on flowers, in their Naturalist's Guide series and we adapted the original project into this book. Because of my experience in writing popular guides, I took on the task of writing the front and end sections and the family accounts. I remain a pretty awful field botanist totally bewildered by the amazing range of plants found in Sri Lanka. The book has had a gestation period of over 15 years and we have all learnt a lot by doing it.


Q: Where is the book available?

A: The Vijitha Yapa Publications edition is widely available in Sri Lanka at bookshops. The John Beaufoy Publishing edition is available online from international booksellers.


Q: What else is keeping you busy?

A: I am currently on the council of the London Natural History Society (LNHS) and I chair the London Bird Club (LBC), one of the LNHS sections. A lot of my time gets drawn into supporting various initiatives with the LNHS and LBC. I am also becoming more pro-active in publicising how good London's infrastructure is for wildlife tourists and as a training ground for aspiring naturalists.