'Sensuous' by Minal Wickrematunge at Lionel Wendt Art Gallery from 6-8 September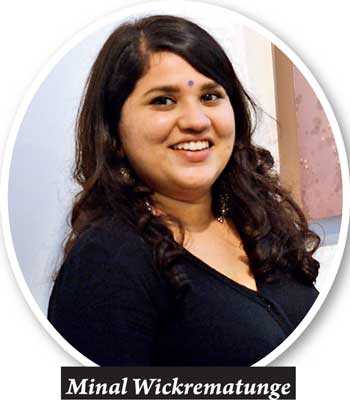 What does it mean to be sensual? This is the question asked at Minal Naomi's debut exhibition, 'Sensuality,' being held at the Lionel Wendt Art Gallery. The exhibition opened last evening and will continue over the weekend.

Sensuality – the very word evokes images that, in a traditional South Asian society are simultaneously pleasing and discomfiting.

This exhibition is an exploration of the word and some of its associations. It invites you to view, experience, critique and question.

Body: For many, sensuality is best described as the curve of a waist or the slope of a shoulder. But too often, curves are captured through an erotic lens. What changes when there is a conversation between artist and subject? Is it possible to celebrate curves and femininity without resorting to the cheap and salacious?

Constricted: In Sri Lanka, bodies are subject to surveillance. Societal norms place emphasis on notions of purity. Exploring sensuality in this environment is challenging.

This constriction affects self-expression. It goes largely unnoticed and unchallenged. Exploration of the body occurs in secret, often accompanied by a sense of guilt.

Internet labyrinth: Many try to circumvent this surveillance through expression online.

Through apps and social media, we are building our own personal digital brand, exploring what can't be expressed in the physical world. Connect: But increasingly people are turning away from phone and laptop screens. What is freeing can also alienate, or morph into addiction, leading us to edit out the less palatable parts of ourselves. What does connection mean in a world where the line between the digital and physical is blurred?

Create: It becomes clear that some experiences defy clear definition. This applies to sensuality – tellingly often mistranslated as sexuality or explained in the abstract in the vernacular languages.

This confusion exists in English as well. Since sensuality simply means what is pleasing to the senses, then the application of paint to canvas can also be understood as sensuous.

Visitors to the exhibition were invited to critique their own perceptions through the pieces on display, which varied from collage art to 3D renders and paintings.

Minal Naomi has been exploring the topic of sensuality for around three years. It is a topic she finds fascinating, given that it is often taboo in Sri Lanka and indeed in many South Asian countries. Minal Naomi is an interior designer by trade, but has also explored art and design through her clothing and home-ware line, ETHNO. You can find her work on her Facebook Page (@Minal Naomi) or her Instagram handle @minalnaomidesigns.


Pix by Shehan Gunasekara