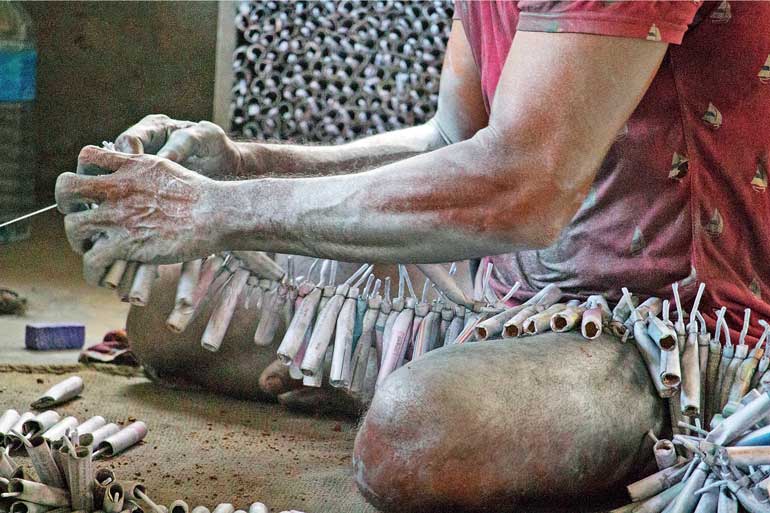 By Aysha Maryam Cassim

In Sri Lanka, firecrackers announce the dawn of New Year and Christmas. The arrival of Avurudu at the auspicious time is marked by the burst of crackers while nila kooru and mal wedi light up birthdays, weddings and Deepavali celebrations around the country. Occasionally, we also get to hear the deafening sound of crackers calling for celebrations upon releasing election results and during political rallies.

It's fascinating to see the journey of fireworks which originated in China, later introduced to 16th century Europe and evolved into an extravagant display of colours witnessed by the young and old across the globe today.

With the Sinhala and Tamil New Year only a week away, fireworks producers in Kimbulapitiya are trying to reach their targets under pressure of high demand. They have been working since last August and most of their work has been completed now. From May to June, the labourers and factory owners get a break.

Kimbulapitiya firework factories manufacture and supply fireworks for some of the country's best-known brands. While 80% of their output is sold in the outskirts of Gampaha District, depending on the regional demand, about 60% of the village population is involved in the fireworks industry. With more than 100 factories, their product line covers all categories of fireworks, including consumer fireworks and professional display fireworks.

There are reportedly around 177 fireworks factories in Gampaha District and 98% can be found in Kimbulapitiya, a town only five minutes away from Negombo. I managed to visit a few family-owned manufacturing factories located on the main Kimbulapitiya-Negombo Road and from what I learned, the firework industry is highly labour intensive.

Most work is still done by hand, predominately by youth, at wages of Rs. 1,800 per day depending on skill level and experience. Working with flammable chemicals stored and mixed in a factory entails a huge amount of risk. Workers mostly work together in close proximity. In order to keep costs down and production up, home-based businesses are struggling to keep up with modern safety standards.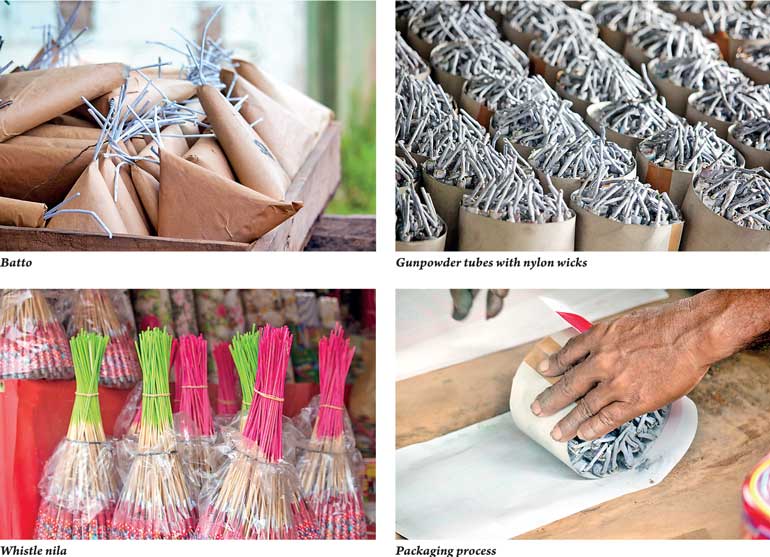 Although the Sri Lankan Government strictly regulates the manufacturing process and safety conditions of factory workers, tragic accidents still happen from time to time. Last year, during April, two young men were killed in an explosion which took place at a fireworks manufacturing factory in Kimbulapitiya.

Firework factories in Kimbulapitiya specialise in different things, but most of the business brands produce similar consumer items like batto, whistle rockets, shell rockets, sparklers, and ground shells (bambara chakraya).

When I visited one of the factories, there were workers seated on the floor, stacking bundles of plastic tubes that form the casings for the whistle rocket fireworks. The labour varies from making casings and packing clay plugs, to mixing chemicals and loading shells.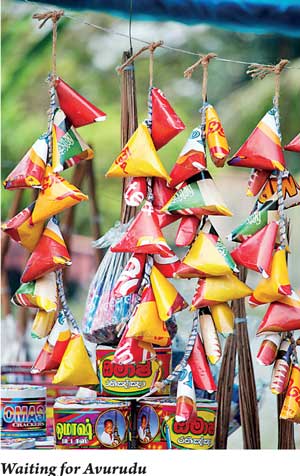 Firecrackers have a simple composition of rolled paper tubes filled with black powder and a fuse. When you light the fuse of a firecracker, the fire burns along the fuse until it reaches the powder and creates an explosion.

The black/gun powder contains 75% potassium nitrate, a chemical raw material commonly used in pyrotechnic products to propel the firework into the sky. Apart from this chemical, barium nitrate, aluminium powder, potassium chlorate, and sulphuric powder are used to manufacture crackers and fireworks.

Sri Lanka State Trading (General) Corporation Ltd. is the only authorised body which provides a quota for the manufacturers to purchase potassium nitrate. Potassium chlorate can be bought at the Sri Lanka Navy Camp at Welisara.

The firework industry is certainly booming in Kimbulapitiya but the domestic market only thrives during seasons and festivals. This year, due to a drop in the gun powder supply, it seems like the prices of crackers and battos have escalated.

Despite the price hike, the demand hasn't died. People still drop by at stalls in Maradana or the famous Rathinnya village of Kimbulapitiya to buy packets of nila or rathinnya to celebrate the coming of a joyous occasion which falls once a year. Until the next new year, it's the famers who use crackers to ward off birds and monkeys from their chena huts to protect their precious crops.
The word 'rathinnya' (Chinese firecrackers) is likely to have its origins in the Portuguese 'ratinho' meaning 'little rat' and was probably so called due to its appearance, since the fuse for lighting the cracker resembles a rodent's tail.