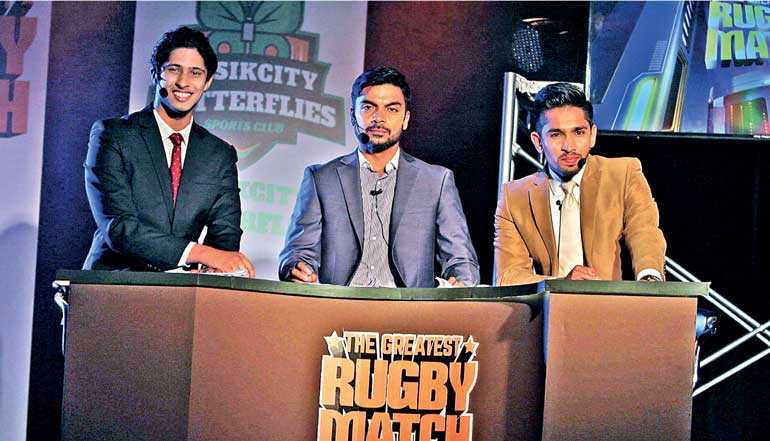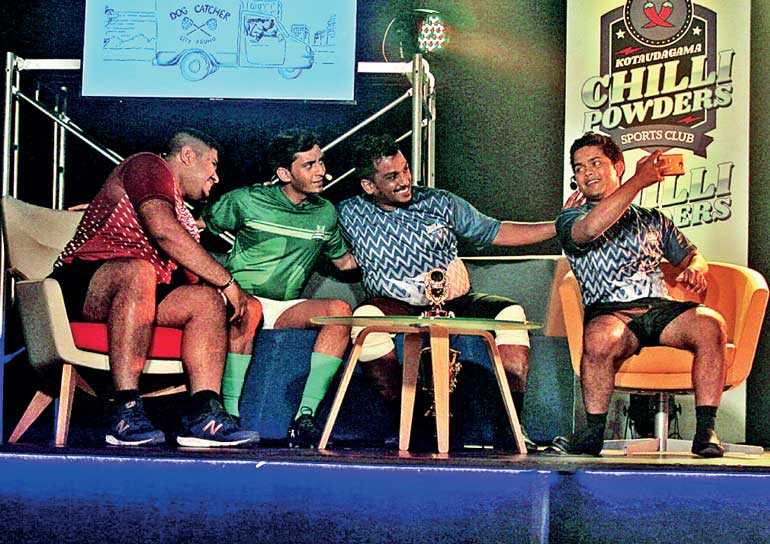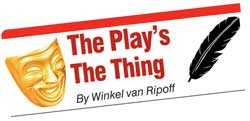 Rugby is the rage. There's the slap by a coach that was heard around Sri Lanka. Then there was the great showdown between two rival teams making national headlines. In green: the Arsikcity Butterflies Sports Club. In blue: the Kotaudagama Chilli Powders Sports Club. Representing not only two scrapping rugger sides but also contesting powers in parliament, this clash of the titans was a match made in heaven.

To be precise, it was a play shot at IdeaHell in Colombo 3 in front of a live studio audience. The premise was full of potential. For one, it was a clever idea to capture the political shenanigans of our time. For another, it was a creative script that used the metaphor of rugby to highlight the highjinks of our elected representatives. Last but by no means least, it was contrived as a means to critique our sordid politicos and challenge the people of our nation to do something about the lamentable state of affairs in Arsikland (read, 'Sri Lanka' scrambled with an extra D in there).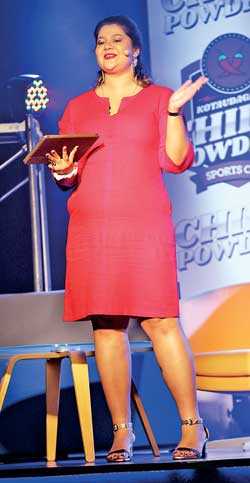 But somewhere down the line – no rugby pun intended – something went terribly horribly wrong. There was play upon play – again, no punny stuff meant – of words, ideas, concepts. With that said, the script lacked the chutzpah we're used to with the likes of Pusswedilla and Freddy. It was clever, but eventually only just that; and the lack of belly laughs showed up. It was creative; but there's only so much cleverness and creativity one can stomach. It was contrived: but the trap was not sprung and in the end, it was clear the joke was on us.

One can only hope that the audience realised that it was laughing at its own pain. For 50 plus long and traumatic days, the fate of our State lay in the hands of 225+1 politikkas playing pandu – pun intended – with our democracy. This 'greatest rugby match' would have been a brilliant opportunity to critically engage the powers that be with a view to challenging and changing the status quo. But to Winkel's lasting regret, Feroze fumbled the ball… And by the time the final whistle blew, your old uncle was left with the hollow empty feeling that he had sat through one of the great rip-offs of recent times.

For one, it was funny without being feeling. In other words, if the humour was intended to relieve our agony, it was too little, too late. But if only Feroze Kamardeen – that past master of timing and the pointed jibe – had got his act together in, say, late November or even early December last year, this would have been a welcome relief.

Traumatised as we were by those parliamentary buffoons behaving like battlefield bullies, the beautifully apt imagery of two rugby teams thrashing each other while a chief guest cheated big time on whom to award the winning trophy to should have been very apt. As it was, the best that could be said about this great game is that it was mercifully brief – at just under an hour, the shortest play ever by the author of three-hour-long comedies and one-sixth-of-a-day-long stand-ups!

For another, it poked fun at politicos – which is easy to do – without suggesting a possible remedy for our country's ills. Not an easy task? But the call of satirists! And it is becoming increasingly clear that this is not what StageLight&Magic is all about. And more's the pity.

Because while Pusswedilla may have served as fodder for one party or personage (some unkindly say it was simply propaganda), Freddy provided food for thought nicely garnished with jokes and jests that only statesmen could take. Sadly, The Greatest Rugby Match offered no such provender. All it provided was a pleasant enough distraction before the sleekly dressed beautiful people and party animals and social elite headed out for their next instalment of instant and unending entertainment.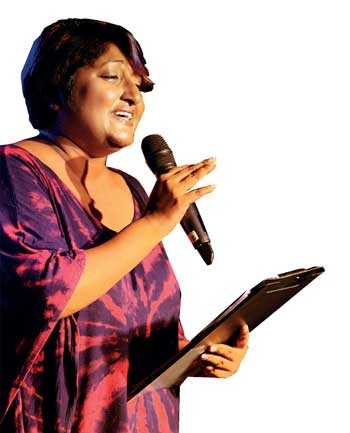 Last but by no means least, it failed to capitalise on a cardinal opportunity to garner citizen engagement. As part of a script, there comes a time when the three hosts of the show in tandem with a quartet of guests – the contesting teams – appeal to the crowd cum spectators to decide who the true victor in the hotly contested and disputed match was.

Not really playing his A-game, Kamardeen fumbled the ball… And failed to turn the cameras on the captive audience (remember, it was being filmed). Imagine what a coup that would have been! But the script simply picked itself up and limped on to a lame end. And in hindsight, there was not a single personage of political influence or significant policymaker present in the audience on that one night.

Talk about lost opportunities? But enough of brickbats! And let us give the devil his due. Game, set and match (ok, that's an inapt metaphor for rugby) to arts and entertainment with a rich mix of business.

There was absolutely nothing wrong with wrapping up a clever, creative, contrived production for the political hoi polloi – those ravenous socialites ever hungry to have their palates tickled with old jokes and their appetites satisfied with titbits. If you like hors d'oeuvres and canapés instead of grist for the mill, this would suit you to a T. Pity the play – it was a live set – was such a dead duck as far as speaking truth to power went. So FK & Co. have to make up their minds: is it to be a match between showmanship and slick business as usual? Or stepping up to the plate to try their hand at social transformation?

Despite the stage-managed smiles for the camera's audience reaction shots, here's one citizen who walked away a sad and shaken stakeholder in the SL&M franchise. Where once I was an unhesitant champion of FK's brand of attempted satire, I'd think twice about showing up at – wait for it – the musical rendition of what's rotten in the state of Arsikland! I'll do my crying in the rain, thank you so much.

And let's not kid ourselves ever again about the power of theatre in this avatar to challenge and change the state of play in Denmark (maybe that's where the extra D comes in?). For all I among likeminded fellow travellers did later that night was rue the fact that – while politicians make political capital out of criminally ambitious 'leaders' – entertainers were smiling all the way to the bank on their vain little ego trips. Game over, chum!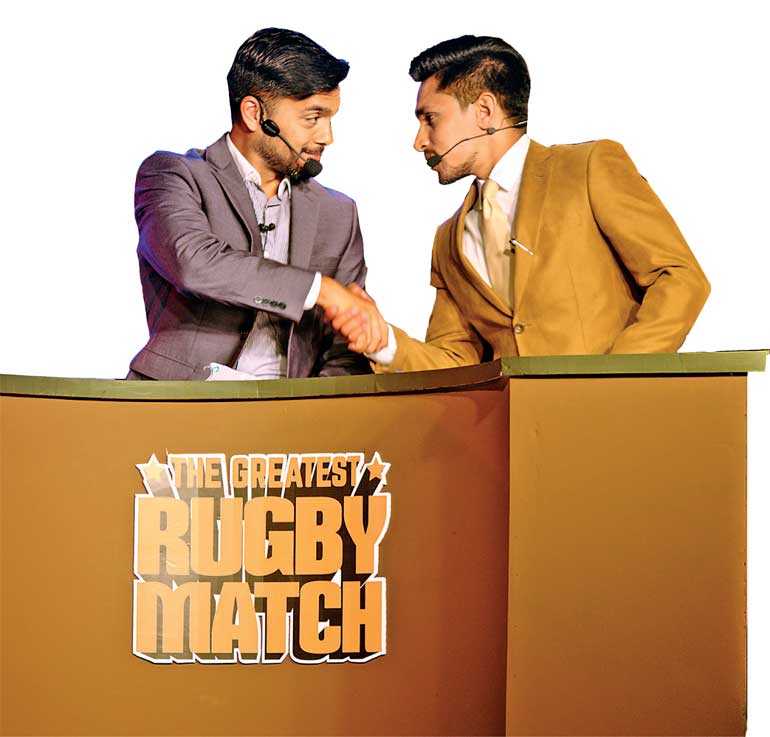 ---
The Greatest Rugby Match
Written by Feroze Kamardeen

Directed by Sashane Perera

On Saturday 16 February

At the IdeaHell Studio
---