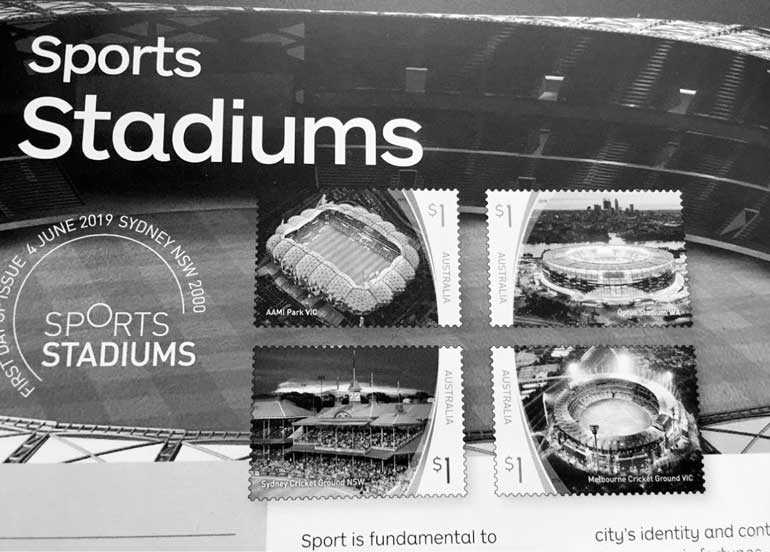 Sport in any country is played, enjoyed and admired by everyone irrespective of age or sex. Some may have their own preferences to specific sports and certain countries may excel in one or more particular sport(s). Spectator sport, in particular, brings together huge communities of passionate fans.

Governments and sports bodies spend huge amounts of money towards the promotion of sports. Sport is accepted as being fundamental to everyday life. Sports stadiums are built and maintained for the benefit of both players and spectators. Accommodation is provided for thousands of fans.

Australia Post has issued four colourful stamps of four sports stadiums in two of the busiest cities in the country – Melbourne and Perth.

"Elite athletes are crucial to the sporting landscape, but they rise and reign before passing the baton on to new generations of competitors. The main stadiums at which their talents are on display, however, are enduring places where sporting history is made. These stadiums are also often architectural statements in their own right - award-winning designs or significant heritage places - and they help shape a city's identity and contribute to its economic fortunes," the write-up in the Stamp Bulletin says.

The Melbourne and Sydney cricket grounds (two bottom stamps in the picture) stretch back to the mid-19th century. From humble beginnings, each venue has since built a rich and complex sporting history, the Bulletin says. In contrast, AAMI Park in Melbourne and Opus Stadium, Perth (top stamps) are two recently designed "cathedrals to the modern religion of sport". They primarily host codes of football. The AAMI Park was opened in 2010 and the Optus Stadium in 2018.

The famous Melbourne Cricket Ground – popularly known as MCG – is considered the home of Aussie cricket and Australian Football League. The site of the 1956 Olympics and the 2006 Commonwealth Games it has a seating capacity of 100,000.

The Sydney Cricket Ground saw the first inter-colonial rugby union match being played in 1882.

The AAMI Park is Melbourne's award-winning rectangular stadium has space for 30,050 spectators and is the ninth largest soccer stadium in Australia.

The multi-purpose Optus Stadium – also known as Perth Stadium – is the third largest soccer stadium in Australia accommodating 65,000 spectators.