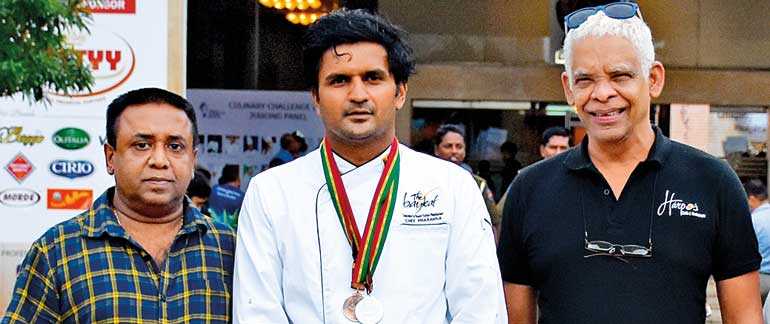 Bayleaf Executive Chef Saroj, Chef Prasanna and MD Harpo Gooneratne
Chef Wasana Prasanna of The Bayleaf Restaurant participated in the Culinary Art Exhibition 2019 and made it through with Silver and Bronze awards in the Live Action cooking and the 5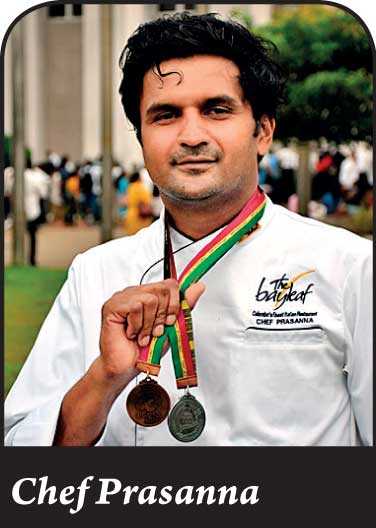 Course categories respectively, at the recently held event by the Chefs Guild.

Culinary Art Food Expo is also a comprehensive trade platform for the exhibitors and the event saw the participation of 32 international culinary judges from 14 countries and it was a great opportunity for the trade to meet, celebrate, taste and buy.

It's a proud accolade for Chef Prasanna to win this award – competing with over 2,000 chefs from hotels and resorts across the island.

Chef Prasanna has been with the Bayleaf restaurant for nearly a year and has contributed his creative talents in food presentation and also excel in his Italian dishes at The Bayleaf under Executive Chef Saroj.

His hotel career started with one year of culinary studies in international cooking and work experience saw him in a range of five-star Italian restaurants, resort hotels, city restaurants and a stint in a star class resort in Maldives and Kuwait , adding to his international experience, with overall 15 years in the industry.

"We are proud of Chef Prasanna's achievement with his hard work and unique creative talents paying off to bring us credit at the event. He is a great inspiration to other chefs in our group. We also give credit to this significant culinary arts event for recognising and encouraging local expertise and the outstanding impact it has had in the industry for so many years," said MD Harpo Gooneratne.