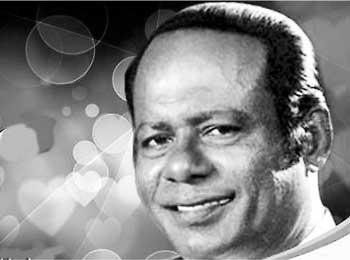 Baila is arguably the most popular form of Sri Lankan music among every level of people irrespective of age, gender or language. No party (be it a birthday party or any other), indoor or outdoor musical show, a wedding reception, a dinner-dance, or any other form of gathering is complete without a 'baila session'.

Baila – also known as 'bayilla' – derives from the Portuguese verb 'bailar', meaning to dance, according to Wikipedia. Thus Baila in Sri Lanka has a distant history from the times of the Portuguese dating back to the early part of the 16th century. (The Portuguese were here from 1505 administering the coastal areas until the Dutch sent them away in 1658.)

Wally Bastian is generally accepted as the pioneer of Baila in Sri Lanka. A Police officer in service in the 1940s, he was a musician who played several instruments. Later he transformed a few English songs to Baila and soon created several of his own, the most popular being 'Kussi Amma Sera' and 'Hai Hooi Babi Aachchige Bicycle Eka'.

Baila gradually became so popular that there were many who promoted it through 'Vaada Baila' with several singers competing. These were similar to the competitions among poets where they recited 'Hitivana Kavi' when one poet had to compose poems then and there in reply to what his opponent presented.

As this form of Baila competitions began to provide entertainment to the crowds that turned up in numbers, more and more youngsters began to be interested in Baila. Among them was one from Mount Lavinia. Having watched these he decided to take part and one day the 21-year old lad came home with a cup in hand. He had won the third prize that night. He had also been offered Rs. 8 for his effort!

That was how M.S. Fernando (MS as everyone started calling him) began his career as Sri Lanka's most-talked-about Baila singer.

As he progressed, he earned the title 'Baila Chakravarti' not from the Government or an organisation. Echoing the popularity he had with the fans, renowned lyric-writer Karunaratne Abeysekera 'conferred' the title on MS, the undisputed singer/performer of Baila. That was after a musical show at Viharamahadevi Park when the crowds started demanding 'one more' after every song MS sang.

Recognition for his musical talent at an official level came in 1973 when he was awarded the Golden Lotus Award.

MS had sung in at least five languages – Sinhala, Hindi, Tamil, English and Malay. He had sung in over 150 films and acted in 32 films. These came out at a recent TV chat show over ITN when four participants reminisced the 'glorious days' of MS. Of the four, one was his eldest son, Susil – one of five sons and his brother Walter, who is himself very much in the Baila scene today.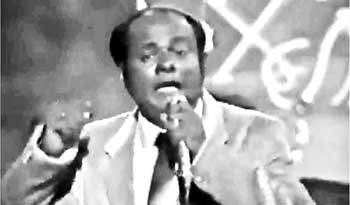 MS scored over many other singers through his movements on stage while singing. He was a great performer who kept the crowds enthralled.

MS was not merely a singer. He wrote the lyrics, composed and directed the music too. In writing songs he picked simple words in day-to-day use. As Keerthi Pasqual mentioned at the TV discussion, MS used easy-to-understand words, catchy tunes and he had melody power.

'Mama taxi kaaraya – Mama eralayanna harima sooraya' is one example of his ability to pick on words in everyday use. He also sang 'Hello girl hello girl hello kiyanawa – Nitharama telephone eke kathakaranava' depicting the busy life of a telephonist.

He had the knack of choosing persons whom he used to meet regularly as themes for his songs. They were mostly friends or relations. "Arthur Aiya and his wife Prema Akka were two such persons. He also picked Maggie Akka for a song," Walter said.

Arthur was a driver who kept his car near the Mount Lavinia Hotel waiting for tourists to get an outstation tour. His daily routine promoted MS to compose 'Galkisse hotale langa – Arthur aiya hotale langa'. Simon Aiya and Martin Aiya were also featured in his songs.

Of the film songs he sang, the 'hit of the day' was 'Obata thibena aadare mama kiyala denna'.

Walter talked about his brother's hobbies. "His one and only hobby was seeing English films. He was influenced by the films he saw in composing songs," he said. 'Marina, Marina' was a song he composed after seeing a film about the feelings of a young soldier who was bidding good-bye to a Mexican girl with whom he had fallen in love when he was serving during the World War II.



MS has never attended any classes to learn music. "He had talent which he developed with the 'Vaada Baila'," Walter stressed.

His was an unexpected death 24 years ago on 9 April 1994 at the age of 58 while at the zenith of his career.