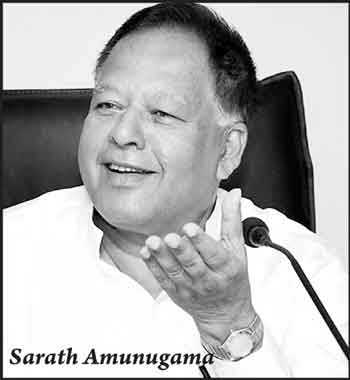 Reading about Dr. Sarath Amunugama's decision to say goodbye to politics and not contest at the next election, I recalled my days as a journalist at Lake House when I used to meet him on and off when he was Director of Information.

It was the latter part of the 1950s or early '60s and rarely, if at all, did government ministries issue media releases. The reporters did daily rounds to selected ministries and government departments.

Though we had not met at the Peradeniya campus since he was there after me, we got to know each other through friends.

I never forget the telephone call I got from Sarath A when I had just joined Lever Brothers after over a decade at Lake House. I had just finished my familiarisation at the Marketing Division at Levers when he called me and asked whether I would like to go to Singapore. He was looking for a media person to represent Sri Lanka at the inaugural meeting of the Asian Mass Communication Information & Research Centre (AMIC) in Singapore.

To call me at Levers he knew I had left Lake House and when I suggested he should look for a practising journalist, he told me I would still be the best choice to attend the meeting. Foreign travel was virtually banned at the time and one could only take three pounds and 10 shillings (Rs. 50). To go overseas you had to be sponsored by an individual or an institution.

Sarath A told me I need not worry about money since they were providing accommodation as well as give a daily stipend. Incidentally, the invitation from AMIC had come through Shelton Gunaratne, one-time journalist at Lake House. He was on his way home from the Philippines for a holiday when he had dropped in at AMIC and was told they were looking for a person to represent Ceylon – as Sri Lanka was then known. (Shelton G started on the 'Dinamina' news desk and then on the 'Daily News' before shifting to the Philippines).

I was fortunate in Stanley (LS) Jayawardena, Levers Marketing Director approving leave and off I went on my first trip to Singapore.

Sarath went up the ladder and was Secretary to the Ministry of Information and Broadcasting when I had moved to CTC (Ceylon Tobacco Company) as Public Affairs Manager. That was the time CTC was the only private sector company promoting sports and when foreign sports teams, mainly cricket teams, came to Sri Lanka the Board of Control for Cricket looked to CTC for sponsorship.

The high taxes on smoking products in almost all the countries brought high revenue for the governments and Sri Lanka was no exception. Meanwhile, anti-smoking lobbies pressed for a ban due to health reasons.

Though the Sri Lankan Government too depended heavily on tax revenue from cigarettes, the lobby to ban advertising gradually gained ground and the Ministry of State covering information

and broadcasting was requested to study the issue.

Minister Anandatissa de Alwis invited CTC to discuss the issue. When we attended the meeting Sarath A as the Ministry Secretary was also present along with Minister de Alwis. After a fairly lengthy discussion, the Minister looked at Sarath and told him, "Shouldn't we ask them to cut down on advertising and promotions and allow them to carry on for a little while more?"

Thereafter, CTC virtually stopped promotions and drastically cut down on the advertising. In fact, Bristol was the brand that was heavily promoted.

At a time when there was no TV, cigarette advertisements appeared in cinemas and when a ban was in sight, Reggie Candappa, boss of Grants Advertising, which was handling the bulk of CTC advertising, came up with a smart slide for screening in the cinemas.

Showing a pack of Bristol and with just an instrumental version playing in the background having dropped the words 'Bristol belongs to the world of today,' the advertisement said, 'No smoking – not even a Bristol'.

Sarath has always been a keen follower of art and culture and was a treat to listen to whenever he spoke on cinema or drama.