Artist Prasad Abu Bakr observes the current high tide within the Colombo art circle and a few questions hanging high over it all
In conversation with the Daily FT Prasad Abu Bakr, as an artist and journalist and as a person who has dabbled full time in many areas of the fine arts, looks even deeper into the patterns that has evolved over the years, bringing one's attention to observe where the fine arts are heading in a relatively small Asian city like Colombo and in a country where the English language is still spoken by a minority of society and the language still continues to grow as a major communicative tool when it comes to marketing products including art!

Colombo is currently hosting as many as four major art exhibitions with big banner names such as The George Keyt Foundation's annual presentation of 'Nawa Kalakaruwo' at the J.D.A. Perera Gallery, bringing forth names and works of artists who have been circulating individually in the recent past together in one showing – The Barefoot Gallery is hosting Druvinka, the well-known Sri Lankan painter who has made India her home; Paradise Road Gallery is opening its doors to an all-time favourite name in the artists' circle, Prageeth Rathnayake; while The Saskia Fernando Gallery is due to present a collection of work by renowned and controversial painter Chandraguptha Thenuwara. "So what?" one may ask – but nothing just happens without a cause – isn't it? There has to be consumer interest in the first place and especially for so many suppliers to join the fray!

"If we take a longer look into current educational trends in the country as a whole, the last thing any parent will encourage is to have their kids join the arts stream to further their education, even sports (especially cricket is on top of the list) as an extra curricula activity besides one's mainstream educational activities, than to have your child dabble in art. Unless or otherwise parents are given the promise of having a Picasso or a Gemini Roy spiralling-up high, to sit on top of the family tree," says Prasad recalling that he had no such opposition to his love for art during his childhood.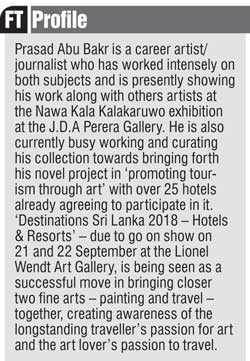 "If at all it was my father who had a say and he encouraged me. I was barely 14 years old when he enrolled me to the Melbourne Art Classes to be taught under the 'influence' of Mrs. Cora Abraham – I stress on 'influence' because 'Mrs. A' (as she was lovingly known among her students) was more than just any 'art teacher' – and when she senses that creativity lingering inside children, that's when she gets down to doing her homework," says Prasad.

Recalling that childhood past of his and the attitude society had on 'art as a career' then, the artist states that it was still negative, as it is today and was treated as what one would call a 'hobby' that landed up as a career with children who were not good at anything else.

"As with politics today," says Prasad laughingly, "But the subject of the visual or performing arts or painting always lingered within patrons from the higher echelons of society – as it is today and if it ever kindled any interest amongst the lower ranks, that was to join 'Heywood Institute' at that time – today known as University of Visual and Performing Arts, seeking to obtain graduation in the subject and subsequently join the Education Department of the Government service as an 'art teacher'."

"In that context we have moved way ahead of what our attitude was and created a more hopeful climate for young aspiring artists," says Prasad, stressing that importantly there has been a lot of private sector participation in the art market, both in form of companies and individual promoters and dealers coming into play.

However, Government participation in the form of encouragement has been at low ebb all along. An attitude that art is something to be tucked-away in some dark corner of a museum, this attitude is more justified with the move of closing down the only State-sponsored National Art Gallery which once existed, even while being shrouded in a state of decadence, being closed with the promise of being re-built, re-structured and re-opened with much added grandiose – but it has been years!

While the tenure of the regime under which the administration that is responsible in closing it down is almost coming to an end, there is no word regarding re-opening of the only State-owned art gallery that existed being discussed or even heard of.
---
The three paintings by artist Prasad Abu Bakr being currently shown in the 'Nawa Kalakaruwo' group exhibition at J.D.A. Perera Gallery, the exhibition ends on Sunday. From left: 'Rubble and Ruins of the Past – Kilinochchi,' 'Grocery Shop – Kalmunai' and 'Reflections & Ripples – Kandy Lake'