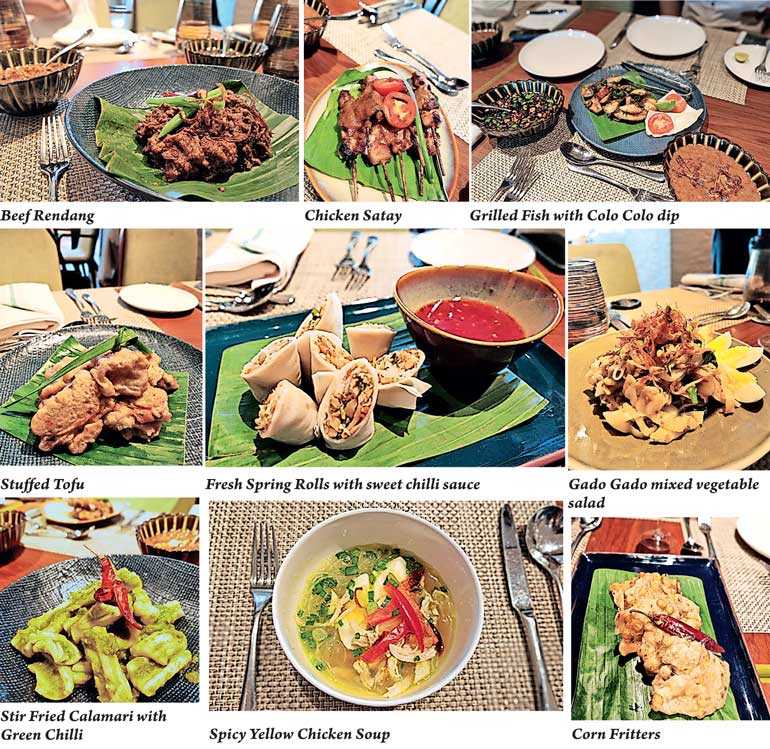 Text and pix by

Madushka Balasuriya

With over 300 ethnic groups calling Indonesia 'home', it comes as little surprise that Indonesian cuisine is possibly one of the most diverse in the world. With influences ranging from China to Malaysia to the Middle East to Polynesia, an authentic Indonesian meal with its vibrant pops of colour is both visually stimulating while also eclectic in flavour and style; it is at once unafraid of spice and shocking your palate, but also comfortable with more mellow, subtle flavours spearheaded by the use of fresh vegetables and sweet sauces.

Taking this gamut of variables into consideration it is some feat that the Table One buffet at Shangri-La Colombo has managed to cover this spectrum as successfully as it has. The special Indonesian food promotion, ending tomorrow (9), has seen the Asian Corner at Table One's Lunch and Dinner buffets commandeered by three master chefs from Shangri-La, Jakarta.

Six chafing dishes are to be filled daily with mouth-watering Indonesian cuisine, alongside a host of desserts and exquisite sauces and spices, to offer diners a microcosmic taste of Indonesia that packs a punch.

As part of a media preview, we at the Daily FT were given a special sneak peak of the dishes being served earlier in the week, and suffice to say it left us nothing short of thoroughly satisfied.

Alongside the usual suspects such as Beef Rendang and Chicken Satay – both of course accompanied by some trademark (delicious!) Indonesian peanut sauce – were also some less-heralded dishes.

For starters we were presented with an array of vegetarian options – though this is certainly not interchangeable with healthy; the Stuffed Tofu and Corn Fritter were both deep fried in a rich, ambrosial batter, while a chef's special Gado Gado – an Indonesian salad featuring slightly blanched vegetables, hard-boiled eggs, boiled potato, and fried tofu among other things – was tossed together in an otherworldly peanut sauce dressing.

The Fresh Spring Roll however does offer those with waist inches in mind an alternative, in which case try and not be tempted by the accompanying sweet chilli sauce. There is also the Soto Ayam, a yellow spicy chicken soup, which comes replete with an assortment of veggies in a clear broth. The dish is served alongside a helping of green chilli paste, which I would recommend you add cautiously as needed.

In terms of the mains, apart from the aforementioned Rendang and satays, there was also Grilled Fish complemented by a Cool Colo dip, which can only be described as a sort of richer soy sauce with a predilection towards sweet rather than salty. Needless to say, it meshed exquisitely with the fish.

That said, our favourite dish has to be the Cumi Cumi Sambal Hijau, or stir fried calamari with green chilli. The calamari itself was faultless in its preparation, delicately toeing the line between firm and melt-in-your-mouth, though the real star of the show was the green chilli paste; juxtaposed viscerally on the milky-white calamari, the freshness of the green chillies filled up any of the senses it came in to contact with. In terms of spice, it's a gift that keeps on giving, with the hit lingering on the palate long after that initial burst, though the flavour is too good not to go back for more.

We ended our meal with a selection of traditional desserts, such as the 25-layer Cassava Cake and the unusual yet oddly satisfying Kolak (stewed sweet potato and banana in coconut milk). Though my personal favourite was the Klepon, a gelatinous rice ball with a coconut and jaggery filling – a fitting end to a knock-out meal.

The Indonesian master chefs will be performing their magic until 9 September, that's this Sunday, at Table One Shangri-La Colombo, and it's certainly an experienced not to be missed. Rates are Rs. 3,000 nett for lunch and Rs. 3,600 nett for

dinner.