By Madushka Balasuriya
In this modern age of social media, every day seems to be a celebration of one thing or another, swinging wildly from the absurd (pancakes, etc.) to the more pressing (women's rights, etc.). But every once in a while, a day comes along that really makes you perk up and take notice, a day that unites, a day that the entire world can get behind.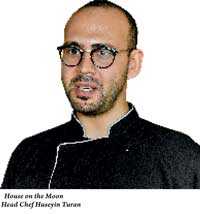 That's right, this Sunday (7), we all celebrate World Chocolate Day! And we at Daily FT are here to tell you, there's really only one worthwhile way to spend it.

Sri Lanka's only dessert bar, House on the Moon – located front and centre at the Colombo City Centre Food Studio – is putting together a special selection of desserts from 10 to 10 tomorrow, while Jagro – Sri Lanka's favourite purveyor of strawberry goodness – will be serving up a selection of chocolatey, strawberry treats.
Michelin Star standards

If you haven't been to House on the Moon yet, the briefest and possibly most accurate way to describe it would be Michelin Star. No, the restaurant itself doesn't have a Michelin Star, but it might as well have.

Head Chef Huseyin Turan mastered his craft as a pastry and dessert chef under several Michelin star chefs, most notably Juan Amador. Amador, who has three Michelin stars to his name, is the brains behind several of the desserts served up at House on the Moon, and Turan has been his trusted right-hand man.

From the moment you lay eyes on any of the desserts at House on the Moon, this pedigree is clear as day. Textures and colours positively burst from the plate, and though some of the ingredients used in the dishes at times may leave you scratching your head in confusion, once you take that first bite all becomes crystal clear.

But I digress, this about World Chocolate Day, and while the rest of their menu will be available, there are special few items that have been added to the line-up just for this most special of celebrations.
Truffles

Chef Turan has concocted five variations of the most delectable chocolate truffles you're ever likely to have the pleasure of eating. Many are flavours most would be familiar with such as Orange, Coffee & Hazelnut, and, for those who are of legal age, Arrack. The Raspberry & Vinegar meanwhile is a modern twist on an old favourite. However the most intriguing of the bunch is undoubtedly the Salted Lime Pickle & Madras Curry. Yes, you read that right.

"Chocolate goes well with so many things. Did you know the original recipe of Chilli Con Carne had chocolate in it? Even with meat and mushrooms and beans, chocolate goes well with it," Turan tells me when I question him about the inspiration behind this out-of-the-box flavour pairing.

"Another thing that goes with chocolate is lime and citrus, so lime pickle works. And then since we're here in Sri Lanka, I thought using curry would be nice," he adds.

And he wasn't wrong. It works, on several levels in fact. It's quite difficult to describe, because it tastes exactly how you would imagine. And that makes it weird, but in a good way. And it's certainly worth making your way to CCC just for that alone.
Doughnuts

But if the truffles don't excite you, maybe the thought of Chef Turan's homemade doughnuts will change your mind.

Everyone has had some sort of experience of doughnuts in their lifetime, and as a result being surprised or blown away by them is just not an experience many people expect. I mean, how much can you improve on a doughnut – essentially fried dough – really? Well, turns out, quite a bit.

"It's my own recipe, which I prepare one day before. Doughnut dough is heavy because you use butter, that's why it needs time. I let it cool in the chiller for a day, so the yeast can just develop more and more and more. And then you have this really nice yeast taste, and it's going to be very puffy. I'm also not going to do it in a traditional circle, I'm just cutting them into squares and then deep frying them."

Indeed, Chef Turan will be serving up square doughnuts with either chocolate sauce or cinnamon and sugar. As with everything else, this is not to be missed.
Two levels

As so many unique items will be on offer, House on the Moon will be serving at two locations on the day. At its Food Studio Locale on the third floor, it will be serving a special dessert and tea pairing.

Its Chocolate Soufflé will be served along with Chocolate & Vanilla Tea. It will also be serving its famous Sacher, a deconstructed Chocolate and Apricot dessert, along with Chocolate & Peach Tea. Both pairings will be served alongside truffles.

Upstairs will also be where customers can try out the doughnuts.

On the ground floor meanwhile, House on the Moon will be hosting a special station that will serve a selection of truffles, as well as Chef Turan's very own homemade cookies. There will also be a special baked chocolate ganache cake, which is essentially a chilled soufflé. It also probably the best chocolate item you may eat all day.

Pix by Daminda Harsha Perera
Chocolate Fair at CCC tomorrow!
This World Chocolate Day, Colombo City Centre is excited to announce that it will be hosting its first-ever Chocolate Fair, where families and chocoholics alike can enjoy the indulgent pleasures of chocolate.

Taking place on Sunday, 7 July, this event will transform the Mall Atrium into a bazaar that will enthral patrons with chocolate's sweetest senses.

Visitors can enjoy a vast assortment of artisanal chocolates and delicious chocolate desserts from premium chocolateries, including Illy Coffee (with delicious waffles topped with ice cream and decadent chocolate croissants), House on the Moon, Jagro and Cargills Food Hall (showcasing decadent chocolates and ice creams).

Consumers will be offered the chance to sample different flavours including white, milk, and dark as well as enjoy chocolate delicacies featuring exotic ingredients. The centre-piece of the event will be the awe-inspiring, delectable chocolate fountain, courtesy of Milo Sri Lanka.

Experience the Chocolate Fair in all its chocolicious glory by visiting Colombo City Centre, Sir James Peiris Mawatha, Colombo 3 from 10:30 a.m. onwards.
Jagro joins the chocolatey fun
"Our line-up of desserts has many strawberry and chocolate pairings that people always seem to come back for. And in celebration of World Chocolate Day, Jagro is offering two of your favourites to eat on-the-go, and share with someone you love," promises Jagro.

Also located on the ground floor, Jagro will be serving up their famous Nutella Crepe, an "irresistible gooey chocolate goop generously slathered on a hot pancake, and stuffed with flambeed banana and strawberries," and a chocolatey take on their trademark Strawberries & Cream – Strawberries & Chocolate – which will be available with milk chocolate or white chocolate.