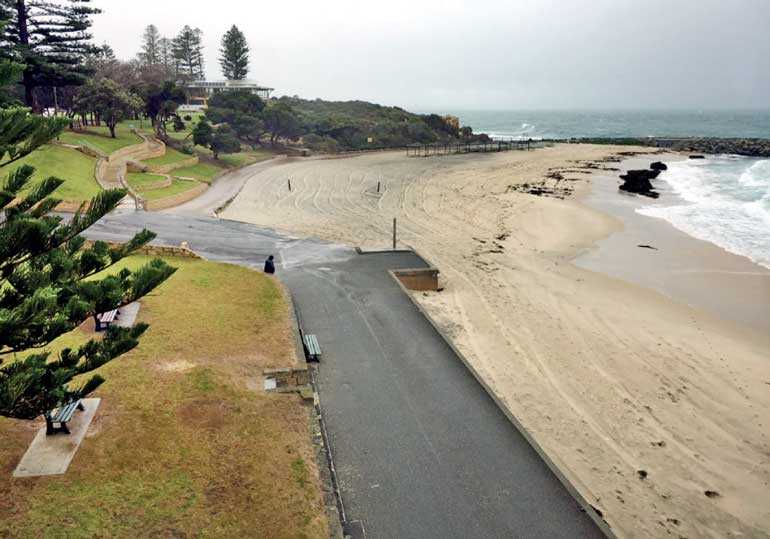 It was not the best day to visit one of Australia's internationally-famous beaches. We didn't expect to have so much rain. But luckily for us the rains came in fits and starts, so we could have a good look at the white sand beach for which the Cottesloe is famous for.

It's less than half an hour's drive to the west of Perth, Western Australia. The city atmosphere is replaced by a more sober village environment. It was a Saturday morning but we hardly saw people getting about. We passed through the small town. It was quite empty.

'Thanks' to the rain, we spent quite some time in 'Indiana', a restaurant which, true to its claim is "an iconic West Australian landmark located on the pristine white sands of Cottesloe Beach". While enjoying a warm cup of coffee we walked round and had a panoramic view of the beach and the Indian Ocean. Greenery on the left, white sand in the middle and blue Indian Ocean water is what we saw through the windows. We took photographs through the windows.

The rugged look of the restaurant took us back to the beginning of the 20th century. Deriving its name from 'The Indiana Tea House', an ice cream parlour built in 1910, it had originally been a pit stop for the playground that was the Cottesloe Beach. The restaurant claims that it then served folk dressed in modest bathing suits, caps and trunks from a small shack outside.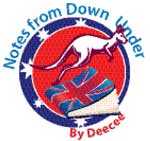 Today 'Indiana' is an impressive building. The yellow building literally stands tall adjoining the road with no other buildings around. The warmth with which we were greeted was most welcome as we walked amidst the drizzle.

The legend on the kitchen wall summed up the history of the place. It said: "Named after the original 'Indian Tea House' built in 1910, the architect has created an amazing building that offers uninterrupted views of the gin-clean waters of the Indian Ocean from every window. The use of recycled timber gives one a bright, exotic feeling of old-world warmth." Short and sweet!

When asked, the chef said the traditional kiln is used regularly. He showed the neatly stacked cut wood he uses. (Straightaway I remembered the 'poranuwa' – particularly in the old bakeries. At least a few years back 'poranuwe puchchpu paang' used to be advertised – by word of mouth, of course – as something special in the current gas era.)

When the rain ceased we went down to the beach. 'Indiana' was so imposing from the beach. There were a few in bathing clothes jumping into the sea. They didn't feel the cold. Seasoned sea-bathers, it was obvious. We could well imagine what the crowd must be on a sunny day.