By Madushka Balasuriya

When you think of the term 'fine dining,' several images instantly come to mind, from elegantly-dressed waiters to tasteful cutlery on silky white tablecloths, to deliciously expensive bottles of wine. Indeed, from food to service to atmosphere, it is not unreasonable to expect the highest of standards.

But with high standards, generally comes a high price – something which is undoubtedly the defining characteristic of many a fine dining restaurant. However at Epicure, Colombo's latest savant of fine dining, they are looking to buck this long-held notion with their brand of 'casual' fine dining.

Located down Gregory's Road in the heart of Colombo 7, this newcomer to the local restaurant scene doesn't seem like much from the outside looking in. However, sitting amidst the shade of surrounding trees and residential properties, this house cum restaurant emits a calming elegance as you enter.

Large monochrome photographs superimposed on black canvass adorn greyscale walls, while long yellow couches and chairs with floral decor offer a spritz of colour. The open-air dining space meanwhile, which at present seats 54, is grafted around a small square garden in the centre of the property, that manages to not only bring in much-needed natural light but also a refreshing breeze – adding to the many well-placed fans – to stave off the searing Colombo heat.

The overarching theme of greenery is encapsulated by the large tree and vine creepers that enrich the outer garden wall, and it continues indoors with rustic brass basins that hang from the ceiling housing several fresh plants – all of which has been conceptualised by Minha Musheen of The Living Concept

"We really wanted a very contemporary, comfortable feel. We're casual fine dining. We wanted to have the feeling where you didn't have to dress up but you could if you wanted to – a very warm and natural feel," explained Wendell Ribeira, who along with Robert Jayatunga, runs the establishment.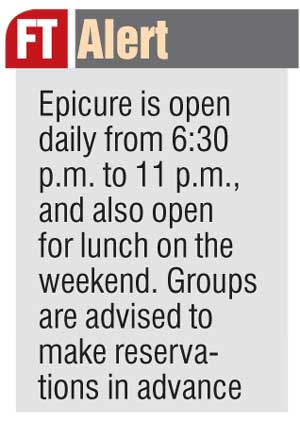 Sustainably sourced

Ribeira was speaking at a 'graze luncheon' organised for members of the press. The specially curated menu featured three appetisers, two mains (a choice of one) and a dessert. Each brought to the fore Epicure's hallmark – its responsibly-sourced ingredients.

Epicure works on a 'farm to table' concept, which sees them purchase ingredients locally straight from the source. Of course, certain meats need to be imported to meet the necessary quality standards, but for the most part new produce is bought locally – sometimes up to five times a week.

"Robert and I felt that we needed a place that offered star-class gourmet cooking which was sustainably sourced, where quality and consistency in delivery didn't fluctuate and most importantly was affordable.

"Even the flowers you see on the dishes are edible. In fact, we worked with a farmer in Bandarawela where we brought in flowers over the last eight months and began growing them. We've now expanded to six different edible flowers and we're going to keep expanding it even more."

Modern European cuisine

With a menu featuring some 36 items, Epicure specialises in modern European style cuisine. During the luncheon, the Seared Duck, served as an appetiser but technically a main, stood out particularly with its millefiori honey sauce and potato purée, while the Laab Tartar, served with roasted rice and a runny quail egg, highlighted the exquisite Australian topside beef.

The high point of the meal however was the Rib Eye M2 – M2 referring to the marble or fat content in the beef – which was as tender, smoky, and flavourful a cut of steak as you would find in Colombo, or anywhere really.

The desert, a Spicy Chocolate Fondant, was a close second with its scotch bonnet chilli, and almond and chocolate ice cream scoops bringing a brilliant end to the meal.

The meal however wouldn't have been a true fine dining experience without an adequate palate cleansing wine; the appetisers were served with a glass of Las Moras Rosé, while the mains were served with Undurraga Red. The pairing was expertly crafted by Epicure's staff, who have undergone wine training and education. While a liquor license is yet to be procured (it's in the works) customers are encouraged to bring their own wine, with the staff readily on hand to offer advice on what and where to purchase the perfect wine to complete their meal.

Value for money

Which brings me finally to cost. The term 'value for money' is often, wrongfully, conflated with cheap, but for me it means bang for your buck. What Epicure offers is exactly that; at Rs. 4,000 excluding tax, the Rib Eye M2 is by no means cheap, however nowhere else will you find such expertly cooked Australian beef for that price. The same goes for the Seared Duck at Rs. 2,000.

Ribeira generously claims that on average, for an appetiser, main and a dessert, a customer might spend Rs. 3,500 – this is certainly possible if you steer clear of the imported meats and seafood, however where's the fun in that? Epicure is by no means a budget option, but its combination of ambience – did I mention the great music? – service, and quality food, as well as their dedication to giving back to the community (which also extends to the kitchen, as all the chefs are from Kandy), make Epicure the obvious choice when it comes to a top-of-the-line Colombo dining experience.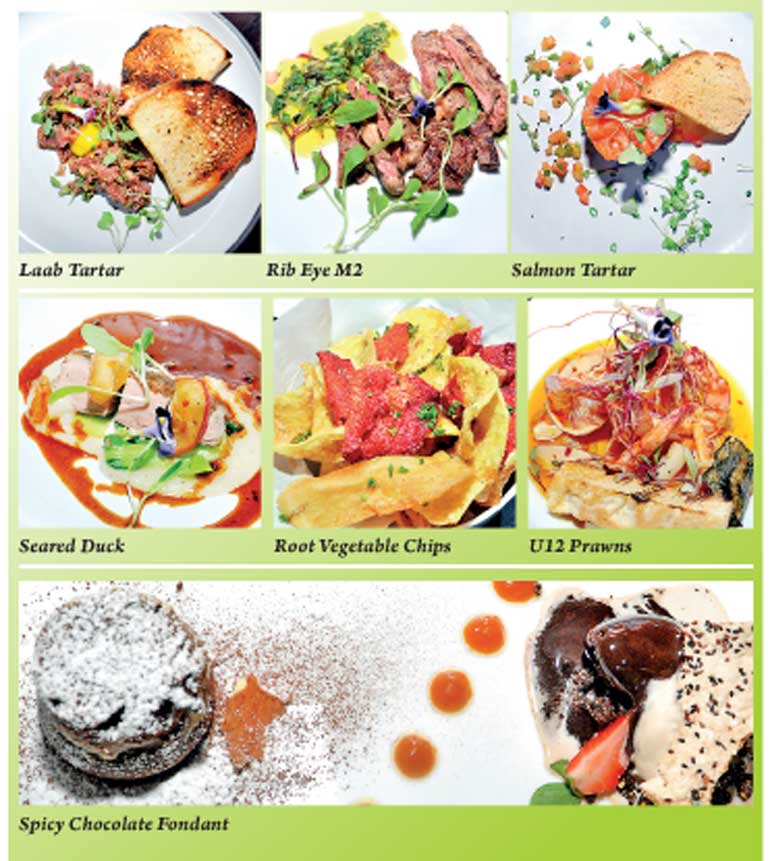 Pix by Ruwan Walpola