A Christmas wish and a New Year's resolution for women in Sri Lanka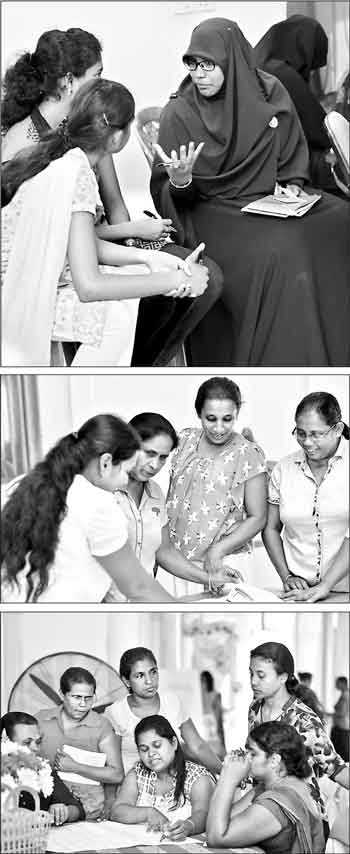 By Joanne Kotelawala and Samitha Sugathimala

At this time of year, a time of peace and joy, a time for family and friends, a time for celebration, let's not forget that many people around the world are disadvantaged, and that women especially remain disenfranchised and often victims of abuse.

Following the 16 days of activism in which countries around the world raised awareness of the issues and problems of violence against women, we need to ask ourselves some tough questions:

Are women able to engage freely in their work, at home, in public spaces or at their workplace with no fear of being discriminated or harassed physically, verbally or emotionally?

Are women able to utilise public transport with no fear of their personal space being violated?

Would you let your daughter leave the house without a cautionary advice of 'be careful' or 'don't go alone, 'stay close to your friends'?

Ideally, the answers to the above should be a resounding and confident YES. The sad truth, it is not.

All human beings deserve, and are entitled to, the basic human right of being able to live with dignity and without fear. However, every single day women across the world endure, fight, put up with or, worse, become victims of violence – for no reason except that they are female. Violence against women and girls is a global issue with lasting impacts on societies and its overall development – security, stability and prosperity.

Sri Lanka too, unfortunately, is familiar with experiences of violence against women and girls, which occurs irrespective of race, religion and location, social or monetary status.

Whilst in general statistics about women remain scarce, a report by Care International highlighted that 36% of men reported they had committed physical violence against a female partner, 6% against a non-partner women and 17% of sexual violence, including rape, against any woman. That is more than the international estimate that one in three women will experience sexual harassment or violence at some point in their lives.

The existence of discriminatory attitudes towards women and the deep rooted patriarchal power system in Sri Lanka is believed to be one of the main causative factors.

At the national level, the importance of addressing violence against women and girls has been prioritised through The National Plan of Action 2016-2020 which addresses sexual and gender-based violence, calls for the need to act on upholding women's right to a dignified life and increased participation in all aspects of development, leading to the enhancement of their social status.

Records by police and other service providers display a consistent increase in the incidents of violence, ranging from domestic violence, rape and sexual harassment to forced incest and other forms of violence. The consequences of a woman experiencing violence, results in them not being able to fully participate in social and economic aspects of their life. It leads to in a lack of self esteem, lack of decision making power and other physical, emotional, sexual and health related issues that limit participation in a full life.

Despite the fact that these statistics are very daunting, there is a ray of positivity amidst the abysmal figures and stories. These issues are not hidden in darkness and have seen activists taking a stand in empowering women and communities on these issues.

One such programme is delivered by the British Council Sri Lanka in partnership with the Foundation for Innovative Social Development (FISD), Jaffna Social Action Centre (JSAC), Janathakshan and Hashtag Generation.

This programme focuses on empowering women and youth utilising the Active Citizens model, a community empowerment and leadership training that focuses on developing self-identity, ability to work with others for sustainable development through mutual respect and understanding.

Participants design interventions to be carried out in their communities. These include cultural and sports programmes, street dramas to raise awareness on violence against women and girls, community awareness on child marriages, as well as programmes to address school-dropouts.

The project has focused on Jaffna (Tellipillai and Kopai), Batticaloa (Ampilanthurai, Kokkadicholai and Munikkadu) Moneragala (Buttala and Madulla) and Hambanthota (Walasmulla) for a variety of reasons including increased reports of violence against women, especially in communities that are developing in a post-war era, the added problem of drug and alcohol abuse and the demand for community programmes to address this issue.

Raising awareness of what constitutes violence and empowering women is important, but it is not sustainable on its own. What do people do with this information? How do they get the support required to free them from a potentially dangerous situation of violence?

This project 'Empowering Communities to address Violence Against Women and Girls' is unique as it engages women and youth from their own communities, asks them to identify issues within their communities and to challenge the notion that violence against women and girls within a family is a private matter and to treat it as a violation of women's and girl's human right.

The project also calls on community members in designing interventions that lead to a conducive environment for women and girls to live free of violence. Engaging men as allies in prevention and responding to violence is key, meanwhile strengthening the system through support services and service providers.

Looking forward to the New Year and the second phase of the project, the project will be linking communities, women and youth leaders with service providers who are within easy reach, coordinating meetings between community leaders, and service providers – such as women development and child unit officers, rural development officers, health workers, lawyers, police, teachers, community leaders will receive training.

In this way the project will build and strengthen a multi-sectoral response for survivors of violence at the community level. This is especially crucial as survivors of gender-based violence have multiple needs and coordination amongst state and non-state actors is critical in order to meet those needs effectively.

In the final phase the project will focus on collating lessons learned which will then be shared for the benefit of all. And most importantly a national social media campaign which focuses on developing safe spaces – #HerSafeSpace – initiating dialogue, informing, motivating and promoting attitude and behaviour change to address the root causes of gender based violence.

By communicating the findings of this project, the hope is that community mobilisation, development of national policy and advocacy efforts, better awareness, social media engagement and skills development will al; contribute towards a change in both attitudes and behaviours so that the women and girls of Sri Lanka can live free of violence and the fear of violence.