Dudley Senanayake Cabinet – March 1965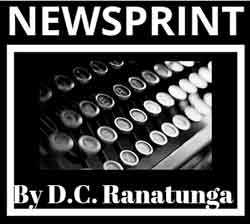 As the years progressed significant changes were made in the electoral system in Sri Lanka.

At the general election in March 1965 everyone over 18 years of age got the right to vote – a significant change from the earlier provision. Since 1931 only those over 21 years had voting rights.

The change meant an increase of 986,380 voters - from 3,724,507 (1960) to 4,710,887. This resulted in the increase of polling booths from 3,664 to 4,771.

The Elections Department recognised nine political parties on the basis that either during the previous election at least two members of the party had become MPs or the party had been active during the past five years.

Nominations were handed over on 11 January 1965. Only two candidates submitted nominations for Colombo South, the dual-seat constituency, and they were elected since there were no objections. They were J R Jayewardene (UNP) and Bernard Soysa (LSSP). It was the first time since 1947 that it happened. That year only one candidate (H.S. Ismail – Puttalam) submitted his nomination and was elected.

The total number of candidates amounted to 495. The UNP (116) and SLFP (101) handed over the most number of nominations from political parties while a record number of Independents -97 as compared with 40 in July 1960 - were among the candidates.

The enthusiasm of voters is seen with increasing numbers turning up to vote. The amount of voters considerably increased for the March 1965 election with 3,800,000 turning up to vote. In some constituencies the average increased to 82%. With the ban on transport (the voters either had to use their own vehicles or public transport), most of them walked to the polling booths. CTB had an efficient bus service.

The use of indelible ink on a finger was introduced on the recommendations of a parliamentary select committee.

The UNP won the most number of seats with 66 winners (166 contested) with SLFP coming second with 41. The Federal Party (14) was third.

Mrs. Bandaranaike resigned from the Senate and contested Attanagalla seat for the first time. Defeating three others, she won by a record majority of 16,535 votes. Three other females also won their seats. They were Kusuma Rajaratne (Uva Paranagama), Shiva Obeysekera (Mirigama) and Wimala Kannangara (Galigamuwa).

With the Federal Party and smaller parties pledging their support, the UNP formed the government with Dudley Senanayake becoming the prime minister for the third time.

Leaders of four parties – C.P. de Silva (Independent Socialist), Philip Gunawardena (Mahajana Ekstah Permuna), W. Dahanayake (Lanka Prajatantravadi Pakshaya) and M. Tiruchelvam (Federal Party) became cabinet ministers.

Mrs. Bandaranaike became leader of the opposition.