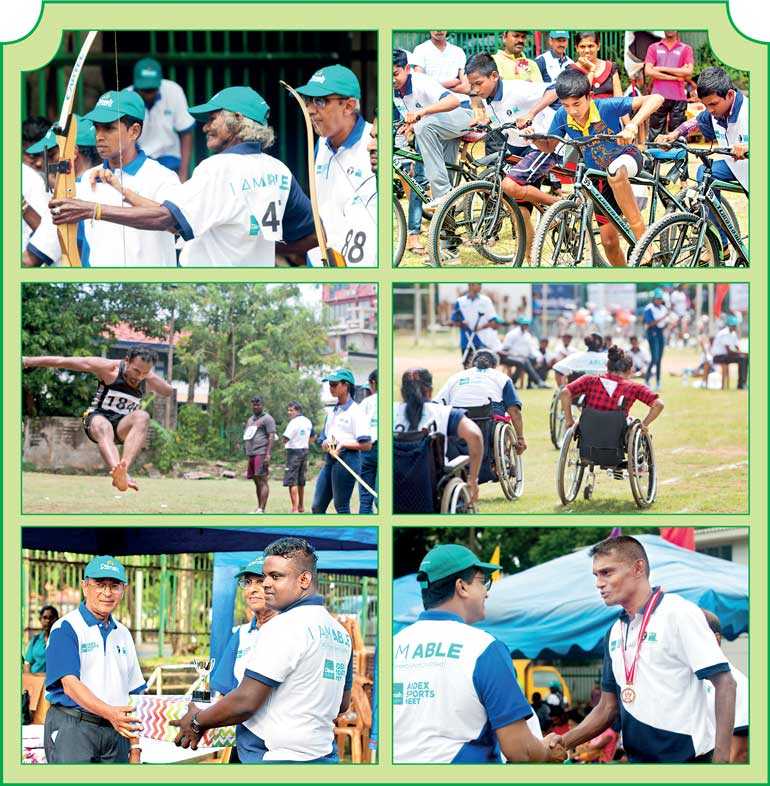 By Aysha Maryam Cassim

There was hope followed by love, courage and celebrations at Stanley Jansz Grounds, Colombo on 18 August 2018.

Around 350 participants, their families and well-wishers gathered at the Stanley Jansz grounds aka Matti Park on a Saturday morning to be a part of AIDEX 2018 – The Sports Festival for Jaipur Limb users, organised by The Colombo Friend In Need Society (CFIS) and Dilmah Tea.

Commemorating the 187th Anniversary of the CFIS, this year's event showcased more than 60 track and field events under three different categories of physical disabilities – encouraging them to realise their full potential and foster greater inclusivity and participation in sports.

Aidex has been held for the past 28 years in Sri Lanka, setting the platform for athletes with physical disabilities to achieve their greatest possible mobility and independence through events such as shot put, discus throw, cycling, wheelchair races and archery. Among the participants were members of the forces and civilians who had undergone amputation of limbs following the conflict, accidents, infections especially diabetic patients and children who are born with limb defects.

The event is looked forward to by both organisers and participants who come from all parts of the island. It is a day of relaxation, fun and sports. They are given a travelling allowance, free breakfast, refreshments, lunch, tea and water.

Thanks to the corporate sponsors and benevolent contributors, winners are awarded bicycles, medals and cash prizes. Volunteers from the CFIS, Musaeus College Girl Guides, Medical Faculty – Colombo, Lions and Rotary Clubs and Tallman Tours staff joined the annual Sports Day to lend their hand in coordinating the event successfully.

The Colombo Friend-in-Need Society was set up as a charitable organisation in 1831 initially to help the destitute with free meals. In 1985, due to injuries suffered by both the forces and civilians during the commencement of the 30-year conflict, the number of amputees increased exponentially.

As the State orthopaedic sector was ill-equipped to supply artificial legs to all of them, the Project Officer during that period Swarna Ferdinand went to India and met Professor Sethi of Jaipur who helped to set up the manufacture of the Jaipur Foot and low-cost limbs at the Colombo Friend-in-Need Society.

Ever since, over 25,000 such artificial limbs or prostheses have been manufactured and custom fitted. As a part of their rehabilitation programme, The Colombo Friend-in-Need Society organises AIDEX Sports Day every year.

The participants at AIDEX were unstoppable. They refused to let their disability stand in their way in competing against their contenders. Kanthi Fernando – National Trainer for Sri Lanka Girl Guides Association and former Captain for 23rd Colombo – Musaeus College said that it gives her great pleasure to see the energy and passion in their life.

Apart from the prosthetic care provided by CFIS, several participants also benefit from Dilmah's Small Entrepreneurship Programme (SEP) which enhances the dignity and self-worth of disabled men and women by providing them self-sufficiency through productive work.

T.V. Kamala from Poogoda contracted polio at the age of six. A seamstress by profession, for the past 15 years, she has been showing exceptional performance at AIDEX and had won medals in shot put, discus throw and wheel chair races. With her callipers on, she continues to break records at district level games with her perseverance and confidence.

We met Harshani Pathiraja who won second place in the bicycle race. She takes part in sports events under the T63 category (athletes with single above the knee amputation) and has been a part of AIDEX since 2002.

"Through AIDEX, I advanced beyond the national level. I got the opportunity to attend a Training Camp in Korea where I improved my competency in para-athletics, swimming and archery. I even represented Sri Lanka in the International Para-Rowing Regatta held in Gavirate, Italy a few years ago."

The encouragement that AIDEX participants receive from others motivates them to carry on doing what they love. Everyone who takes part in the event is determined to live up to their potential and fight against their obstacles. Their sheer joy proves that determination and passion can overcome the most debilitating handicaps.

"The feedback from participants has always been positive and each one of them vows to come next year for more," said Professor A.H. Sheriffdeen, the Chairman of AIDEX Organising Committee.