Priya Goonetilleke is a career artist who is very much a self-taught one. Being the daughter of art critic, journalist and diplomat the late L.P. Goonetilleke, she says her father was her greatest inspiration. Priya, who has started her art journey back in the '70s, is a senior artist commanding much respect and appreciation in the art scene in Colombo. Her last exhibition 'Escape 2' held in March last year was very successful and brought in a lot of change to the approach and style of her paintings. The loss of both her legs due to medical complications did not result in her backing down in any way as an artist and as a performer. She is an inspiration to everyone and her courage to keep going teaches us that the only disability that stands in our way is our own mind. Following are excerpts of an interview: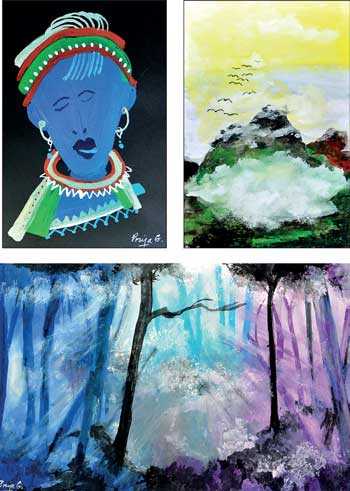 By Ruwandi Gamage

Q: How did you start this journey of painting? What were your inspirations?

A: The first-hand exposure to Sri Lankan masters of painting was my first inspiration. I was about eight years old when it made a big impact on me being around them. I never learnt and was never coached how to do art; everything was always on the run. I was self-taught from the get-go.

Exposure to the works of local art masters with various styles inspired me and my style of art. Masters like George Keyt, G. S. Fernando, the watercolour master, Senaka Senanayake who my father discovered and sponsored, who is still the number one selling artist in the world, and A.C.G.S. Amarasekera were the ones who made me want to start painting. I see myself as very small compared to the masters.

My father, being a painter and an art critic, was always in the limelight and it was very difficult for me to come forward because I wanted to be different. I did participate in competitions and exhibitions and tried to put myself out there. My father was my greatest inspiration. He was also my greatest critic. But he always let me do art the way I wanted to do it and never directed me or controlled my style, approach, or medium. My first exhibition was held when I was 17 years old at the Lionel Wendt. About three years later I had another one and during this time I got involved with music too. My time was divided between my music and my paintings. I was involved in performing professionally since the '70s.

My paintings have so much variance and look like they came from 10 different people. When Arthur C. Clarke came to one of my exhibitions, he had told my father that the paintings didn't look like they were done by one person because they were varied, my themes were varied, and my approach was different in each one. The most realistic pieces I've done in the past are in ink, using black gel pen because it is easier to put detail on paper and complete a picture. And then of course if I want to take time, I sit down and do it with colours. I enjoy doing the colour ones because most people enjoy my colour paintings. My father always believed that my line drawings were better than my colour paintings.

Q: How do you prepare for an exhibition?

A: During the '70s I had three exhibitions with long time gaps between, taking my time to prepare for them, because then I could assemble a collection. Then I had 'Escape' in 2014 and 'Escape 2' in 2018. Painting or assembling a collection for an exhibition is wrong. You are inspired differently if you work towards something and if you are to reach out from within as it comes out, then you take a lot more time and incorporate more emotion into the picture. I like to have the freedom and the space to do my paintings as they go and not work on pieces because I need them for an upcoming exhibition. When I start to paint again, I look at my old paintings and get inspiration from them. I figure out how I could do it better and what other theme I can use. I love doing landscape, all in my own style, interpreting the colours and things like that. I have always loved nature.

The success of my paintings is finding that light that comes from within which reaches out to you. I use many blues in my work probably when I am emotional and maybe feeling down. When I use greens in my paintings, I always use a flaming red sky to complement the green, to indicate life in the painting, and so I get my message through.
Q: Do you travel to get inspiration for your paintings?

A: I do not travel specifically thinking I'm going to paint. I don't carry around my art supplies wherever I go. My art is from the memories of the places I've visited or seen. It all comes from my memory and I work on it in stages. I start work from the bottom and get to the top. I haven't been to Nuwara Eliya in years, but I have the memories from the times I have visited in the past. I adapt from memory and do my paintings.

Most places I don't sit around and draw, I take it in and draw with memory and change it into my own interpretation of the experience.

Q: Let's talk about your style of art. Has it evolved through the years?

A: Through the years I have changed my style of painting landscapes. It is a little more contemporary or modern than earlier and it is pieces of work that could hang as interior décor. Most people like my present style, which is fusing white with other colours, creating more of a misty or fantasy-like appearance.

My change of style since 'Escape' was much more appealing. Escape was more about fantasy, faces and my twig art. 'Escape 2' had more landscape, vibrant colours, and more white incorporated. And it did work, because more people liked it.



It's very important to relate to those who might buy my paintings and where they would hang it when I do my paintings. It's pointless doing an abstract work if it doesn't mean a thing to the person who's willing to buy or if it doesn't make sense in the place where they want to hang it. Like in Buddhism it's the middle path I take to decide how a painting would be completed. I take 50% of what I like and 50% of what they would like and incorporate it into my work, because in the end when they purchase it, they are the owners of it. I must relate to people's personal preference.

My medium is acrylic and my approach is that I use thick flat colours. Now I have started using white and giving it sort of a mist and a different kind of glow and not a direct light in my paintings to get more of a luminosity that emanates from the painting and reaches out to the one who's viewing it.

I think I have arrived at the kind of style I want to continue.

Q: Would you call yourself a career artist?

A: Yes, you could call me a career artist. In the end when performance is being considered I have evolved and people still love my work. I have always found joy in music and art. I want to transfer my music onto my paintings. I wish I had done more paintings and more exhibitions because then I would know I have arrived at where I want to arrive sooner. I'm glad in a way that I will not wallow in my disability. I believe there's nothing that I can't do and that there's always something to do. I want to look forward and do more. I'm happy when I use my colours.

Q: You mentioned that you used to be a performer. Tell me more about it?

A: I was a drummer. I can play guitar and have done vocals too. I was in an all-female band in my school, Visakha in the '70s. We were called 'The Planets' and for about five years we continued as a professional band. But we parted ways as we grew older and our future plans got in the way. After we disbanded, I started playing for other boy bands as their drummer. This I continued till I lost my leg and it was difficult for me to play drums using only my right leg. Without being able to keep my balance, I was at the risk of falling off the stool when I got carried away while playing. However, I tried to continue with only one leg, but I lost hope when I lost the other one too.

Watching international artists like Rick Allen play drums with only one arm inspired me to keep going. I still do come up on stage and perform when I can. I play the congo now.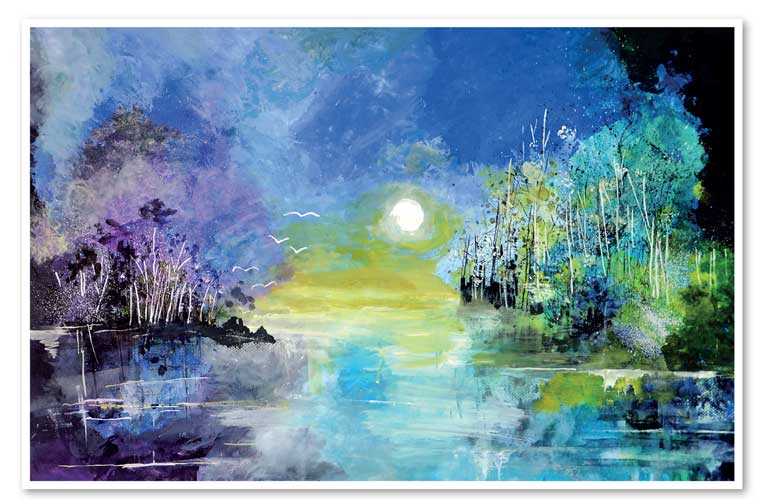 Q: Did your disability affect your art like it did your music?

A: Yes, it did. When you want to view what you're painting, it's best to do it from a little height and look down on it. Seated in the chair I'm almost level with the picture. I often raise the painting, placing it somewhere else and looking at it or sometimes just leaning back. Viewing my work to see what else needs to be done was a bit difficult. Even sitting down in the same position for a while is tedious. So then to finish a work I will take breaks in between and adjust to the comfort. I don't think it's difficult or that my disability has restricted me. I have much more inspiration being disabled than I could have when I could use my legs. Art comes from a place of freedom and sometimes from a place of emotion. My disability does not affect that flow.

Q: What do you think about the local art scene?

A: Very promising. Unlike the good old days, where art was only for people who learnt it in college, now it's for everyone who likes to express themselves. There's so much talent and there's so much more available to them such as exposure, interests, wider scope and appreciation. It's a wonderful place now for artists and even for performing arts. Recently I was invited to be the chief guest at an exhibition by school kids. Their work was amazing. I saw so much potential. Right now, there's so much competition because if you take 10 people who do art, there might only be one painting that is worth looking at twice.

When you go down Gallery Road, you'd see the similarities in the art that's up for sale. Maybe one piece is worth looking at twice. And it's much the same thing that you would see because they are people who have learnt the same things and have been given the same basic coaching or training. This is something these artists need to balance. They need to stand out. The style has been changing in the world and it has come to be more abstract. Today you must look at the bigger picture and think about from the point of view of the person who would want to own it. It's a lifestyle to be an artist now and people have made it so personal and sometimes it gets in the way and you cannot relate to their work. There's a lot of scope because there's a lot of talent around here which must be fostered and promoted. I believe there's potential for the art scene to be better.

However, you won't be misunderstood today as an artist unlike those days. I've been through that where these professionals view my work and have been critical about it.

Q: Tell me about 'Escape 2'?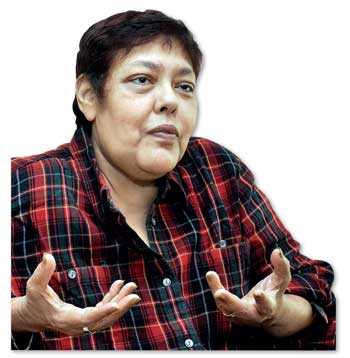 A: I think it was completely successful. The style changed. I've learnt a lot from the last exhibition. I learnt it's important that my view of the painting is shared by the person who is willing to purchase it. I watched a lot of people pause at certain paintings for a long time. People commend my use of colour in my paintings.

There was one comment about how these landscapes don't have any human figure. I couldn't incorporate any human figure or animal figures because it was a scenery that I would escape to and nothing else existed. A very few paintings did have some form of animal or person in it. Next time I will take this feedback into consideration and incorporate a human element in my paintings.

In my exhibitions some people spend a long time analysing my paintings, trying to understand why I have done what I have done and then ask me questions, which I love. Some people look at a painting and they buy it because they like what they see. I want part of me to go along with it so it's very interesting when people ask questions about my paintings.

Q: What's in the pipeline

for 2019?

A: I will take my time this year to prepare for my next exhibition. Like I said earlier, I like to take time to be inspired to do art and not work towards a goal of having an exhibition. Maybe my theme could be 'Escaped' as a continuation of the past two exhibitions and I would probably hold it in 2020. This year I am hoping to exhibit some of my work at the Fairway Art and Jazz Festival, to get more exposure as an artist, so you can expect to find me there even in the evening enjoying the music.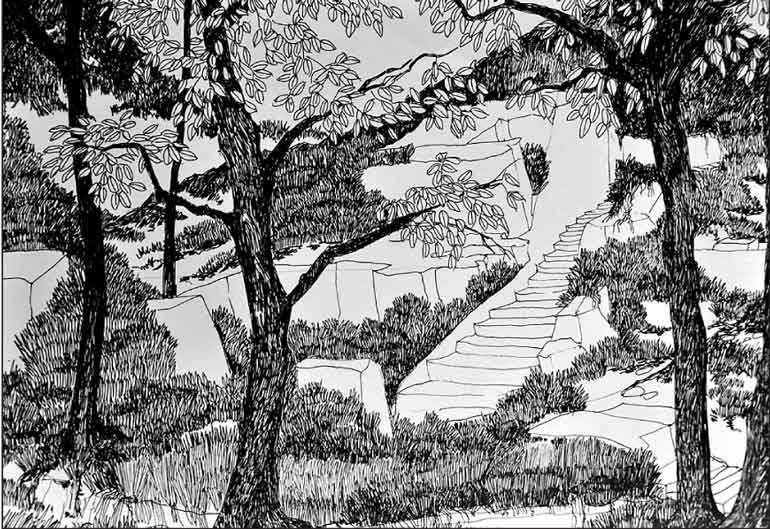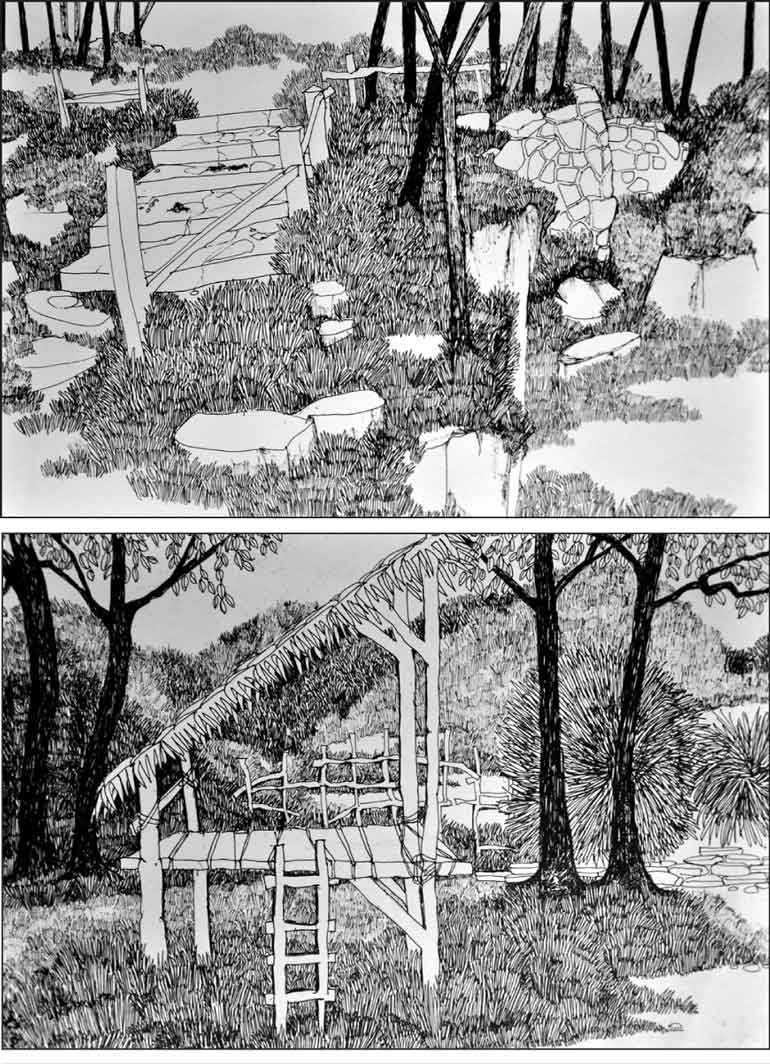 Pix by Ruwan Walpola