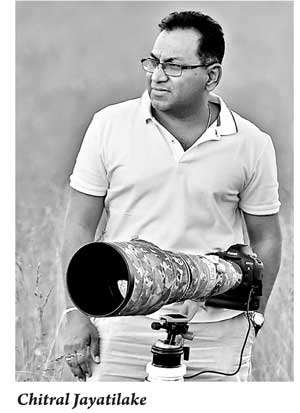 It has been seven long years since I published my last book: seven years of travelling the wilds of Sri Lanka and beyond. Even as the yearning to conserve the fragments of the natural landscapes that remain grows among our people, it is clear that Nature's predicament in our motherland grows ever more desperate. The near-hopeless challenges that confront conservationists seem to stare down at our faces almost in agony, in a despairing search for human attention.

Even as our kind chases its dreams, governed more by greed than need, the first to succumb to our relentless plunder of resources is, inevitably, the environment. Almost no pristine habitats now remain. Humankind never seems to realize how much is enough, and the pace at which our search for prosperity grows shows no sign of reaching an equilibrium in which wealth is accompanied by sustainability. Future generations, it seems, will inherit a world of luxury sans morality; a world doomed by this destructive race we call mankind.

The end of the civil strife that plagued Sri Lanka brought with it so much hope. Hope for new opportunities, new beginnings in a land once devastated by violence, division and strife. Sadly, we learned almost no lessons from that calamity and as soon as the sound of the guns abated, returned with alacrity to our same old ways. Such opportunities come but rarely, and it seems we missed ours.

The tourism industry has bounced back to life, and regions hitherto considered unsafe have been opened up to visitors, ushering in new prosperity. But the areas that were less frequented as a result of the conflict were in short order converted into mass-tourism hotspots, putting unbearable stress on sensitive environments and timid species, making nature-based tourism an unsustainable debacle.

Today, Yala National Park, the best-known home of the leopard in Asia, has been reduced to little more than a wholesale supermarket for big-cat sightings, often with more than 200 jeeps clamouring for a ringside view in a park just 140 sq. km. in extent. Mobile-phone technology and reach results in dozens of vehicles converging on each precious sighting. As a result, what used to until recently be a pristine wilderness area is now routinely desecrated by inconsiderate visitors, reckless drivers and gross overcrowding, to the detriment of the very wildlife resources the park claims to conserve. Meanwhile, the political will and wisdom to do the right thing have evaporated.

The seas beyond Dondra Head are arguably the best locations in Asia to view Blue Whales - the largest creatures that have ever inhabited our planet. Here again, each precious sighting is relentlessly tailed by up to fifty boats desperately giving chase in order to earn a fast buck from the tourists they carry. How many boats should be at sea at a given time? How close can boats approach the whales without causing harm? No one cares. Only dollars count.

Then again, the Gathering of Asian Elephants, now ranked the sixth greatest animal spectacle in the world, is hosted at the great Minneriya Tank, built by a wise king some 1,700 years ago. This is now threatened by policymakers contemplating the conversion of this ancient reservoir into a stock tank. Should such folly even be considered? Perhaps only in Sri Lanka, where 'development' takes precedence over all else, including the grandeur of our natural world.

Our island is just 64,000 sq. km. in extent. Our people are almost universally literate. Why then is it so very difficult to work out a model for development that is sustainable? One in which key habitats can can be economically managed to generate the much-needed tourism dollars without placing this very resource in jeopardy? The result has been that we offer our foreign guests an experience that is at best second class when compared with many of our competitors.

Yet all is not lost and I refuse to retire in hopelessness. We still have opportunities to make things right at least in some places, and we still have some talented scientists and conservationists who dare to speak out and stand up to anyone who attempts to take away what is wild and free in this precious little gem of an island we call home.

This then, is a call to all those who strive to conserve and protect our environment, whether among civil society or the state sector, to unite to arrest the erosion of our habitats and demand that politicians act now to ensure that at least what little remains is preserved.

The moments captured in these pages are all natural and fleeting, depicting how serene the little wilderness that remains is, and what a blessing it is to spend the fleeting hours available to us in the calming forests of this island. If this visual journey converts a few—especially young people—to take up the baton to secure for themselves the future they deserve to inherit from us, Vimukthi and I would reap a rich dividends indeed for our efforts. It is for this that we have tirelessly waded into the wilds to bring 'Living Free' to you.

My faith may be misplaced, but I continue to believe in the goodness of mankind. I hope that goodness will emerge and ensure that all that is wild and free is given the space it needs to stay Living Free in this amazing land.