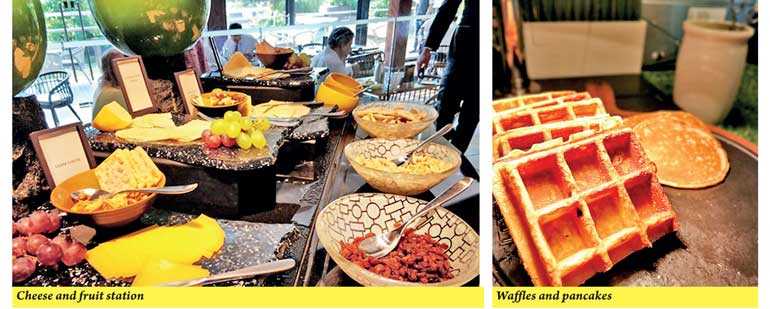 Text and Pix by Madushka Balasuriya

Ah, breakfast! The most important meal of the day. But the breakfast buffet is of a different breed altogether. Unlike its lunch and dinner brethren, there's something uniquely indulgent about waking up in the morning to a top-notch spread.

With an array of cuisines all there for your consumption, it's a feast that would not be out of place at a king's banquet, and all the while taking you back to a simpler time when waking up in the morning meant an assurance of food on the table.

Yet all buffets come with their own distinct set of drawbacks. With each running for anywhere between 2-4.5 hours, more often than not it is vital that patrons arrive early so as to not miss out on some items which may have run out later on.

There's also the issue of food becoming slightly stale, as they are kept in large chafing dishes for hours, rarely refreshed. While these issues can generally be worked around with a modicum of planning on part of the diner, this tends to be easier to do for lunch and dinner than it is in the mornings.

As, more often than not, catching the best of a breakfast buffet requires an early start, which leads to a scenario where many folks have to cut into their morning snooze schedule just to get some not-soggy scrambled eggs.

Now most of the higher calibre establishments mitigate these issues through the use of action stations, however even among these there are the truly exceptional, and this is where the breakfast buffet at Hilton's Graze Kitchen finds itself comfortably perched.

Graze has long-prided itself on its plethora of food stations, each with its own chefs to ensure there is always fresh food available. This niche service becomes all the more valuable during breakfast, when dishes are refreshed every 20 minutes, thus ensuring that even a patron entering at 10:15 can still enjoy some freshly pan-fried shiitake mushrooms.

Now we at Daily FT have on numerous prior occasions vouched for the quality of the food at Graze, but nevertheless we were curious about how they would go about differentiating something as ubiquitous as a breakfast buffet. Suffice to say, we weren't disappointed.

Variety is the spice of life

Like their usual fare, Graze's breakfast buffet is impressively diverse. Oriental, Indian, Continental, American, and Sri Lankan cuisines leave discerning diners with no shortage on choice.

All the expected staples are in play, be it waffles, pancakes, French toast, croissants, donuts, muffins, or wholegrain breads. The breads in particular come in several varieties, all of which can be topped off with a selection of homemade and imported spreads.

If you're looking for a light healthy breakfast meanwhile, Graze has you covered with a fantastic selection of fresh fruit, juices, and yoghurts. Meticulously sourced, the fruits available are always ripe and ready to eat (the pineapple during our review was particularly special).

The yoghurts meanwhile are homemade, though store-bought is also available, while we would highly recommend the homemade Bircher Muesli – a blend of yoghurt, fruit, oats and muesli – which was simply divine. A salad corner with a selection of fresh vegetables and cold cuts completes the selection.

The Oriental corner also offers some healthy options with an Asian twist. While there are of course still the slightly more indulgent items such as dumplings, bao, and pan-fried meats, they also have delicious noodle soup in chicken broth which can be customised down to the last vegetable.

Moving on to the heavy hitters, the Western corner serves up some ever-reliable fare such as scrambled eggs, baked beans, potatoes, and mushrooms, while at the same time throwing in a few twists with items such as the exquisite Moroccan lamb pizza. If you have a sweet tooth, there's also the outrageously good French toast with regularly changed-up fillings (we had caramelised banana!).

Moreover, a host of fine-tuning options mean that there's scarcely ever a point where a diner's whim goes unfulfilled. One case in point is the availability of Gran Powder in the Indian section. The powder is a staple in many Indian households to serve alongside dosa, however I have yet to see it at any of Colombo's many South Indian restaurants; the attention to detail offered up by those at Graze however ensured that a dosa meal would not leave diners wanting.

Artisanal sausages

Another area in which Graze stands out is in their dedication to making as much of their food as possible from scratch, something exemplified by their range of homemade artisanal sausages. For breakfast there are two varieties on offer, chicken and pork, both of which are easily among the most flavourful sausages this writer has ever had the pleasure of tasting.

Lunch and dinner, meanwhile, sees the addition of two more varieties in Chorizo Chicken and Chorizo Lamb – both of which we tried in a special tasting platter – the lamb in particular is exquisite, especially when paired with Graze's delicious mustard sauce.

Sri Lankan done right!

Despite all these options however, our favourite part of the meal was undoubtedly the Sri Lankan food. Every possible dish was laid out, from kiribath (milk rice) to pittu to hoppers to 'kola kenda' to string hoppers – both red and white variants – while there was not a single curry missing.

That said, it was eventually the 'lunu miris' that stole our hearts (and stomachs!); perfectly salted, with the right amount of spice, we could have eaten the kiribath/lunu miris combo all day.

Breakfast done right

On the whole, at Rs. 2,588 nett Graze's breakfast buffet offers value in all the right places, without ever leaving you feeling like you missed out. Open daily from 6 a.m. to 10:30 a.m., their constant refreshing of dishes also means that whatever time you show up you're bound to be served hot, freshly-made food.

And all this is without taking into account the outstanding quality of food, an area in which the Hilton Colombo has really been hitting it out of the park over the last few years. This is truly breakfast done right.