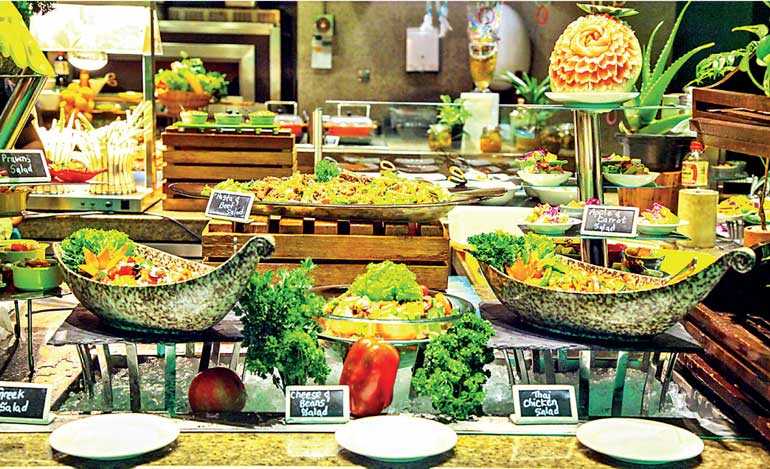 By Madushka Balasuriya

The true beauty of food and cooking in general is in its unifying properties. Strangers become friends. Cultures intertwine. Families grow. And nowhere is this more true than in Brazilian cuisine, which is in essence a smorgasbord of influences coming together to create a cultural manifestation of its people.

Therefore, it is these feelings of family and conviviality which the Hilton Colombo Residences looks to capture as it hosts its 'Sabores do Brazil,' or 'Flavours of Brazil,' promotion at its in-house multi-cuisine restaurant FLOW from 3-12 October.

The food promotion is its third of the year, and arguably one that is most likely to intrigue Colombo foodies. Coconut milk, coriander, ginger, and manioc are all ingredients any Sri Lankan cook will be more than familiar with, but in Brazil, a country with similar colonising influences, it is these very same ingredients that form the base of many of their dishes.

"You will find that we have a lot in common," says Rodrigo Mezadri, Executive Chef of Hilton São Paulo. "We use a lot of coconut milk, we use coriander, we use some ginger, and it's a little bit spicy. The thing is we in Brazil, we like spicy but we cannot eat very spicy food. But we are using almost the same ingredients you're using here in Sri Lanka."

Indeed, Chef Mezadri, alongside hi s regional colleagues – Executive Chef Hilton Barra Rio de Janeiro Moreno Colosimo, and Sous Chef Hilton Rio de Janeiro Copacabana Felipe Moreira – have created a feast that ticks and tickles all the right Sri Lankan taste-buds. But with Brazilian cuisine, a reflection of its mix of native and immigrant population, many dishes are characterised by their varying influences, be it European, Amerindian, African, or most recently, Asian.

As such we at Daily FT were chomping at the proverbial bit when given the chance to try some of these dishes on the day of the promotion launch.

Meat lovers' delight

Churrasco is the Portuguese and Hispanic name for grilled meat, and one thing you will instantly realise is that Brazilians, with their Portuguese colonial past, love their meat. So unsurprisingly, we were treated to some of the best cooked meat you're likely to find in Colombo.

The Sanduiche De Pernil (Slow Roasted Pork Leg Sandwich), Prime Riv Assado (Roasted Prime Rib), Picadinho Paulista (Beef Stew with Vegetables), and the Whitefish Moqueca, were undoubted highlights of the evening meal; the beef in particular, be it the prime rib or the stew, was oozing both literally and metaphorically, as the imbued, succulent flavours were visually represented through the moist tender meat.

All of these paired alongside FLOW's extensive selection of grilled, steamed, pickled, and roasted vegetables meant that we were never short on relief.

The whitefish moqueca, meanwhile, was best enjoyed alongside traditional Brazilian Arroz Cremoso De Coco, or coconut rice – Sri Lankans would be easily forgiven for mistaking this for kiribath.

Also kept aside as a condiment of sorts next to these dishes was the Farofa. Farofa is unique to Brazil and its taste and significance is hard to understand without actually trying it. It is basically fried tapioca flour and usually served alongside rice and beans. Whilst it doesn't sound much, it is amazing how it works so well with beans and rice, absorbing the juices and adding an extra texture to an otherwise quite mushy meal.

A word about the salads too, as many were mixed in with a variety of meats to tremendous effect.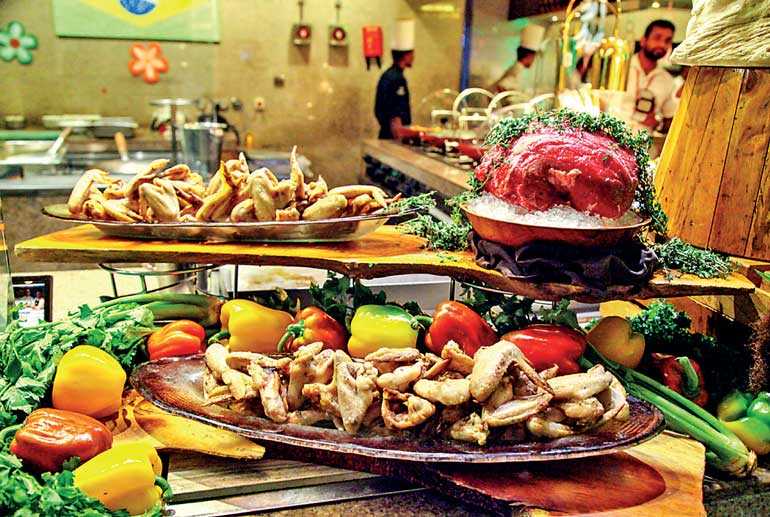 Sugar rush

In terms of desserts, we can't say we weren't warned.

"Brazil is known for their desserts, but we used to say Brazilian desserts hurt the throat because it's very sweet. That's why I've made small portions, because then you can try a little bit of everything. The Portuguese colonised us, and so most of the desserts have a Portuguese influence. They're mostly based in condense milk, and coconut, and when I was preparing I found we have a lot of things in common," explained Chef Mezadri, at one point joking how they had used up all the condensed milk in Colombo.

And he wasn't exaggerating. These were some of the most sweet, yet unquestionably delicious desserts to be found anywhere in Colombo.

Starting with the somewhat familiar, where better than the Beijinho. No, it's not a Brazilian footballer of Chinese descent, rather the name for the humble coconut toffee. Sri Lankans will be familiar with 'pol toffee' and this really is no different, just made with master chef precision.

The Brigadeiro, meanwhile, was another favourite, essentially a ball of truffles made with condensed milk and covered in colourful chocolate sprinkles. It was, and I don't say this lightly, divine.

Verdict

While several other dishes could make the highlight reel, this article must end sometime. This promotion is only around for a week and a half, so don't miss out. Brazilian food is something many in Sri Lanka would likely have never tried and, for those first-timers, this is sure to be the best kind of surprise, with familiar flavours, given a refreshing twist. The 'Sabores do Brasil' dinner buffet is priced at Rs 3.900 nett per person and is available from 3-12 October, 7 p.m. to 10 p.m. Make your booking for four or more guests via flow.lk using the promo code 'BRAZIL' and have the booker's food bill waived off for the dinner buffet.

Moreover, the exclusive Chef's Table dining experience for 14 guests has limited slots from on 4 and 11 October from 7 p.m. to 10 p.m. and is priced at Rs. 7,500 nett. You can also learn their secret cooking tips and famed stories behind each dish as you join the culinary masterclasses with the guest chefs from 10-12 October from 11 a.m. to 2 p.m., priced at Rs. 5,500 nett.

Pix by Chamila Karunarathne