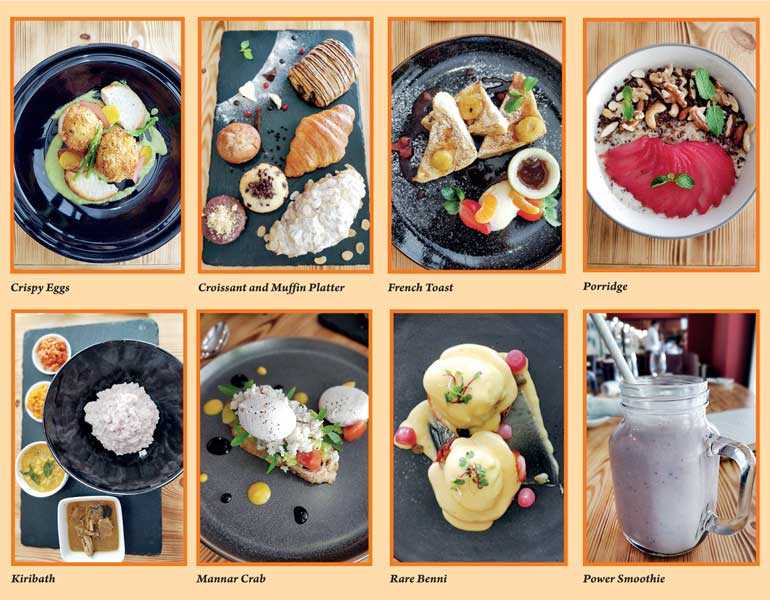 Text and pix by

Madushka Balasuriya

Rare at Residence by Uga has long been one of Colombo's pre-eminent fine dining venues, especially if you are in the mood for a modern, elevated take on traditional Sri Lankan cuisine. However, with the revamp of its breakfast menu, Rare is taking an uncharacteristically casual approach to that all-important first meal of the day.

The first thing to note is the subtle yet compelling change in aesthetic, with polished wooden tables and minimal cutlery now de rigueur. The menu meanwhile has undergone significant upheaval, with multiple new dishes – all painstakingly scrutinised before making the final cut – offering some genuine variety, while never compromising on Uga's unflinching dedication to quality.

The final and most crucial detail is the price; while Rare's fine dining experience is befitting of its premium pricing, not one dish at Rare's breakfast surpasses the Rs. 1,000 barrier – and though taxes may push that claim slightly above the threshold, this is still incredible value for the calibre of fare on offer; the superlative rendering of these dishes truly does need to be experienced to be believed.

Eggs, eggs, and more eggs

None of this is exemplified better than by the eggs here. Indeed, one of the most common facets of cooking, the gamut of cooking shows on TV these days love to highlight is just how difficult it is to make eggs. A simple enough dish it may be, yet to pull off any egg dish with precision, they say, takes true skill.

Rare passes this test with flying colours. We tried three egg-based dishes, and each time we were blown away by the execution of the Uga kitchen staff.

The first was the Rare "Benni" (Rs. 800) – a classic Florentine egg, served alongside a toasted English muffin, capers, pickled shallots, and hollandaise sauce; the second, the Mannar Crab (Rs. 900) – the tender meat served on a bed of avocado, tomatoes and micro green on homemade sourdough bread, topped with a poached egg; and finally, the Crispy Eggs (Rs. 800) – two soft boiled eggs coated in local spices, served alongside asparagus cream, on a toasted English muffin.

Each of these dishes had subtle flourishes which worked wonders in enhancing the overall flavour – such as a hit of lime zest in the hollandaise sauce, or a scattering of pickled onions to cut out the overpowering nature of the avocado – but the one common denominator was the precision technique in preparing the eggs.

The shape of the poached eggs – unquestionably oval – was astounding, while the subsequent runny centre was almost an inevitably, such is the practice that has gone into perfecting such craft. The same goes for the crispy scotch eggs – there was never any doubt as to the perfectly-runny centre that would greet the slice of our knife.

It is no surprise therefore that the flavour profiles of each dish have been worked and reworked to the point, where Rare has set a bar which only they could possibly surpass.

Something for everyone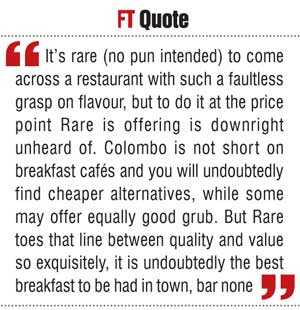 The rest of menu, comprising 15 dishes in total, comes on a minimalist single sheet and covers a healthy spectrum. Alongside expected staples such as pancakes, French toast, kiribath, pol roti, and assorted pastries, there are few unique outliers such as the aforementioned Mannar Crab and Crispy Eggs, as well as Cured Wild Salmon.

To start off our meal, we went for the healthy choice – porridge. But not just any old porridge, one with a blend of oats, barley, almonds, organic quinoa, flaxseed, cashew, walnut, and cinnamon, served with honey and poached pear. Coming in a generously-sized bowl, this could arguably fill up more than the single diner – and at Rs. 700, it more than justifies the old spit-the-water-out double-take! And one more thing, for the nostalgic among you, the pear is poached in Necto, which provides a gorgeous magenta contrast to the earthy tones of the nuts and grain.

As a side to our health-conscious choice we opted for a not-so-healthy platter of pastries and muffins. Plain, chocolate, and almond croissants (Rs. 300-500) were accompanied by a trio of muffins – chocolate, berry, and pineapple (Rs. 300 each).

The pastry-making in the croissants has clearly been narrowed down by the folks at Uga to an exact science, though it was the crispy muffin top/moist centre combo which had this reviewer coming back for more. That said, a word about the Almond Croissant which, with its ample filling, liberal sprinkling of icing sugar, and plentiful share of almonds, is quite possibly the best in Colombo.

On a more local note, for Rs. 700 we were served a fish curry, dhal, lunu miris, and pol sambol, with an option of either kiribath or pol (coconut) roti. Eventually we stumped for the kiribath, and we weren't left disappointed.

Made with red rice, the kiribath was not served in its usual brick format, but in a decadent, creamy lump, in the centre of a large bowl. On its own it hit all the right marks, but paired with each of the accompaniments – either individually or mixed together – it takes your taste buds on a veritable Lankan journey.

Finally the drinks menu sees a host of hot and cold beverages, with a selection of smoothies as well. We particularly enjoyed the self-explanatory Latte with Baileys (Rs. 900) to end our meal.

Best in town

It's rare (no pun intended) to come across a restaurant with such a faultless grasp on flavour, but to do it at the price point Rare is offering is downright unheard of. Colombo is not short on breakfast cafés and you will undoubtedly find cheaper alternatives, while some may offer equally good grub. But Rare toes that line between quality and value so exquisitely, it is undoubtedly the best breakfast to be had in town, bar none.

Rare at Residence by Uga has long been one of Colombo's pre-eminent fine dining venues – Property pix courtesy Residence at Uga