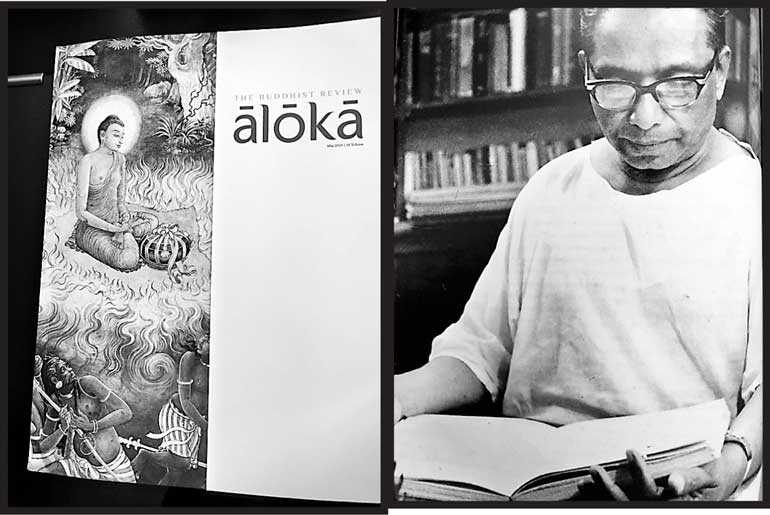 The name Gunapala (GP) Malalasekera is synonymous with scholarly presentations on Buddhism accepted by the entire Buddhist world. The knowledgeable Buddhist leader and university don was a pleasing personality who was easily accessible.

As the first batch of Peradeniya university students, we were fortunate in having him as the warden of Jayatilaka Hall. He was not resident in the Hall but regularly visited us in the evenings. Driving his own Volkswagen Beetle, he used to park the car opposite the tuckshop, get down and sit on the steps to have a chat with us, asking us what our problems were. We hardly had any to report. He then went to meet the sub-warden and the two resident lecturers. Following the footsteps of the grandfather, grandson Ashan has started a quarterly journal on Buddhism. Titled 'Aloka, the International Buddhist Review', the neatly-printed journal fills a big gap and produced a much-needed publication to discuss subjects related to Buddhism.

Ashan admits it's a milestone event for the Aloka team who set out on "an ambitious journey one year ago to truly create a modern Buddhist lifestyle magazine". The team has succeeded in their effort and produced a neat publication.

Fittingly the opening article is by Professor Malalasekera on 'Buddhism and Peace', which I presume was his address at the opening of the World Fellowship of Buddhists. Stating that Buddhism above all teaches the law and effect, he stresses that everything that is the effect of causes and is itself the cause of other effects and that peace is no exception.

"Peace come primarily by the absence of conflict. It is a result – an end, not an instrument. It does not come by mere wish-fullness or prayer. It has to be obtained by effort, by weaving the principles of righteousness into the whole fabric of human relationship," he writes.

Professor Malalasekera gains recognition as 'An Illuminating Leader of the Buddhist World' in an article by Prof. Dr. Bikran Prasad Barua of Bangladesh, Retired Professor of Physics from the University of Chittagong. No-one will disagree with him for saying that Dr. Malalasekara will remain ever memorable for his outstanding contributions towards the development of Buddhism and Buddhist cause in the days to come.

Introducing him as "Academician par excellence and National Hero", Prof Kusuma Karunaratne discusses his immense contribution in diverse fields "encompassing teaching, research and scholarship, statesmanship, religion, language and culture, just to name a few".

With an increasing interest in Meditation, Acharya Andrew J. Williams of Australia writes on 'Meditation and its Benefits – Getting to know your mind' shows how meditation makes the mind sharper, stronger and clearer, enabling us to solve our problems more skilfully.

"We will become healthier and happier, for it has been proven that there is a strong relationship between meditation, and physical psychological well-being. It is only through engaging in the practice of meditation that we can transform our limited powers of concentration into extraordinary unlimited powers of concentration," he points out.

This is only a glimpse of a most interesting and well-presented journal. Now that the readers have tasted the opening issue, they are bound to wait for the next eagerly.

To end this narrative on a personal note, I was in London in 1963 on a Commonwealth Fellowship in Journalism when Dr. Malalasekera had just come to London as High Commissioner after being Ambassador in Russia. I was staying with a close friend and former colleague at Lake House, Charlie (CA) Gunawardena who was then with the Commonwealth Secretariat.

When I paid a courtesy call on my 'guru' he told me that he was not going to serve liquor at High Commission parties. It was an era when there was no e-mail and telephone service was pretty slow. Yet I managed to get a phone call to Lake House and the next day's Dinamina carried the news as its lead story.