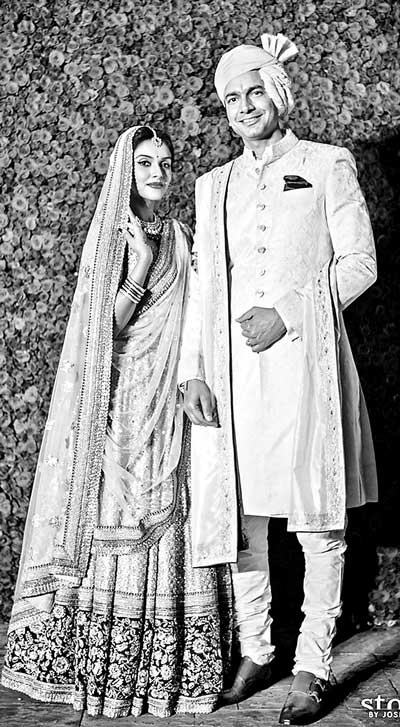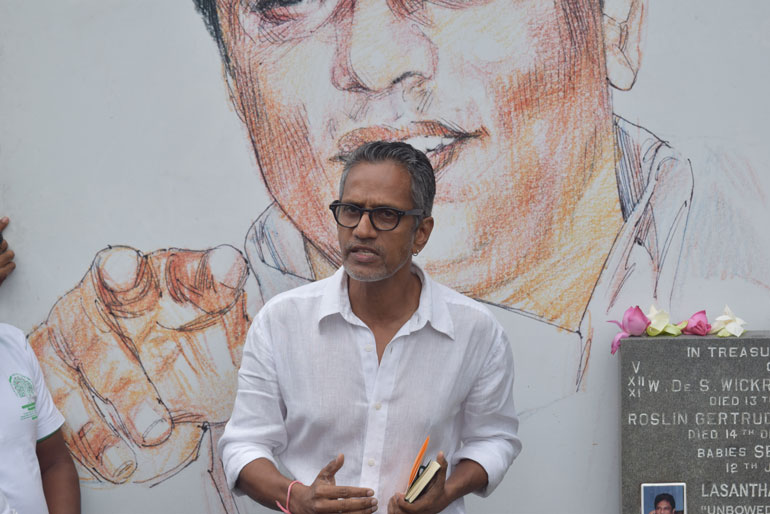 Peter D'Almeida remembering Lasantha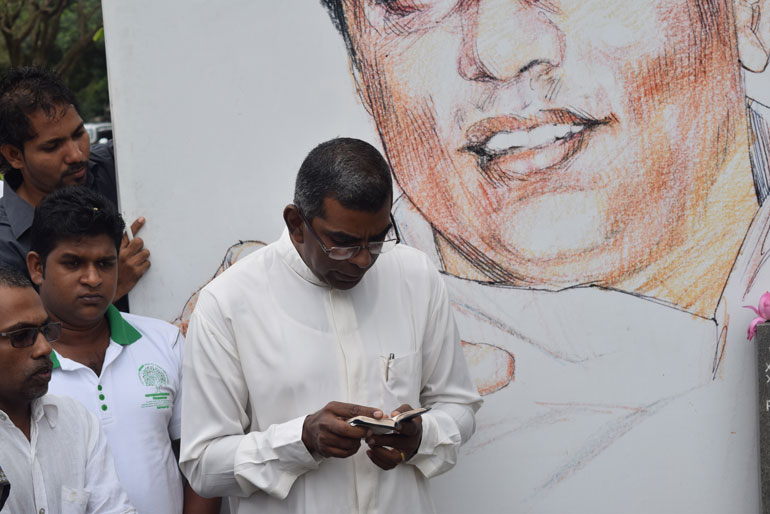 Pastor Chriso Hanley leading in prayer atLasantha's graveside yesterday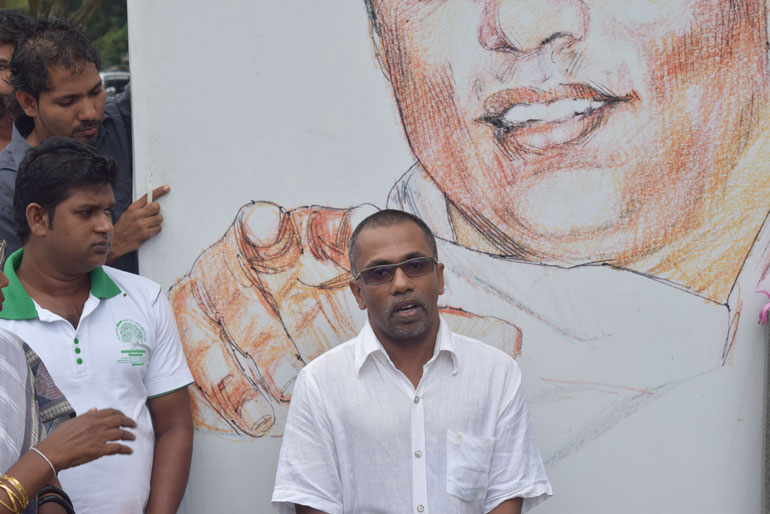 Former Leader Journalist Amantha Pererareminiscing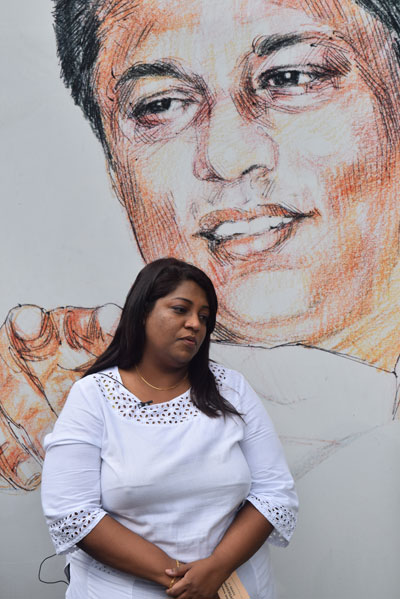 The Sunday Leader Editor-in-Chief Mandana Ismail Abeywickrema calls for justice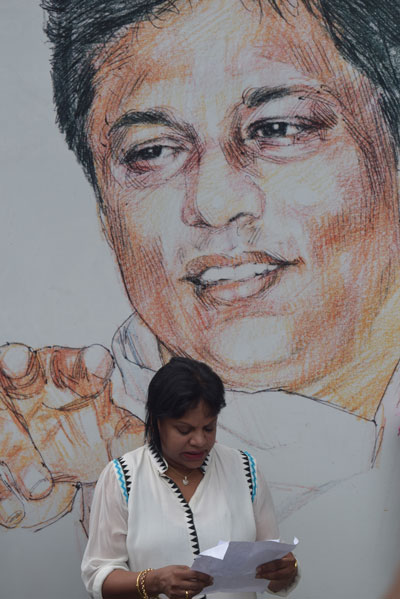 Raine Wickrematunge reads out a message fromtheir children, Avinash, Ahimsa and Aadesh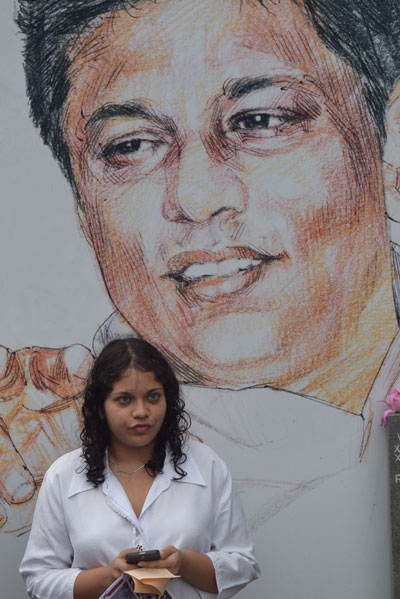 Lasantha's niece Raisa Wickrematunge readsout a message from her father Lal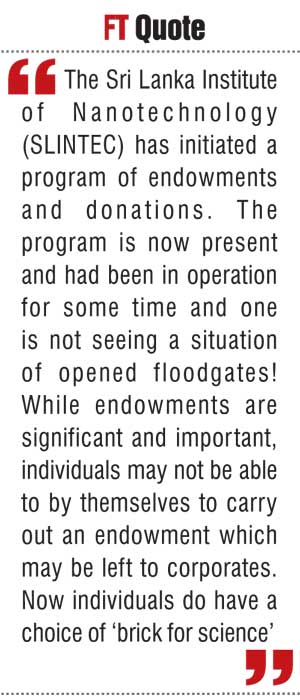 By Shiran Illanperuma
The life and death of former Editor-in- Chief of The Sunday Leader, Lasantha Wickrematunge, was commemorated yesterday at his resting place at Borella Kanatte. Attending to pay their respects were some of Lasantha's closest friends and colleagues as well as members of the general public and a several politicians, who showed up to pay their respects to the slain hero and loved one.
As media personnel scrambled to take snapshots of Lasantha's grave with a video drone buzzing overhead, solemn colleagues and friends shared their memories of Lasantha, commented on his contributions to journalism in Sri Lanka and highlighted the lack of justice following his murder. Lasantha was the co-founder of Leader Publications and the founding Editor of The Sunday Leader. Throughout his career in journalism, and especially while at The Sunday Leader, he gained fame and notoriety in equal measure for his cutting reportage on corruption in the ranks of the polity and private sector as well as crimes committed by both sides of the long-running civil war.
Lasantha's childhood friend Peter D'Almeida speaking at the graveside memorial yesterday began by drawing a parallel between Lasantha's murder and the assassination in April 2015 of Pakistani free speech advocate Sabeen Mahmud. Gunmen on a motorcycle shot Sabeen five times while she was parked at a red light in Karachi, in the presence of dozens of witnesses, a killing that bore a striking resemblance to Lasantha's own death. For Peter, both these tragedies raise questions about whom we mourn, and why. Like Lasantha, Sabeen Mahmud, according to her closest family, "defied definition".

Both were passionate, unable to sit still in the face of injustice. Both had their deaths foretold, but carried on with their work regardless of threats and very real dangers, not out of an urge to play the hero but quite simply because they were determined to do the work they'd embarked on, uninterrupted by fear. Peter ended by reminding the gathering that another grave, not far from Lasantha's own, held the remains of another fallen journalist – Richard De Zoysa; yet this grave no longer sees the outpouring of grief or remembrance that Lasantha's does.
And so he stressed the importance of coming together in mourning, particularly those who remember the deceased as a "whole person", a person full of love and energy and intelligence and not only a crusader for a cause. Reporting during some of the darkest days in Sri Lankan history where journalists were constantly under threat from all sides, Lasantha forged his own path, epitomising the Leader's slogan 'unbowed and unafraid'.
His brother Lal Wickrematunge recalls: "Lasantha carried on unrelentingly despite many setbacks and physical assaults to bring forth news before the citizenry within the maxim of, people's right to information. It was a time when journalists resorted to self-censorship amidst apathy set within the people of Sri Lanka. "Lasantha was a beacon during the dark days that shone over the Sri Lankan landscape. He was the lone sentinel leading a select band of journalists within The Sunday Leader who believed that the preservation and fostering of media freedoms in Sri Lanka had to be maintained despite the overt dangers inherent at the time. He paid the ultimate price in pursuing his duty as did many others particularly in the north of the country."
His shocking assassination, conducted brazenly in broad daylight, was a watershed moment in the history of Sri Lankan journalism. Since his death the man has come to be known as a hero and martyr for freedom of speech both at home and across the world. Lasantha's murder was the drop that burst the dam on decades of media repression leading to countless threats, murders and abductions conducted by the state and other armed parties. Yet despite the media circus and political plays that followed his murder, visible progress in the investigations into his death has been absent. Lasantha's children – Avinash, Ahimsa and Aadesh– expressed deep sorrow at the loss of their father.
"Our father never got a chance to live out his life, see his children grow up, be a grandfather or continue the work he loved. It's unfair to see those responsible enjoy these opportunities that were robbed from our father," they said. Calling for further political will and a breakthrough in the thus far fruitless investigations into Lasantha's assassination, his children said: "It's not just important to us, his children and his family, but to Sri Lanka so the people can rest assured that atrocities committed by those even in high positions will be investigated fairly and those responsible will be held accountable for their crimes. It was an incredibly bittersweet anniversary last year knowing those responsible for our father's death would no longer govern the country. We hope this year will be the year we put this case to rest."
Former colleague of Lasantha and current Editor-in-Chief at The Sunday Leader Mandana Ismail Abeywickrema admonished the empty promises of the Yahapalanaya Government which swept into power on the sixth anniversary of Lasantha's assassination, promising to speed up investigations and transferring the case from the Terrorism Investigation Department to the Central Intelligence Agency. "The Government was brought into power with expectations of media freedom and justice to journalists who were murdered, assaulted, abducted and disappeared. One year after the change, the entire media fraternity is waiting to see justice meted out to our colleagues who paid the ultimate price for doing their jobs," she asserted. Though over a decade has passed since his death, Lasantha's legacy has endured and the many highs and lows of his life are recalled by friends and family. His unrelenting dedication to his journalism that often entered the realm of recklessness, his enduring love for his family, his sage mentorship and his mischievous antics in the office paint a picture not of a dreary, hardened writer but a charismatic prankster with an unparalleled zest for life. His colleagues recall him as an exceptional human being. As Mandana says: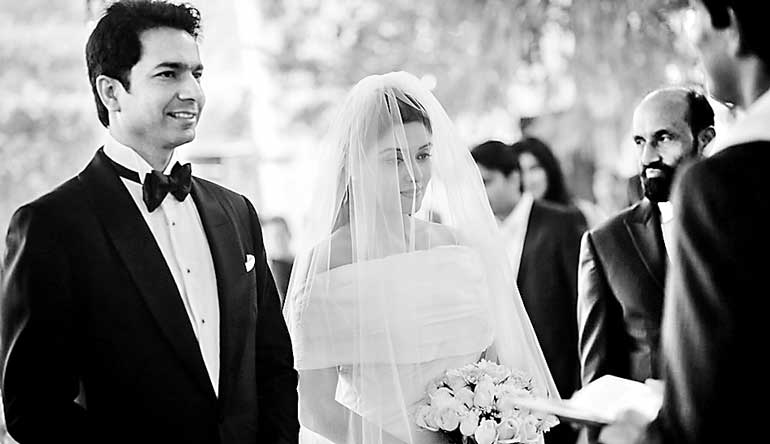 "A lot of people speak of Lasantha as a journalist or a politician, but to his loved ones he was a man unlike any other. Since his death in 2009 all of us who were close to him in some way or the other have been trying to find him in others. But we still haven't found anyone even close to him. The human being that Lasantha was won't be forgotten by all he loved him." Amantha Perera, a freelance journalist and former protégé of Lasantha, says that the man's legacy endures not in his writing or the publication he helped build but in the plethora of journalists he met, trained and nurtured over the years, helping to carve out space for young hopefuls to rise up the ranks as some of the best media professionals in the country today.
Said Amantha: "If you look at the current media space in Sri Lanka in most of the English newspapers, there is at least one if not more journalists who either began their careers or blossomed under Lasantha. The biggest example of this is the list of winners of the prestigious Journalist of the Year award in Sri Lanka, where for the last 10 years or longer, more than half of the winners were nurtured by Lasantha. "Soon after his assassination, his name was abused and used by a lot of people for their own personal gain. We realise now how people used that.
But whatever his politics were, his contribution to journalism in Sri Lanka and South Asia cannot be underestimated because the journalists who blossomed under him still keep doing work of an extremely high calibre." Former Chief Sub Editor and Business Editor of The Sunday Leader Romesh Abeywickrema fondly recalls "the peals of laughter" that constantly emanated from Lasantha's office right up to that fateful day. Said Romesh: "His mischievous grin could either mean big trouble or good news. One could never tell. As his deputy and right hand, I had the privilege of occupying a cubicle right next to his office where ever we worked from, which allowed me a closer insight into this gentle genius. Let there be no doubt that Lasantha died a hero."