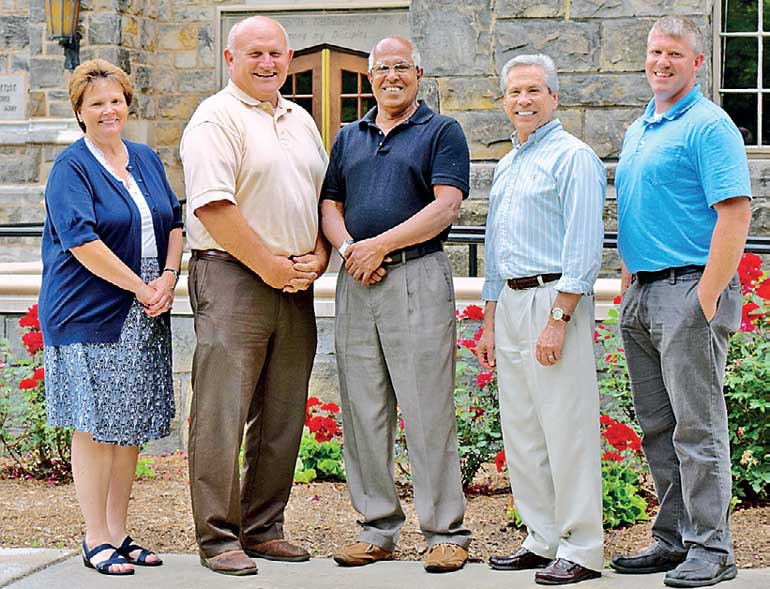 NEW WILMINGTON, PA: Last month, Westminster College hosted a representative from Scholarships for USA with hopes of furthering learning opportunities for Sri Lankan students. Scholarships for USA O w n e r P a d m a s e n a Dissanayake and Vi c e President for Admissions and Marketing at Westminster Dr. Thomas H. Stein have developed a working agreement over the past 10 years based upon trust and understanding to enhance the educational opportunities for Sri Lankans to receive a quality education at Westminster College in New Wilmington, Pa. just one hour north of Pittsburgh.
"We established this partnership with Scholarships for USA with the hopes of providing an affordable and high calibre education to students not only in our own country, but throughout the world," said Stein. "This partnership helps to tell Westminster's well-rounded story." This partnership allows students to be placed in a highly academic setting where they can interact and learn together and from each other. The relationship between Scholarships for USA students studying at Westminster is a total emergence in the culture of American life outside of a major city.
This provides students with the opportunity to build life-long relationships with faculty and students and to receive a highly regarded education by American standards. Scholarships for USA was inspired by the experience Priyanthi and Padmasena Dissanayake faced in gaining college admissions for their daughter, Sashikala Dissanayake in 2001. After nearly one year of exhaustive research, with valuable time and money spent on what bore little results, Sashikala was admitted to Concordia College Minnesota, with 100% financial assistance (including a student loan).
Following her noteworthy academic performance and conduct, the International Student Director mentioned that he would appreciate more students of her calibre to join Concordia College. Priyanthi agreed to bridge excellent local youth with the college, provided they were offered the same financial support received by Sashikala. Thus, Scholarships for USA (PVT) LTD began as a homegrown operation run by parents to assist other parents who were looking for affordable higher education options in USA. Founded in 1852 and related to the Presbyterian Church (USA), Westminster College is a top- tier liberal arts college and a national leader in graduation rate performance, according to US News Best Colleges guide.
Westminster is also ranked as the number one school providing the 'Best Value in Pennsylvania' by Smartasset, selected as one of the 'Top 25 Best Private College Values in the Northeast', was honoured as one of 'The Best 379 Colleges' by The Princeton Review, and is named to the President's Honour Roll for excellence in service learning.
Nearly 1,400 undergraduate and graduate students benefit from individualised attention from dedicated faculty while choosing from 41 majors and nearly 100 organisations on the New Wilmington, Pa., campus. Visit www.westminster. edu/advantage to view 'Advantage: Westminster' A Strategic Plan 2010-2020.