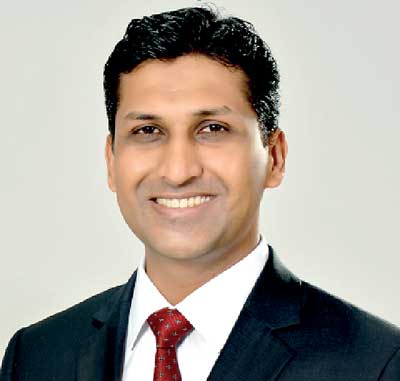 The local counterpart of the prestigious Monash Col lege in Australia, Universal College Lanka (UCL) recently appointed Dr. Dhananjay Kulkarni as the new Dean of Academic Affairs. Dr. Kulkarni holds a Bachelor's degree in Computer Engineering from the University of Pune, India along with a M.Sc. and Ph.D. in Computer Science from the University of California, Riverside, USA. He was thereafter appointed as the Assistant Professor at Boston University, USA, where he lectured in the fields of Databases, Security and Algorithms.
Prior to his current position as Dean at UCL, he was the Head of School of Computing and Senior Lecturer at APIIT Lanka, where he led the academic and research activities for five years. Dr. Kulkarni's key priorities lie in ensuring high academic quality and unique student experience through Monash programs. "Apart from being a model to other campuses, UCL is also committed to the advancement of knowledge hence my primary goal is to maintain Monash's long and proud tradition of excellence in education, quality, credibility and integrity while combining it with liberal values of enquiry, ethics, and providing a fertile environment for bright young minds to flourish. Hence, the range o f d e g r e e s t h a t include Engineering, I n f o r m a t i o n Te c h n o l o g y a n d Business are crafted to maximise the potential of students in not only delivering in depth knowledge across a breadth of fundamental subjects but also provide a well-rounded development plan to the students." Dr. Kulkarni's secondary goal is to focus on growing recruitment and increase student enrolment and facilitating skill development among students by inciting collaborations with partners for industryawareness."
I hope to create academic collaborative networks both on the national and international levels. We plan to create innovative programs, build collaborations across key industry disciplines, integrate our curriculum in line with current business needs and create an institute that sparks the imagination of our students", he stated . Commenting on their teaching methodologies he noted, "UCL adopts unique 'student centred' teaching methodologies that result is deeper understanding and longer retention of knowledge. Through an interactive classroom environment, students get experience active learning techniques to help improve their performance.
Within a team working environment, students solve problems, answer questions, formulate questions of their own, discuss, debate and brainstorm, thus becoming positive ly interdependent and accountable individuals. "The lecture panel comprises a mix of local and international academics with extensive teaching, business and industry experience across the respective fields. Currently there are 6PhDs on the teaching panel, and rest all with MSc/MBA qualifications. Periodically the students undergo training using the latest teaching techniques and by skilfully integrating leadership, ethical, global thinking and core management skills, UCL's graduates are groomed to become seasoned global citizens." "We keep our classes small in number, just 25 to a class, allowing the lecturers to cater to the students' individual needs.
Close interaction with students helps us in monitoring student progress and improving overall performance," he added UCL CEO Lasantha De Silva says, "UCL is ideally placed to further enhance their partnership agreement and working relationship with Monash. Under Dr. Dhananjay's leadership and his plans to synergise with some of the top rated universities of the world, I'm certain that UCL will grow in strength as a worldclass education provider." Having commenced as the brainchild of three renowned business personalities,
Bob Kundanmal of the Sino Lanka Group of Companies, Gateway Group Chairman Dr. Harsha Alles and Boston Consulting Group Partner and Managing Director Z a r i f Munir and l aunched with the vision of providing Sri Lankan students the opportunities to gain degrees from the most prestigious and globally recognised universities around the world, UCL today stands geared to catering to the demand for talented human resources of future employers and industries in the rapidly evolving global business arena.