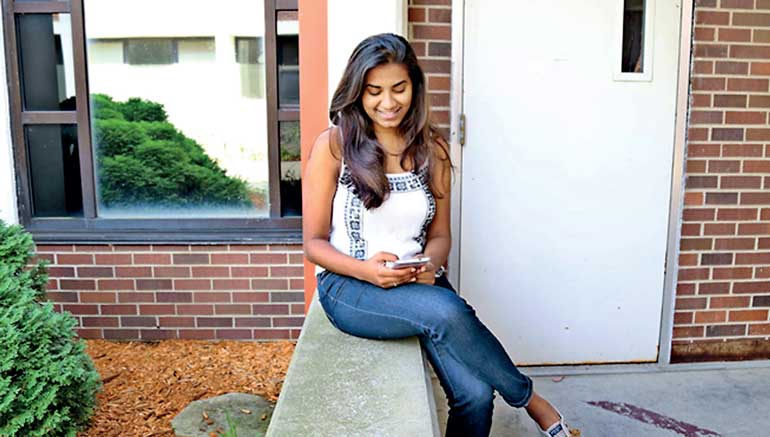 By Winona Whitaker Ottumwa: The International Affairs Office at Indian Hills Community College is looking for area residents to take part in a unique cultural experience called the International Friendship Program. The effort allows local families to introduce some of the college's nearly 200 international students to American culture. In its third year, the International Friendship Program was created to allow students to learn firsthand about American culture, said Ashley Albertson, International Affairs coordinator. "We started off with about 35 [international] students. Right now at fall term, we're at a 190. For our friendship program, for our first year of the program, we had 11 students take part in the program and nine families. And last year, which was the second year of our program, we had 28 students take part in the program." Kelly and Rhonda Conrad have bonded with several foreign students through the friendship program.
"It starts out with two or three students every year," Kelly said. "Usually by the time the year ends, it goes up to six or eight students." Students assigned to the Conrads will bring friends along, boosting their number. Albertson accepts applications for the program, "and then she selects students that are your international students for the year," Conrad said. Students and their families are introduced to one another at a banquet held for that purpose. Hosts don't have to take multiple students. "We just sign up for more because I think international students are comfortable with people from their own country, and I think it takes a little anxiety away from the students," Conrad said. The Conrads have taken students to the Iowa State Fair and to Pella's Tulip Time Festival. "We'll take them out to eat, do a little shopping, things like that," Conrad said. "I've learned that they really appreciate the opportunity to be in the United States to study and that their families have really sacrificed" to have them come here, Conrad said. "And we've been fortunate to have some of their parents come at graduation time, and they're very grateful that their students have the opportunity and have a host family.
"Ashley does a great job of pairing the families, and we all miss Freddy Miranda," Conrad said. Miranda, who was killed earlier this year while on a recruiting trip to South America, was the director of International Affairs at IHCC at the time of his death. Miranda, a native of Ecudaor, spearheaded countless studentfocused initiatives at IHCC. Bhagya Godakanda is one of several Indian Hills students from Sri Lanka. "I came here last fall," Godakanda said. Through the International Friendship Program, she was paired with Jessica Chickering, Director of Student Support Services at IHCC. "She usually takes me to movies when I am lonely," Godakanda said, and often invites the student for lunch or dinner. "Last Monday she took me to lunch." Godakanda said it's comforting to have someone she can talk to when she can't talk to her family. Godakanda said she spends every holiday with Chickering. Christmas last year was a new experience for the Buddhist. Godakanda enjoys spending time with Chickering's 10-yearold daughter who shares stories about her school, which is very different from school in Sri Lanka. When the daughter needed an international food for a school event, Godakanda came to the rescue with a Sri Lankan dessert. "I live 10,000 miles away from my family," said Godakanda.
"It is very important to have a person to talk to. She is like my mom. It's kind of nice to know some people who care about me." The friendship program is available on both the Ottumwa and Centerville campuses, Albertson said, but "the majority of the students are on the Ottumwa campus." International Affairs is currently accepting applications from anyone who wants to be a host family. "It's a great way to learn about another culture," said Albertson, and a way to create lifelong friendships. Unlike a foreign exchange host family, families in this program are only asked to meet with students once a month. "They can get together more than that if they want to," she said. "You can make it what you want to make it." Visit www.indianhills.edu/ internationalfriendshipprogram for more information or email [email protected] edu.