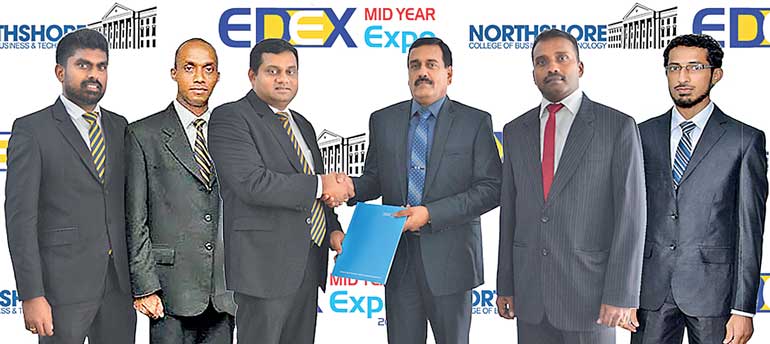 From left: EDEX Mid-Year Expo 2016 Director – Sponsorships Nishan Jayalath, EDEX Mid-Year Expo 2016 Secretary Dasun Amarakoon, EDEX Mid-Year Expo 2016 Project Chairman Nandun Chandraratne, Northshore College Director – Finance and Administration S. Ramanaharan, Northshore College Finance Controller Y. Yoganathan, Northshore College Marketing Manager of M. Irshad
Establ ished in 2011, Northshore Colle ge of Business and Technology, more popularly known as Northshore College, is the exclusive partner institute of University of the West of England (UWE) in Sri Lanka. UWE is renowned for offering a wide range of highly recognised courses both at undergraduate and postgraduate levels. Students in Sri Lanka can now experience the same standards of UWE at Northshore College. Northshore College, Sri Lanka has a rather aspiring vision of being recognised as a leader in quality education in business, engineering and information technology while becoming a role model for higher education institutes not just in Sri Lanka but in the South- Asian region as a whole. So how exactly do they plan to go about doing this? Northshore College is not just about spoon-feeding education to their students.
They also feature comprehensive training which enables Northshore's students to understand their full potential, secure employment in their chosen fields, gain essential life skills and ultimately become key elements in a progressive, modern society. Northshore currently has four main streams of study on offer- MEng/BEng (Hons) in Electrical and Electronical Engineering, MEng/BEng (Hons) in Civil Engineering, BSc (Hons) in Software Engineering, BSc (Hons) in Business Administration to help you take the first steps towards your future career.
Those who do not meet the eligibility criteria to enter the above programs in Software Engineering and Business Administration can follow the Northshore foundation program. Cutting edge technology is a standard for all students partaking in these programs – as Northshore College features high quality, well-equipped state-ofthe- art laboratories for both classroom demonstrations and field experiments. With a large number of students enrolled in its various programs, Northshore College also happens to be one of the fastest growing non-state institutes engaged in higher education in Sri Lanka. The four year MEng programs offered at Northshore College are designed to comply with the requirements set by the Washington Accord. Further, the students also get industrial training for a minimum of six months which is conducted with the assistance of the National Apprentice and Industrial Training Authority (NAITA). This year's EDEX Mid- Year expo is to be held through 3 and 4 September at the Sri Lanka Exhibition and Convention Centre, Colombo