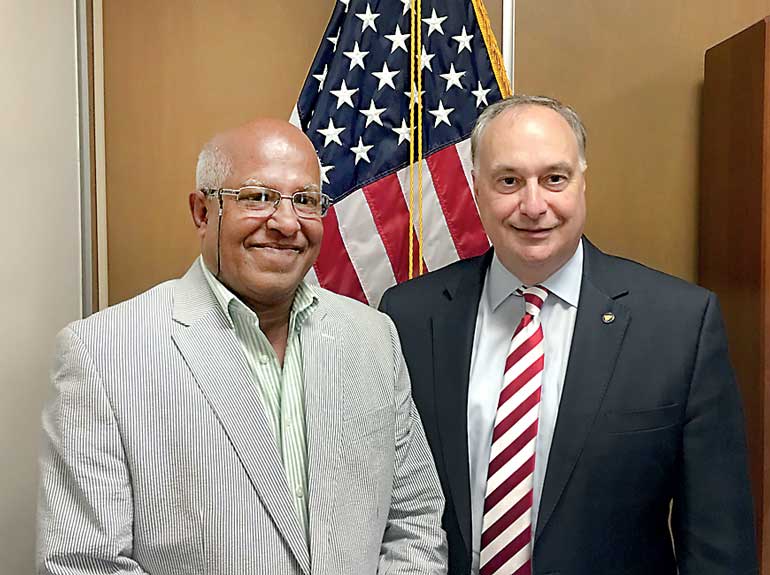 Scholarships for USA President Padmasena Dissanayake with Madonna University President Michael Grandillo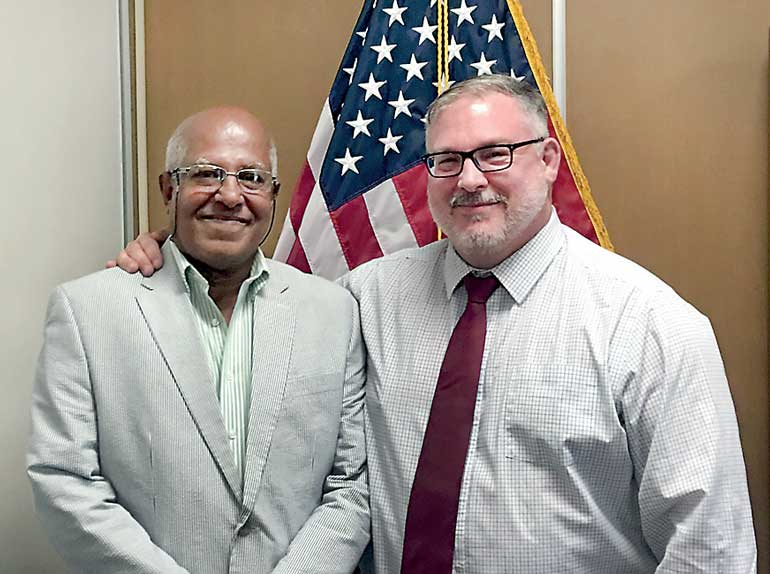 Madonna University recently hosted Padmasena Dissanayake, President of Scholarships for USA, to discuss recruitment efforts from Sri Lanka.Dissa, the first representative from Sri Lanka to visit the university, met President Michael Grandillo and members of the enrollment management team. Although there are Madonna alumni in Sri Lanka who earned their degrees in the United Arab Emirates, any Sri Lankan students that Scholarships for USA recruits to Madonna would be the first to study in Michigan. Annually, more than 4,000 Sri Lankan students go to the US to study. Madonna University is a private university founded in 1937 that offers associate, bachelors and master's degrees in more than 100 majors and programs. It has been a leader in nursing education for more than 50 years, and is also known for its American Sign Language, Broadcast and Cinema Arts, Forensic Studies, and Hospice and Palliative Studies programs.
Currently, approximately 4,000 students are enrolled. The university is based in Catholic Christian values, with its mission based in the values of respect for the dignity of each person, peace and justice, reverence for creation, and education for truth and service. Students at Madonna incorporate community service with civic learning to gain experiences beyond the classroom, volunteering more than 27,000 hours each year from Detroit to South Carolina to Latin America. Madonna was the first private university in Michigan to be awarded the Community Engagement Classification by the Carnegie Foundation for the Advancement of Teaching. The university's Franciscan Center for Science and Media achieved Gold status for Leadership in Energy and Environmental Design, the first building in Livonia to receive the honour. The nursing program uses simulation labs to educate students, and the teacher education program has earned exemplary status from the Michigan Department of Education. Many students also play sports.
The teams, known as the Crusaders, together have accrued 77 conference championships, made 28 conference national tournaments and three conference Final Four appearances, and had 202 students achieve All-time NAIA National Scholar Athlete honours. Livonia, Michigan, is a town of about 100,000 residents located approximately 30 km west of Detroit. The city and surrounding area features shopping, dining and outdoor activities, as well as being a quick car ride into Detroit for sporting events, theatre, architecture, and the Detroit Institute of Arts. Madonna University sought out Scholarships for USA to partner with because Mark Schroder, the Director of Undergraduate Admission had worked together with Scholarships for USA to recruit Sri Lankan students at his former institution to great effect. "I met Dissa 12 years ago, the first time I visited Sri Lanka, and over the years his organisation has sent the most dedicated, polite and prepared students to the US," Schroeder said. "We look forward to welcoming Sri Lankans to the Madonna University family and to a campus that will be a supportive and challenging home away from home."