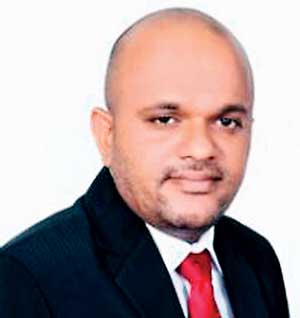 By Gayathri Kothalawala A good education can be a key that opens many a door for any individual with worthy ambitions. Thus, a highly recognised and internationally acknowledged educational qualification from a leading university in the world provides a strong foundation to a career and helps an individual to climb the corporate ladder to success, providing them with insights to competently handle the business and its constituting segments. The British College of Applied Studies, or BCAS Campus, is a leading Sri Lankan private sector higher education provider that offer vocational and tertiary training to the students, via a range of programs delivered through both local and foreign lecturers. With a strong UK collaboration, BCAS is an ideal solution for students who wish to pursue their higher education. Anton Rajapakse, Senior Manager – Private Banking at Nations Trust Bank was one such student who has gone on to graduate with a Master of Business Administration (MBA), Business Administration and Management, General, Merit from the University of Wolverhampton, via the BCAS Campus. Following are excerpts of an interview with Rajapakse:
Q: Why did you decideto do an MBA withsuch a busy lifestyle at work?
A: It was cost effective. The classes and schedules at BCAS aligned with my balance of work. The majority of the classes were held on Sundays and the foreign lecturers also came in for the weekend. I joined the first MBA batch in Sri Lanka, and the study context of the MBA was very good compared to other MBAs available in the market. The students receive a good exposure in the respective areas and the foreign and local lecturers were a good example of how academia should be. The Sri Lankan lecturers added a flavor of locality to the MBA.
Q: How was student life at BCAS?
A: It was very enjoyable. The students were from different backgrounds, religions, ethnicities and there was no age barrier. As a consequence, the conversations and communications led to gaining respect to every culture. Student life was fascinating, and two years after completing the MBA, I cherish the relationships that I built as a MBA student.
Q: How did the MBA help you in your corporate life?
A: The MBA gave me a good platform to develop a strategic thinking pattern. I progressed from a middle level management to holding a senior role within the bank that comes with a gamut of responsibilities. The MBA also enabled me to manage my time, balance work life and broadly think of new things, which would have been neglected before. I believe the MBA will continuously help me in my career.
Q: What would be your advice for people who are considering
A: Determination, focus and commitment are three things that are required when you commence an MBA. The most important message I can give is to stay committed; you will not be able to achieve your goals without commitment. I would also encourage them to not give up at any given time; you will truly understand to work smart under pressure. You must also aim to gain a merit or more to get the full potential of your MBA. Your lecturers would facilitate you in achieving your goal if you aim high.