---
Dual Vocational Education and Training in Germany (VET) – Part II
---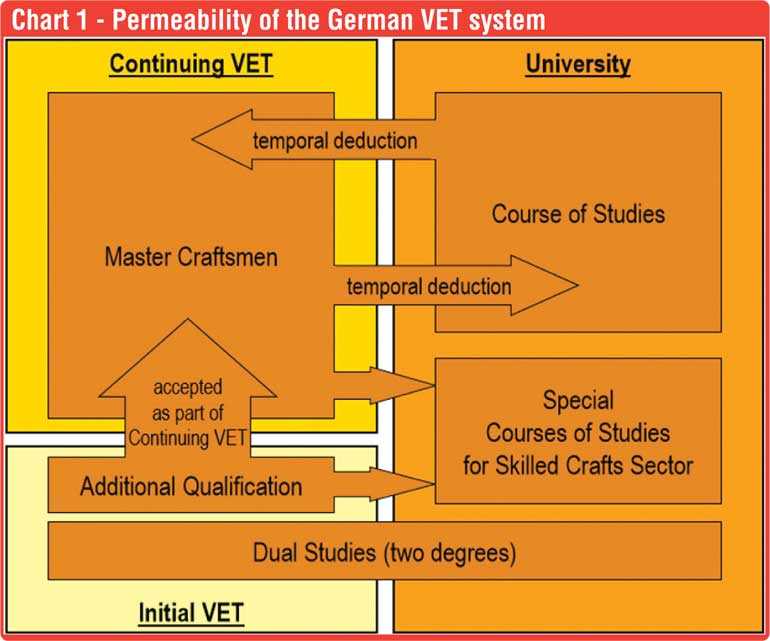 Professions carrying out small-scale, individual production and maintenance
The skilled crafts sector in Germany is not "arts and crafts" or "historic crafts," but professions carrying out small-scale, individual production and maintenance (mostly local SMEs), said German Confederation of Skilled Crafts (ZDH) Department of VET Head of Unit Dr. Hendrik Voß.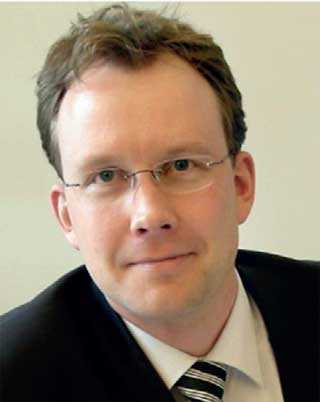 ZDH Department of VET Head of Unit Dr. Hendrik Voß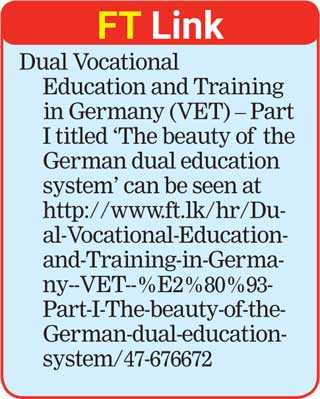 Outlining the system to ensure the supply of skilled staff in Germany via the skilled crafts sector, he said the law determines which professions are skilled crafts and ensures compulsory membership of enterprises in chambers of skilled crafts.

Skilled crafts professions include building and interior finishing, electrical and metalworking, woodcrafts and plastics, clothing, textiles and leather crafts, food crafts, health and body care, chemical and cleaning sector, graphic design and so on.

He noted that skilled crafts in Germany presently comprises one million companies with 5.4 million employees (13% of Germany's total workforce), 380,000 apprentices (27% apprentices total in Germany) and records € 500 billion annual turnover.

The ZDH is one of the main national employers' associations and has two umbrella-organisation members: Deutscher Handwerkskammertag (DHKT) and Unternehmerverband Deutsches Handwerk (UDH). ZDH's main role is to manage general decision-making process within the Handwerk lobby for Handwerk nationally and internationally and centrally keep all statistics of Handwerk.

The following information was obtained from the presentation by Dr. Voß.


Basic Handwerk principles
Initial training: regulated, holistic qualifications for occupations (content: comprehensive competency profile + personality development + citizenship education)
In-company training and VET school education within a dual system
Labour market-related curricula (employability!) (Developed by social partners, led by federal ministries)
Chamber examinations and assessments under public law
Mandatory qualification requirements for in-company trainers (Ordinance on Trainer Aptitude)
VET contract for the whole period of vocational training (avoiding qualifications in parts)
Moving upwards through further training (e.g. Master craftsman) (elaborated practical skills, business administration > preparation for self-employment/entrepreneurship)
Permeability towards academic sector (within Handwerk and beyond)
German VET system – Initial Vocational Training ("dual system")
Starts after public school (formally no school leaving certificate required)
Requires contract with a company (availability depends on economic cycle)
Compulsory attendance of vocational school (provision guaranteed by the federal states)
Legally governed by law (e.g. professions-specific by-laws)
Applicable to 330 different professions (incl. 130 in Handwerk)
Mostly 3 to 3,5 years of duration (2 years exception)
Average "salary": 800 € p. m. (depending on profession and year)
Chamber examination, assessment + certificate (in-company trainer, examiner)
Why do companies educate and pay apprentices?
VET training has a long tradition in the German economy and society: "VET training is regarded as a societal duty of economy"
VET apprentices are productive, especially from second year on
By offering VET training, companies aim for long-term employment perspective
VET spares expensive and laborious search for skilled staff
Former VET apprentices already familiar with the company
Company already knows its future employee
The funding of the system

Necessary conditions: Companies pay an apprenticeship allowance; companies impart cross-company qualifications; length of apprenticeship programs ensure the required skill levels.

Implications: Companies must employ apprentices in a productive way; productive apprentices learn in a very efficient way.

Conclusion: Net investments by the companies are not required; a governmental redistribution is not required; and a governmental labour market regulation is not required.

Scientific research shows:
Most relevant are professional ethics – People qualified as roofer in a company are proud to be a roofer rather than being school graduates
Qualifications/professions have to fit to the layout of workplaces – The typical German "autonomous craftsman" may not fit the demand of the labour market or economy sector in another country
Qualifications must be determined in the wage system
The cost of substitution or mobility, when switchover to another company, must be low
However, such linking-up cannot be provided by the state.


Continuing vocational training

Continuing vocational training (master craftsperson) is possible in about 100 professions.

This contains four sections:

Section I – masterly practical performance (individually for each profession)

Section II – trade specific theory knowledge (individually for each profession)

Section III – economics and regulations (standardised for all professions)

Section IV – teaching and training skills (standardised for all professions)

The preparation courses are full-time (about one year) or part-time (up to two years). They are a precondition in 41 professions for setting up own business and are EQF-classified to be on level with Bachelor-degree (level 6 of 8).


Support for international cooperation projects

The skilled crafts sector and its organisations are able to offer international cooperation projects support to establish chamber-like structures to deliver VET consultancy for SMEs, examinations in VET, and quality assurance in VET; company-based training systems by developing labour market-oriented curricula, offering the training of (in-company) trainers, and developing labour market-oriented assessment structures; and inter-company training centres; in addition to expertise on marketing vocational education and training.
(The Daily FT participated in a programme on Dual Vocational Education and Training in Germany at the invitation of the Federal Foreign Office in March this year.)