Student Panel Discussion at Cambridge Schools Conference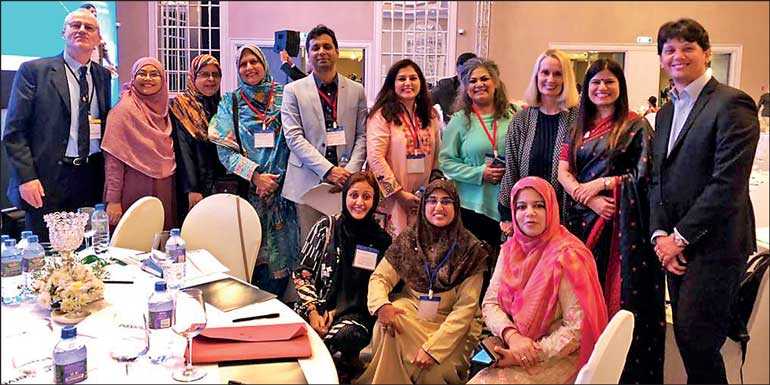 Dignitaries at Cambridge Schools Conference
---
World-renowned education experts discuss how to 'Create the conditions for success' in schools
Cambridge Assessment International Education (Cambridge International) hosted the third edition of Cambridge Schools Conference in Colombo, Sri Lanka on 27-28 November. The conference theme was 'Creating the conditions for success' in schools.

Focused on creating a positive, successful learning environment within schools worldwide, over 200 educators from across South Asia attended the conference with the objective of sharing knowledge and fostering professional development among education professionals.

The Cambridge Schools Conference is part of the professional development for teachers offered by Cambridge International in Sri Lanka. During the conference, education experts discussed wellbeing, social-emotional learning, mindfulness and developmental disorders in the classroom. They also looked at practical ways to overcome barriers to learning in their schools.


Speakers included:

Valerie Hannon, formerly Director of Education for Derbyshire County LEA, and a member of the UK Creative and Cultural Education Committee that produced All Our Futures (1999),

Professor Amanda Kirby, GP, experienced researcher and clinician

Professor Jonathan Glazzard, Professor of Teacher Education at the Carnegie School of Education at Leeds Beckett University

Amy Burke, Educational Consultant and lead teacher trainer for the Mindfulness in Schools Project (UK)

Kevin Hawkins, Senior Trainer for the Mindfulness in Schools Project (UK)

Michael O'Sullivan, Chief Executive, Cambridge International Examinations

Tristian Stobie, Director, Education, Cambridge Assessment International Education. Cambridge International Examinations Chief Executive Michael O'Sullivan said: "Around the world, schools and policy-makers are increasingly putting emphasis on learners' wellbeing. Cambridge schools recognise that professional development for teachers is a long-term investment to improve the quality of teaching and learning. Many Cambridge schools seek to establish a learning environment where both learners and teachers thrive and deliver to their fullest potential."

Over 40 schools offer Cambridge programs and qualifications in Sri Lanka, including Cambridge O Level and Cambridge International AS & A Level. Cambridge International is the world's largest provider of international education programs for 5 to 19 year olds.