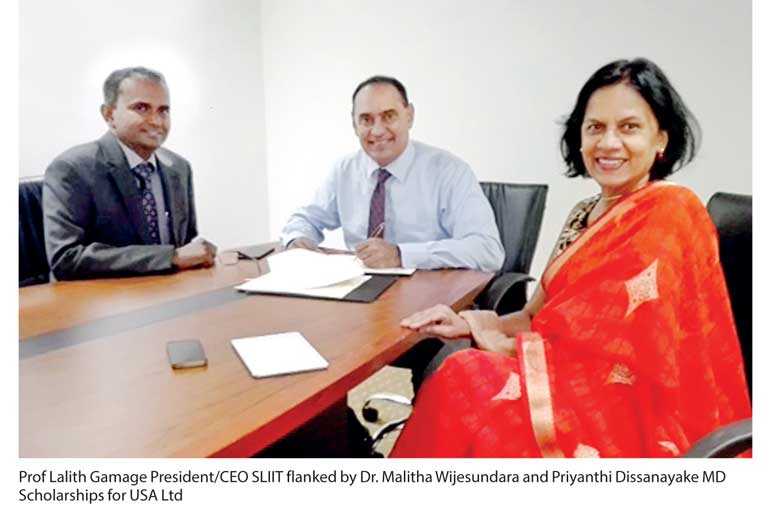 SLIIT and Youngstown State University (YSU) collaborated in offering a dual degree program in Computer Science. Having set a benchmark in the field of higher education since its inception, SLIIT is continuously expanding its portfolio in order to provide students with the most innovative opportunities in keeping with the global standards of education.

The recently signed agreement with YSU enables students to study for a period of two years at SLIIT and transfer to YSU for the next two years until completion of the degree program in information technology (IT), Computer Science and Information Systems. This includes four semesters of classroom study along with three semesters of paid internship and requires an IELTS average of 6.0 and a GPA of 2.5.

While Professor Chandimal Jayawardane, Dean Faculty of Computing expressed his satisfaction at bringing world class computer based studies to the students of Sri Lanka through this landmark agreement, Dr. Malitha Wijesundera of the Science and Humanities Faculty, who helped to secure this momentous relationship through his rapport with YSU is keen to see the students make the most of this valuable opportunity.

Professor Mahesha Kapurubandara, Dean International who has been instrumental in all affiliations with the reputed overseas universities stated, "SLIIT's contribution towards the promulgation of Computer Science has been exemplary. Students have continuously been provided a range of opportunities from obtaining world class certifications and practical learning experiences. With a reputation for maintaining high standards in the field of Computer Science among others, SLIIT has established many agreements with top ranking universities in USA, Canada, Australia and United Kingdom, with the most recent being the agreement with YSU which is extremely beneficial to all the students."

Youngstown State University (YSU) and SLIIT have finalised a Dual Degree program in the area of Computer Science. "Due to this historic agreement, SLIIT students will be able to complete a Computer Science degree at YSU, while investing a minimal amount of money," says Nathan Myers, Associate Provost at Youngstown State University.

Negotiations for the Dual Degree program began in 2017 when a delegation from Youngstown State University visited SLIIT. The agreement calls for a guaranteed scholarship at YSU for transferring of SLIIT students and a seamless transfer of credits from SLIIT to YSU. According to Associate Provost Myers, "SLIIT has a long tradition of high quality education in computer science and YSU is proud to partner with SLIIT as they position their students for truly global careers."

Youngstown State University, founded in 1908, is a public university located in Youngstown, Ohio USA enrolling more than 12,500 students in over 100 academic fields spanning undergraduate and graduate education.

Additionally, Scholarships for USA Ltd. (SUSA), the island's only exclusive student recruiter to US, is proud to have initiated the International Collaboration Agreement between the Youngstown State University (YSU) in Ohio and SLIIT. This is the 16th such collaboration SUSA has initiated between its US partners and Sri Lankan Institutes of higher education – both public and private. In 2010, SUSA was instrumental in bringing together University of Cincinnati and SLIIT in a similar agreement. SUSA considers this to be another important step in reaching its goal of making US education increasingly affordable to Lankan undergraduates.