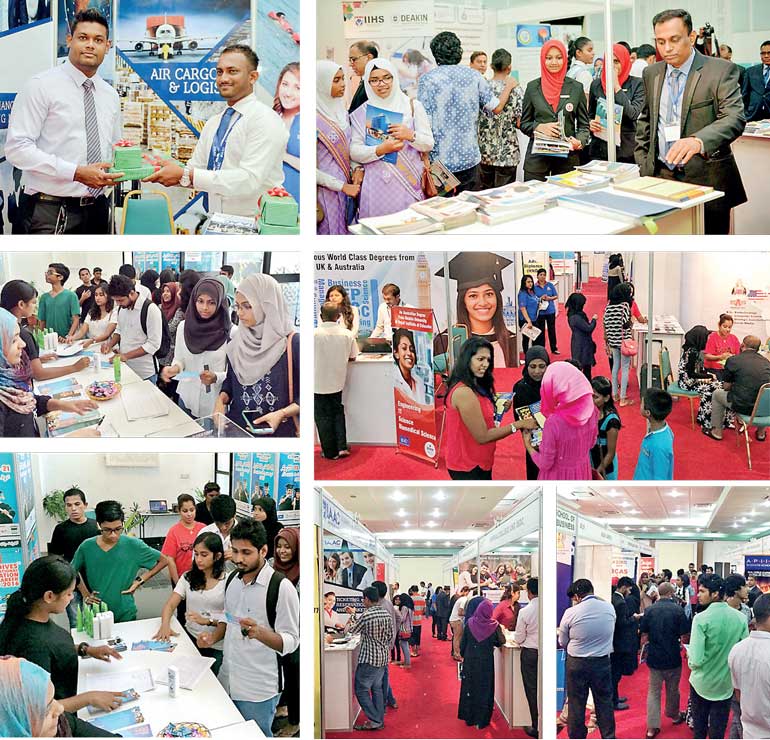 The Maldives International Education and Careers Expo concluded on a grand scale on Saturday 23 April at Dharubaaruge. The three-day event saw over 1,500 students and young adults visit the exhibition during the three days. A total of 42 Sri Lankan companies promoting various courses of study participated at this event which also included exhibitors from Malaysia, Pakistan, Europe, Australia and the Maldives. The Sri Lankan pavilion was by far the largest and most popular.

The expo was held for three consecutive days from 21 to 23 April in Male. The event has been renowned as a focused and education oriented exhibition, patronised by keen Maldivian students who have clear intentions on furthering their education in Sri Lanka or overseas. The exhibition was jointly organised by Maldives Exhibition and Conference Services (MECS) together with Asaree Services of Maldives and endorsed and supported by Department of Higher Education and the Ministry of Youth and Sports.

The Maldives Education and Career Expo was a one stop shop for students and young adults to pursue their education. The 60 education institutes that participated, offered numerous scholarships and discounts which paved the way for signing up and registering over 25 students on the first day of the event.

The exhibition was inaugurated by Deputy Minister of Education Azleen Ahamed and Deputy Minister of Youth and Sports Naif Shaukath. This year's event was considered by all to be the largest education exhibition to be held in Male.

A large percentage of those who visited the exhibition, made their future decisions from the options that were provided by all stall holders. Thus, making it a one stop shop for higher education options. Students made use of their time at the exhibition by participating at the specialised seminars on personality development which were held during the event. Hourly raffle draws were also held with amazing prizes given out.

The Principal Sponsor for this inaugural event was Royal Institute of Colombo and Personal Care Partner was Unilever International.