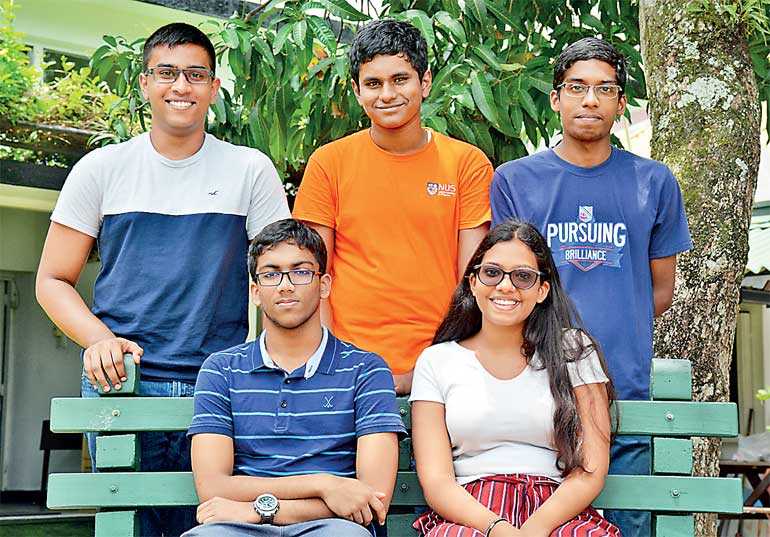 Team Sri Lanka for FGC 2019
---
Team Sri Lanka leave for Dubai next week to take part in the third International Robotics Olympiad organised by FIRST Global, alongside teams from 190 other countries. Having won a prestigious Judge's Award for its robot's innovative design last year, Team Sri Lanka is expected to be a strong contender again this year.

The competition attracts considerable attention around the world. Last year's Olympiad in Mexico City was opened by Mexican President Enrique Peña Nieto and closed by President-elect Andrés Manuel López Obrador. Well-known tech enthusiast will.i.am played at the closing ceremony with his band The Black Eyed Peas. Ivanka Trump and World Bank President Dr. Jim Yong Kim attended the inaugural event in Washington DC.

Each FIRST Global challenge addresses critical environmental issues such as access to clean water or providing renewable energy. This year's theme 'Ocean Opportunities' requires teams to develop robots to clean up the millions of tons of plastic and other pollutants in the oceans. Team Sri Lanka was inspired by meeting the Directors of Reefscapers, Marie Saleem and Thomas Le Berre, who showed how technology can help conserve the oceans and marine life by explaining their use of AI and robotics in their work rehabilitating coral in the Maldives.

The members of Team Sri Lanka for 2019 are Danushka Matteo from Richmond College, Galle, and Hamza Anver, Ramidu Jayasekera, Seth Jayawardane and Pasindu Wickramasinghe from Elizabeth Moir School, Colombo. Team Sri Lanka is sponsored this year by Fresh Catch Inc. The team has been working very hard over the past four months, designing, building and programming their robot.

Teacher in charge, Satchithananthan, who has been part of Team Sri Lanka for the past three years said, "We are really excited to be heading to Dubai for this year's FIRST Global Challenge. We have managed to climb higher in the rankings every year, and we hope to do the same this year as well. This event not only allows us to use robotics to solve real world problems but also allows the members of the team to meet with fellow STEM enthusiasts from across the world, forming steadfast partnerships and healthy rivalries. The FIRST Global Challenge provides amazing exposure for the participants and is a phenomenal way of showing the unlimited potential of robotics and programming to the world."

During the competition two competing alliances, each comprised of three teams from different nations, work to clear the ocean of pollutants using their robots. Cleanup Crews have two minutes and thirty seconds to collect pollutants, deliver them to processing areas, and finally remove their robots, also known as collectors, from the ocean. While each nation is responsible for keeping its own shoreline clear of pollutants, they must join forces to protect the ocean. The only way to take on this challenge is for nations to work together towards this common goal. Cleanup Crews that collaborate to remove all pollutants from the ocean by the end of the match each receive a Cooperation Bonus. The alliance that scores the most points by the end of the match is declared the winner of that match.

To find out more visit https://first.global/fgc/.