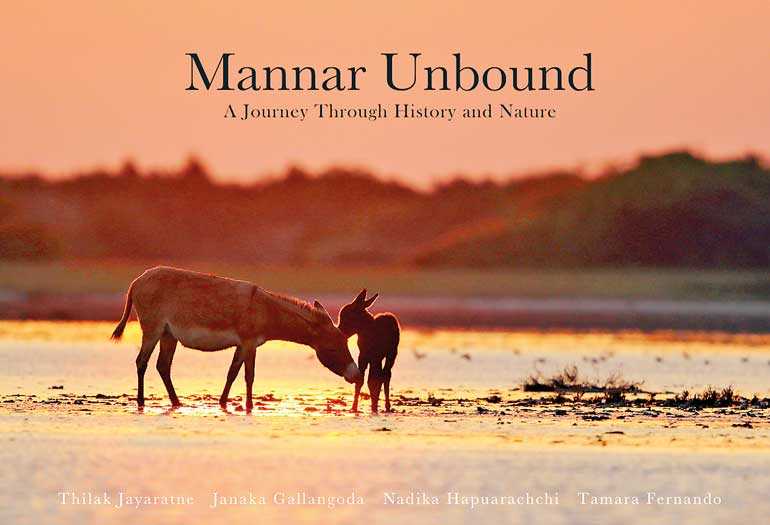 Cover Mannar Unbound Front
---
Jayaratne, Thilak; Gallangoda, Janaka; Hapuarachchi, Nadika; Fernando, Tamara

Published by Chaya Publishers, December 2018

384 pages. ISBN: 978-955-4674-01-1
---
Reviewed by Rohan Wijesinha
Historical cameos from over 3,000 years merge with pictured memories from those times; human history combines with the natural history of the present, as lessons learned from the past are applied to the here and now, to conserve the natural magnificence of the Island of Mannar and its surroundings for posterity to share of its resplendent beauty.

All of this is bound by dedication and love; love for a country of natural resource and splendour that visitors have marvelled at for over three millennia. Love for a region so often forgotten in the travels of those who seek this country's pristine places. Love for a people, a milieu of races and religions, who have each contributed to the saga of this land that we love so dearly, Sri Lanka. Dedication to share of its wonders with generations to come by promoting their preservation, to ensure that the pictures of these pages are not the only source for our children to understand that once there was a place called Mannar – unbound!

'Mannar Unbound' is more than just a coffee table book, though the photographic plates within compare with the best of them. It is accompanied by a narrative, pockets of history, that offer the reader a series of stories that entertain as much as they inform, and bring one on a journey from the realms of pre-history to the present. The length of the bibliography attests to the research and hard work that took place over five years, not just in hovering around nesting sites and waterholes for that perfect picture, but also in poring over countless publications from numerous sources to enrich the text and its stories.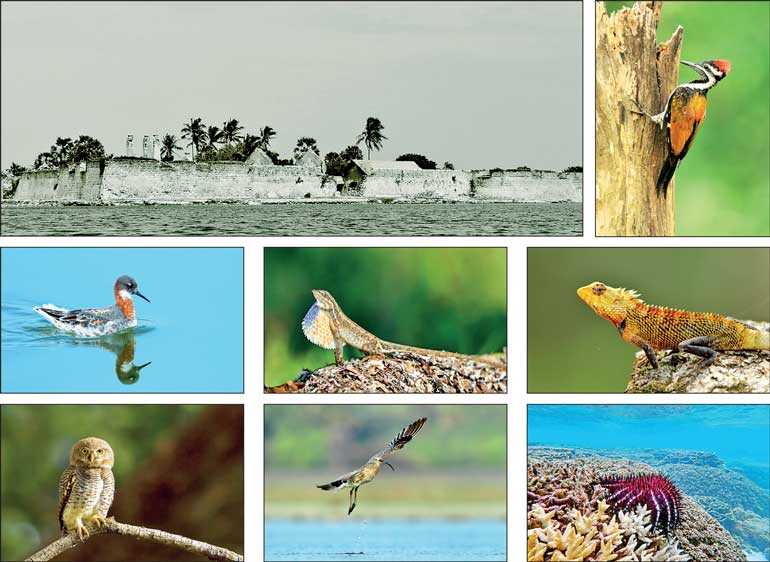 "Photography is the power of observation, not the application of technology." (p. 168)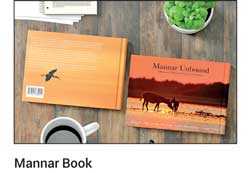 Mannar, its surrounds and the other regions of the North-West Coast of Sri Lanka are places of sand, sea, lagoon and scrub. These are places that host the true diversity of fauna and flora that this country is blessed with. The authors are experienced photographers, committed conservationists and students of the natural behaviour of wild creatures. This is clearly demonstrated in a collection of truly magnificent plates that have not only captured birds and animals and insects and reptiles not often seen, but have framed them in a dynamic moment of time, in perfect light, and have immortalised their being forever.

To those who know of Mannar and its wildlife, it is the birds, those that migrate in from continents away, who are the main attraction. Their congregation in vast numbers, breeding colonies of rare pelagic birds on some of the sand bars, are truly a sight to behold. Sadly, since some of these photographs were taken, human intrusion for development and tourism, have chased these communities away and what is left is bare sand and plastic waste washed up by the increasingly polluted ocean. The Evolution of Man has never been accompanied by a corresponding progression in responsibility. May these pictures be an inspiration for their protection and restoration, if possible?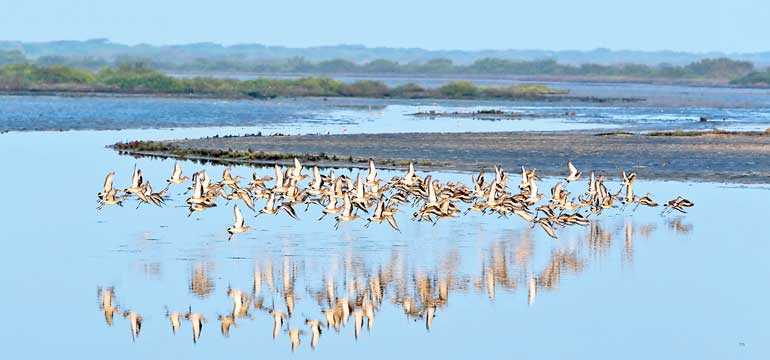 An "underwater tropical rainforest" (p.192)

Sri Lanka is an island surrounded by the Indian Ocean, a warm tropical sea that hosts animals from the largest to have ever lived, the Blue Whale, to the tiny plankton that forms the basis of life in the sea. In recent years, Sri Lankans and the eco-tourist trade have realised that the oceans are probably even more profuse than the land but go in search of the iconic species, the whales and dolphins, who are now at the receiving end of as much harassment from observers as do the leopard, bear and elephant on land.

'Mannar Unbound' brings the reader a glimpse of this underwater array of species, some of whom are as colourful and as varied as the avian species that fly above them, and sometimes feed on them. The Coral Reefs that still abound off the coasts of the North West, especially in the Adam's Bridge Marine National Park, that ancient land connection between Lanka and India, host species as varied as any other tropical reef. And, after years and years of trying, earlier this year, the Authors were able to photograph the elusive and legendary Dugong, a mammal whose early sightings, by mariners long at sea, lent to the legend of the mermaid, and whose critically endangered status now brings it to the brink of extinction. Are we prepared to stand by while these gentle herbivores of the sea, relatives of the elephant, are annihilated from our waters?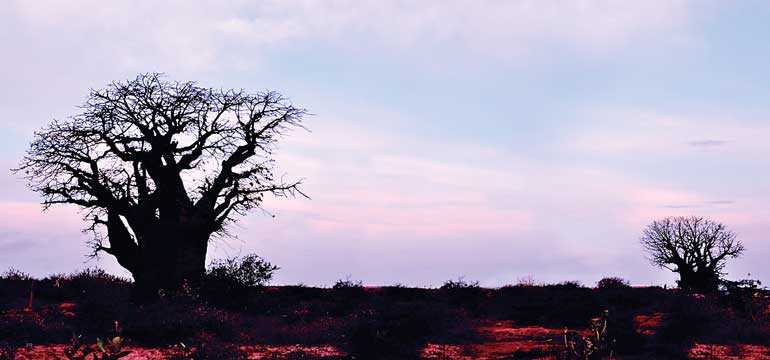 "Take one away and the rest will crumble" (p. 170)

On p. 63 is a photograph of the famed Doric, a mansion built by the first British Governor of then Ceylon, to visit during the Pearl Fishery Season on Mannar. Here he wined and dined and danced with visiting nobility and their entourage, a demonstration of Colonial power and pomp enjoying the plunder of the newly conquered land, and impressing its people with his grandeur. The plunder took place on the Pearl Banks and those interested in the economy of the time, may have perused the tome of the Comptroller General of Customs and the Acting Auditor General of the Civil Accounts, Anthony Bertolacci. Esq., in his book 'A view of the Agricultural, Commercial and Financial Interests of Ceylon'. There he describes the enormous revenue earned by the Colonial Government from the Pearl Banks, and its importance for the financial prosperity of the Colony. Yet, within a few years it was all gone. Fished out of existence and with it the ecosystems of the Pearl Banks, and the livelihood of the local divers. The Doric soon fell into dilapidation and only its skeletal structure remains to give account of what could happen if we only take and not give back.

Sri Lanka's greatest wealth has always been, and continues to be, its natural resources. Sadly this is not appreciated by the majority. It is exploited and soon destroyed, rather than conserved and sustainably developed for generations to come. History often repeats itself; it is just that the technologies involved have changed. Yet, we never learn from history and continue to destroy that which we should preserve.

This is why the book's conclusion is a plea to change, with an invitation that through the inspiration of this book the reader will look to the further exploration of, and protection of Mannar and its surrounds.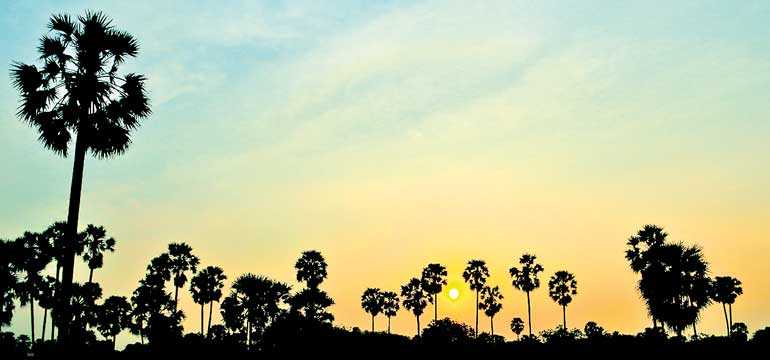 "It is a big and beautiful world. Most of us live and die in the same corner where we were born and never get to see any of it. I don't want to be most of us." (P. 168)

This is a book for those who do not want to be 'most of us'. Jayaratne, Gallangoda, Hapuarachchi and Fernando are from varied backgrounds and professions. Together they have produced this publication of a place 'less travelled' which hosts a special beauty that is very different from anywhere else in Sri Lanka. It is a must in the collection of anyone who professes to be a conservationist and wildlife lover. It also inspires greater love for this lovely island that we call home.

Mannar Unbound will be launched on Friday 7 December, at the Lionel Wendt Art Gallery at 5:30 p.m.