Youth Wing at Kumbuk Villa
The typical classroom education is nowadays not sufficient for better learning. There should be a practical component in order to comprehend what has been taught. When it comes to raising awareness on conversation, it should be much more than theories and concepts.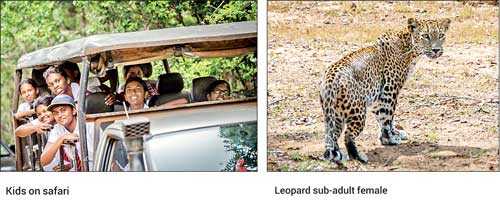 Since 2018, the Youth Wing of the Wildlife and Nature Protection Society has been on a mission to raise awareness amongst school children on the state of the environment with its 'Education for Conservation' program. As a part of this program on 10 and 11 August, over 250 school children from 24 schools in the Northern Province had the privilege to experience the beauty and splendour of Sri Lanka's largest nation park, Wilpattu.

As the park had experienced heavy rain showers in the days leading up to the field trip, the vegetation was lush and green. The students were taken on a 4½ hour afternoon game drive, where they eagerly made notes on the animals they were lucky to see. The students were lucky enough to observe many bird species including serpent eagles, grey headed fish eagles, emerald doves and many wading birds at the parks famed villus. Remarkably the students were able to observe sloth bear, leopard and were delighted to see their mighty "Yaanei" (elephant).



The Youth Wing program is sponsored exclusively by NDB bank – whose financial commitment for the 'Education for Conservation' initiative has allowed for the engagement of over 60 schools across the island in conservation education over the past two years.

The following schools participated in the field trip on the 10 and 11 August: J/Kaithady Naffield School, J/Chavakachcheri Ladies College, J/Madduvil Kamalasany Vidyalam, V/Omanthai Central College, Jaffna Central Coolege, J/Kukuvil Hindu College, Chundikuli Girls College, J/Navatkuli Maha Vidyalayam, J/Yarlton College, J/Karainagar Hindu College, J/Anaikottai R.C.T.M.S , Angel International School Kn/Veravil Hindu College, Pooney, Mu/Visuvamadu Maha Vidyalaya, Mu/Puthukuduyirippu Central college, Mullaitivu Maha Vidyalaya, J/Methodist Girls High School, Pt. Pedro, J/Hartley Colllege, Pt. Pedro, J/Puttur Sri Somaskantha College, Kn/Vivekananda Vidyalaya, Kilinochchi, V/Puthukulam Maha Vidyalaya,V/Nelukkulam Kalaimagal Maha Vidyalaya, V/Saivapragasa Ladies College and V/Vavunia Tamil Maha Vidyalaya.