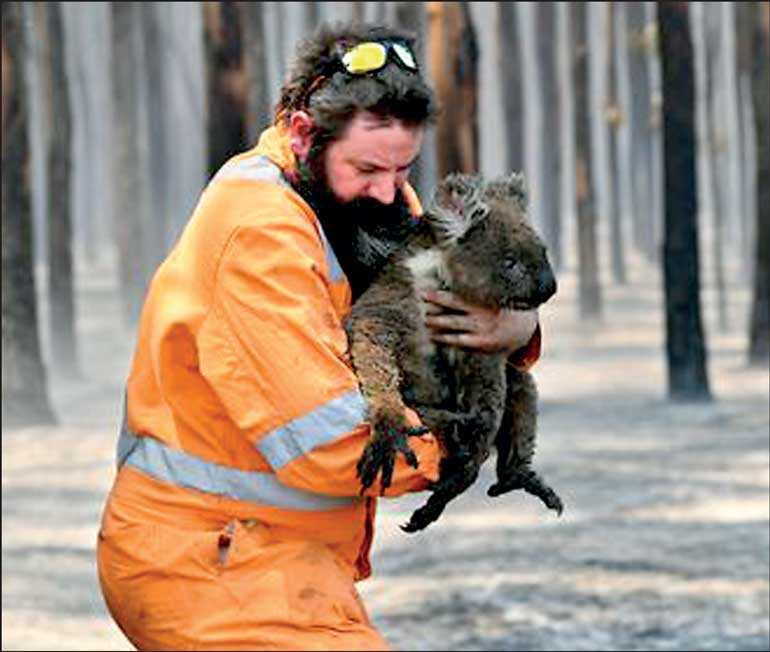 A fire-fighter saves a baby koala, the lovable creature in the country
---
By D.C. Ranatunga

Bush fires in Australia continue to keep fire-fighters and people on high alert with emergency warnings in several states last week, where dangerous weather and fire conditions were forecast.

While the State Governments are beginning to offer monetary and other forms of assistance to those affected, the Federal Government has extended assistance for South Australian victims receiving claims from them since yesterday. Payments of $ 1,000 per eligible adult, $ 400 per eligible child and income allowance payments are made available to those worst-hit by the bushfires.

A total fire ban had been issued for the Australian Capital Territory (ACT) which includes Canberra, the capital (nicknamed the 'Bush Capital') due to dangerous fire conditions. Temperatures were expected to soar past 40C and strong winds were expected late last week. A severe fire danger warning had been released across the state.

It was announced by the authorities that the focus would not only be on protecting lives but also on protecting people's livelihoods and precious community assets including plantations, forests and businesses.
Saving the koalas
While much is being done for the protection of people, the wildlife icon, the koala is not neglected.

The newspaper 'The Australian' reported that the Port Macquarie Koala Hospital and National Parks and Wildlife Service crew leaders have spent weeks searching for koalas following the devastating bush fires in the Port Macquarie area.

On admittance to the hospital, a koala is rehydrated and then the following day examined for burns which are treated with burns cream before they are bandaged. The dressings are changed every three days.

Around 8,000 koalas have been killed, wiping out 30% of the koala population in New South Wales. Thousands of birds, including cockatoos, have reportedly been falling out of the sky, killed by the intensity of heat stress and smoke.