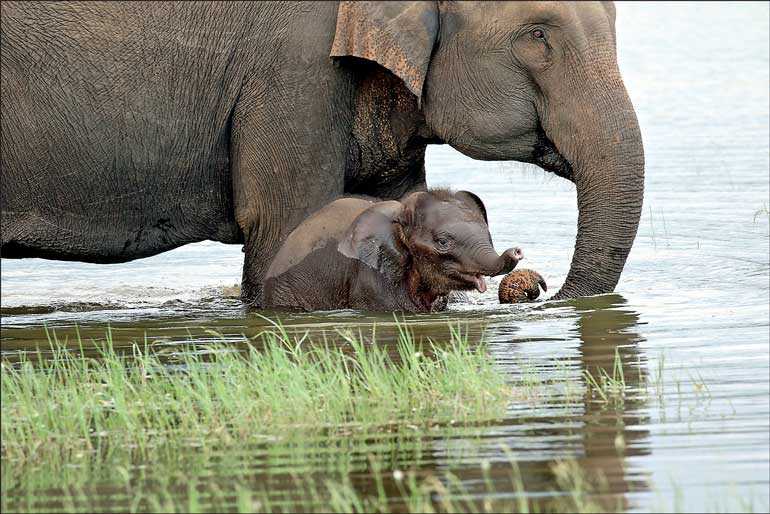 ---
Is Sri Lanka about to slaughter 50% of its population of wild elephants? Would this little one be among them?
By Federation of Environmental Organisations

On 3 December 2019, the newly-appointed Minister for Wildlife, on live television, stated that Sri Lanka has a carrying capacity for just 3,000 wild elephants while the country had 6,000!

This is despite there being no studies undertaken to assess the carrying capacity of elephants in the wild. Yet the Minister, with no known qualification relating to the sciences of conservation, has come up with this figure in an apparent moment of enlightenment.
An increase in losses
In 2019, in Sri Lanka, as per official figures and as highlighted in the media worldwide, 386 wild elephant deaths were recorded, of which just 37 were due to natural causes. The rest were due to human – elephant conflict, by far the highest number to be reported since 1948. Ironically, elephants are a valuable financial asset to this country, not dead but alive.

One of the main features of all of the advertising campaigns conducted by the Sri Lanka Tourism Board, over the past few decades, have highlighted the country as a biodiversity hotspot, where the largest creature on land, the elephant, and the largest creature in the sea, the blue whale, can be seen within a few hours' drive of each other.

Add to that the profundity of other wildlife – leopards, sloth bear, crocodiles, sambhur, deer, wild boar, over 450 species of birds, the list can go on – and the value of Sri Lanka's natural world in bringing revenue to this country cannot be overstated.

Over 50% of all visitors to this country visit a National Park. What is it they go to see? Healthy populations of wild animals in their natural, unspoiled habitat. In 2016, as per a study conducted by the Sri Lanka Association of Inward Tourism Operators (SLAITO), Rs. 1.25 billion was generated for the local economy by the Minneriya National Park alone – all to see elephants. In the same year, the Yala National Park made Rs. 7.5 billion.

At the beginning of this year, Sri Lanka was ranked first for the category of Asia's Best Nation for Wildlife Tourism at the Top Asia Corporate Ball 2019 in Malaysia. The natural wonders of Sri Lanka contributed to this. Without them, this important accolade would not have been won.
Guns for hire
And so it is with dismay that conservationists learn that the aforesaid Minister is about to arm 2, 500 Civil Defence personnel as his initiative to resolve the human-elephant conflict. This was first mooted by a previous Minister of the past Government, the waging of a war against elephants.

Guns are for killing and it can be deduced that the Civil Defence personnel will be given instructions to shoot elephants, and not people. This then seems to be this Ministers solution to the problem, a politically inspired cull to reduce the number of elephants in Sri Lanka to the figure of 3, 000 he dreamt up a month earlier.

Is this his vision of prosperity for this country and for its people? Is this really what the majority of the population of Sri Lanka wants?
People have saved the elephants
What the Minister seems to forget is the enormous tolerance of the people of Sri Lanka to wild animals; a tolerance embedded in that philosophy of life that has guided this island Nation for over 2,000 years.

The fact that Sri Lanka has the highest density of wild elephants per land size, and per capita of the human population, is a tribute to its people. For let us not forget that, in 2019, over 100 people died because of the conflict too. These latter deaths, however, could have been avoided with proper policy and management, and methodologies that have already been tried and tested, and work.
Let science show the way
It is ironic that Sri Lanka has some of the finest experts on the Asian Elephant but whose expertise is sought, and research-based initiatives practised, overseas and not in Sri Lanka. Strategic, fencing, especially that of fencing in villages and their cultivations, save lives, both human and elephant.

These are tried and tested, community driven, and work. Isn't this a better option than killing elephants, 40% of who live outside of protected areas? In addition, with State and private sector encouragement and assistance, having elephants as neighbours can be of economic gain to villagers, if managed properly.

Sri Lanka has a good and pragmatic National Policy to conserve wild elephants and manage Human – Elephant Conflict (HEC), which was approved by the Cabinet in 2006. There is virtual unanimity among experts that the 2006 Policy is one of the best developed, and most practical when compared with regional and international elephant conservation policies.

However, implementation of the policy has been done on a piece-meal basis due to political and other pressures. The result has been sub-optimal, as would be expected, and HEC continues to increase annually.

The President won an overwhelming victory at the recent election. One of the main reasons for this was his promise that he would employ technocrats and scientists to help formulate and direct policies. Conservation in Sri Lanka desperately needs such policies. Alas, the Minister does not seem to think so. Ultimately, what is the legacy that this political administration wish to leave posterity?

The politically-orchestrated massacre of a globally-endangered species, the Sri Lankan elephant? And of those other species killed as collateral? Surely not.
[Federation of Environmental Organisations (www.feosrilanka.org) is a non‐political, non-partisan organisation that provides a platform for connecting interest groups with a patriotic interest in safeguarding Sri Lanka's natural heritage through conservation and advocacy.]